I decided the old farm sink that was held together by duct tape on top of some sort of cabinet had to go.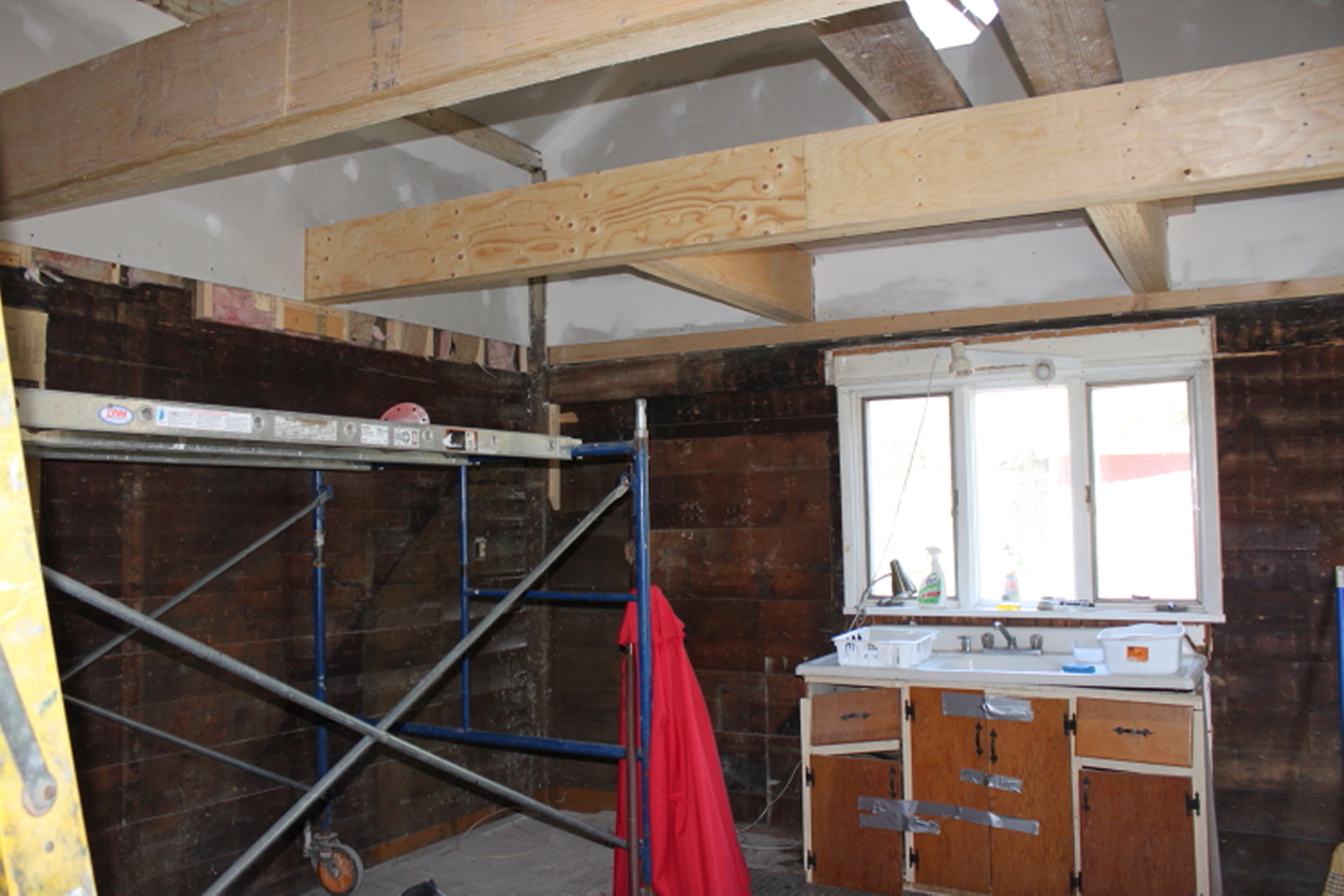 So we corralled someone who was doing a different home repair project for us one day to rip it out. He was even polite enough to clean up all the mouse droppings underneath for us without being asked to do so!
In the meantime, we're using a utility tub to wash everything and using a table we picked up from Ikea to put the dishes on to dry.
What I didn't realize before I decided to go ahead and have him tear out the old sink however, was that the new sink, hooked up as it is, is considerably lower than the old one.  Which means, I have to bend nearly in half to wash a plate or a pan!  Maybe that's why my back has been hurting?  Granted, I do in fact have a couple of herniated discs (5 actually) that were sustained 20+ years ago lifting my firstborn in and out of his car seat but only on occasion do I get flare-ups.  (I would have loved to insert a picture of child #1 here, but, ha ha ha, all the pictures are old school and tucked away in photo albums!  And if anyone is thinking "summer scanning project"? The answer is, I don't think so!)
But back to the present…  Apparently I am a glutton for punishment because after I finished washing the dishes in my bent state, I decided to go out to the garden and tackle all the weeds.  We have an awful lot of weeds growing between everything I've planted because of all the rain we've had.  Luckily, I noticed what looked like some sort of weed sprouting pretty yellow flowers on the side of the house, and its attractive nature gave me a bit of a push to tackle this unpleasant task.
So I made my way over to the newly fenced in garden and pulled as many as I could, let some just be, and tried to straighten up ever so slowly so as not to particularly aggravate one disc in particular which just happens to be located above my ass! (I always thought this was my L5 for those who have disc problems but when I researched it, your L5 is located down by your big toe and that's actually the only part of my body that is not hurting these days!)
In this bent position I did manage to discover that the following were growing already: beets, celery and lots and lots of brussel sprouts.
Why is Brussels sprouts so difficult to spell? And why do I always forget to add the "s" after Brussel… sorry about that.
Anyway, I had a ton of celery last year and since I'm not a big celery fan I thought I wouldn't do it again, yet when I went to the nursery to buy my plants, it just looked so green and crunchy that I couldn't resist. Hence, the repeat planting of last year.
On another note, everything I've read about how the garlic should be "turning" and making something called "scapes" which one can apparently eat, or should technically cut back to make the garlic hardier, have actually appeared on my crop.  Wow, had I not see the youtube video of what this was supposed to be like, I would have thought there was something wrong with the garlic.  But, no, it's turning out exactly as it should. See the way the flower stalk is curling?  That's the "scape" part.
I also have an incredible amount of lettuce and peas, so time will tell what actually grows and what the animals don't eat (even after building the fence).
Hopefully, by the time we get back up to the Red House, there will be more of everything to feed us through the summer. And eat and enjoy it we will.