When it was Bastille Day a few days ago and we ended up throwing a couple of burgers on the grill (chased down however,  with a Cote du Rhone), I realized that our 4th of July had actually been kind of French.
I splurged at Fairway before heading up to the Red House and picked up a lovely duck breast which I thought I could cook fairly quickly on the grill.
I also had a hankering for crepes and thought they would make a lovely breakfast to start off the 4th.  Seeing how I don't have a food processor or mixer up at the Red House and am genuinely too lazy to mix things by hand unless I absolutely have to, I prepared the crepe batter the night before and poured it in a container.
In the morning, I found a small enough frying pan to cook them in and before long had a small stack of crepes to eat.
While I was thinking my crepes would of course be sweet with a topping of fresh raspberries and local maple syrup, Lynn decided his would be savory.  So, the smoked salmon I was saving for lunch that day, ended up being eaten with the crepes for breakfast.
At first I thought Lynn would eat the crepes like a "normal" person, (with utensils) but no, he ended up rolling the smoked salmon inside the crepe and making it burrito-like.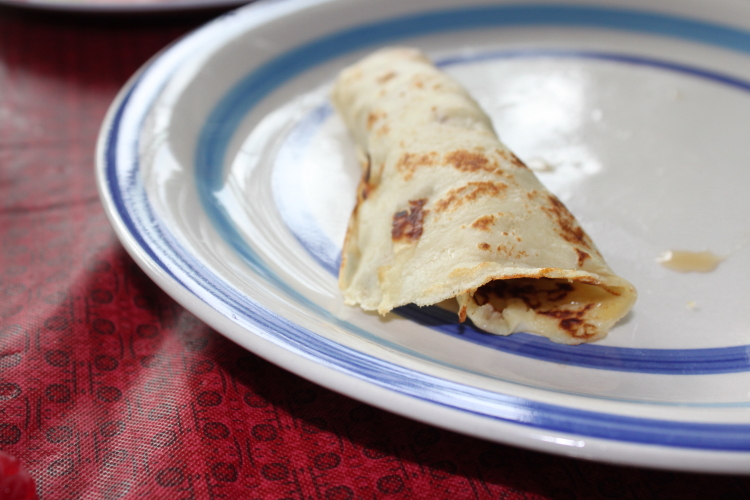 Smoked Salmon Crepe "Burrito"
I, on the other hand, stuck with tradition, and ate my crepes in a civilized manner (with a fork and a knife!) I know, I know, sometimes I'm just no fun.
This breakfast for the first time since acquiring the Red House, we were actually able to enjoy on our newly built deck.  Last summer I had bought an outdoor furniture set complete with big red pillows and even a red umbrella!
While I, of course, coveted much hipper outdoor furniture I had seen at Crate & Barrel, (with outrageous price tags to boot), this set (four chairs, the table and cushions) cost me a mere $99 from Walmart. And the umbrella? Well, I found that online for $39!
The fact that these chairs are the most comfortable chairs I've ever had in my entire life (really), makes it even sweeter.
We did occasionally get up from the chairs that day, and I was about to make some crab cakes as an appetizer before I put the duck on the grill, when suddenly we heard the sump pump do its thing in the basement.  Well, that was curious I thought, since there hadn't been any rain in days, which meant there had to be an ENORMOUS AMOUNT OF WATER IN THE BASEMENT.
Since the Red House basement is particularly scary, I sent Lynn down to investigate and sure enough a pipe had burst.  In order to get the water to stop, we would have had to turn off the main water valve.  Obviously, if we did that we wouldn't have any water for eating, washing or drinking, so that wasn't a viable option.  One of us (not me) had the not-so-brilliant idea we would try to duct tape the leak (that didn't work), while the other one of us (me) thought rigging up a contraption to get the water to flow directly into the sump pump rather than pool on the floor would be a more manageable temporary solution.
It took about 2 hours to finagle some old metal radiator covers that we positioned under the burst pipe so that the water would go right into the pump.  We thought about calling a plumber but seeing how it was nearly 8:30 p.m. on the 4th of July and the water was still at a non-threatening level, we thought our "flood" could wait until the morning.
Which is why even though I managed to fry the crab cakes up relatively quickly after this plumbing adventure, by the time I got the duck breast on the grill, it was pretty dark outside. The crab cakes, courtesy of an easy recipe I found in Food & Wine, consisted solely of crab, mayo, hot sauce, and homemade breadcrumbs.
And while I thought the duck cooked up perfectly fine (slightly pink in the middle), the photograph I took shows the meat swimming in a pool of grease.  This shot I absolutely cannot publish.
I will however, leave you with this, what the old deck used to look like, broken and crumbling and slippery when it snowed.
Happy belated 4th!