Both of my parents are writers.  In the 1980's, my mom had an article published in the Times, about me moving to Brooklyn.  I decided I needed to counter her version, wrote an article, and the Times published my story, too.
This past summer my Dad wrote an article about watching a game at our small town baseball field and the Wall Street Journal published it.  Although I did send the WSJ this article, thinking perhaps they, like the Times, (even after 30 years) would be amused by my version of his day at the ballpark, they apparently didn't think it was worthy of their publication.  I, however, do think it's worthy of mine.
And not to totally discredit the big boys, if you're a subscriber to WSJ, you can read his version, "A Dawgs Day Afternoon at the Ballpark" online.
While my husband Lynn and I had been in Herkimer County, New York, for two years trying to renovate a house, we had yet to see a baseball game.  When my parents decided to visit us one weekend, I thought this would be the perfect opportunity for us to see some "real" baseball. Besides, since I can count on one hand the number of times I've been to a baseball game with my Mom and Dad, I thought it would be a lot of fun.
So, the four of us went to Veteran's Memorial Park one Sunday afternoon to watch the Mohawk Valley Diamond Dawgs play the Amsterdam Mohawks.  My father was amazed that tickets were a mere $3. I was tickled at the fact that we wouldn't even have to pay that, since a woman standing near the gate was handing out free tickets to anyone who wanted them, insisting a local fast food place was giving them away.  I grabbed up my free four while Dad was still parking the car (parking the car in town means you park on the street in front of someone's house, not 25 minutes away for $30).
I was a bit concerned about having my mom sit on oh-so-uncomfortable metal bleachers for who knows how long, but she was a trooper and would occasionally stand up in between innings.  My dad was standing up a lot, too.  First, he went to get some beer.  He kept asking me, "do you want a beer, do you want a beer?"  I, never one to refuse a free drink, thought, "why not," and he practically skipped away to the concession stand where someone had nailed on a block-lettered sign with the word "BEER" to the top of the booth.  He returned holding a cloth bag as if he had decided in between to do some environmentally correct grocery shopping, and low and behold, inside the bag were 5 cans of beer for a mere $12.  There were also a fair amount of ice cubes thrown into the bag, too, which knowing the price of ice these days made me wonder if the beer had actually only cost $2, and the ice cost $10.
Dad particularly liked our announcer that late afternoon, a gentleman with a keen sense of wit who he decided to name after the actor Wilfred Brimley.  Since I'm a lady of a certain age, I actually don't know who Wilfred Brimley is but that's irrelevant.  The point is, the guy was funny, he kept the game moving, and my Dad (and Mom) were having a great time.
While initially my Dad started yelling "Go Devil Dawgs, go!" I had to quietly correct him and tell them they were the Diamond Dawgs, named for the "diamonds", i.e., crystals that could be found in the Herkimer area, not a baked good which is what he was calling the team.
He laughed at his mistake and then went to look for a hat with the Dawgs logo on it.  He came back with not only one hat, but two for a mere $20.  One hat he gave to my husband, who as long as I've known him has not worn a hat of any kind, ever.  This hat, however, he swiftly put on his head.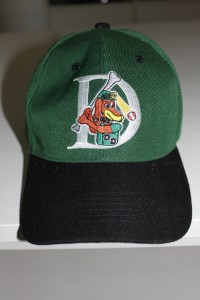 While mom and dad were amused by all the entertainment in between innings – the county dairy princess and her court had the unenviable task of setting up contests with some of the local kids which usually involved either drinking a large container of milk or running with it.  I, on the other hand, was amused that the dairy princess, seeing as she was around 16, was not pierced or visibly tattooed, her hair appeared to be a "natural" color and that she actually was wearing a sensible skirt (as in slightly above the knee) and a top that showed absolutely no cleavage!
I looked at the brilliantly blue sky and as the afternoon wore on and the sun started to set, a light breeze picked up.  Since the park is set in a valley, all around us were hills, and massive oak trees that were stunning in its setting.  I noticed besides the constant comment from the Wilfred Brimley sound-alike, that I could actually hear the wind and not some annoying person in the crowd yelling into their cell phone.
Although the Diamond Dawgs lost that glorious afternoon, one final event made me realize how much fun we had that day. The team was sponsoring a 50/50, which I didn't realize mom and dad hadn't heard of before.  Now, while I'm not much of a gambler, I love playing 50/50! (For those who aren't familiar with the game, you put in a certain sum of money, get a raffle ticket and if your ticket is called, you win 50% of the purse and the house keeps the other 50%.) When I explained the simple rules of the contest, Dad pulled out some money, too.  A young ballplayer, accompanied by one of the dairy princesses' was approaching people in the bleachers to play.  Reportedly because of league rules that prohibit players from physically handling any money, the dairy princess put the cash in a bucket, while the player handed out an "arms length" of raffle tickets for $5.  In the meantime, Dad struck up a conversation with this young man, realized he was from a certain town in New England that they frequented, and started talking to him about a local restaurant!
I've often heard comments about how the Mohawk valley area looks a lot like Italy – rolling hills, brilliant sunshine (when it's not snowing), and enviable farm land. When I was 12 years old, I bet my Dad I would someday have a house on a hill in Italy.  I realized that day sitting in the ballpark that even though I lost my bet  with my Dad about having a house in Italy, I did in fact end up with a house on a hill in an area that really does look a bit like the Italian countryside!
And the ballplayer who was handing out the 50/50 tickets, did I mention that he had really long arms and we ended up with nearly twice the amount of tickets we should have? Yet, the 50/50 purse wasn't ours to be had that day. We didn't need it, we ended up with so much more.