I rarely do follow-up reviews of restaurants, usually I'm a one review girl and then move on. (Julia's Kitchen, a restaurant I absolutely loved in Napa before it closed, is the one exception to this rule.)  I have also never talked about a restaurant on The Red House site.  However, two if not three things motivated me. (Bad weather+no supermarket in town+ still no kitchen at the Red House!)
First, while I mentioned things that motivated "me," I need to say "us," because the truth is my husband Lynn has been doing nearly all of the back breaking renovation work (with the help of a really cool contractor, too) and I've just simply been working all hours of the day (and night) trying to earn $$ to make it happen.
This winter has been a real pain. First we had Sandy, then a Nor'easter, then a snow storm (10+ inches) and this past weekend temperatures hovered in the teens but felt like negative numbers because of the wind chill factor. Consequently, cooking as an art form and as a heart-warming endeavor has been put to the way side.
Thus, on those Friday nights when we make the journey up to the Red House from Long Island/Manhattan, I'm still hauling up food to heat up on my handy little one burner guy.  Yep that's him.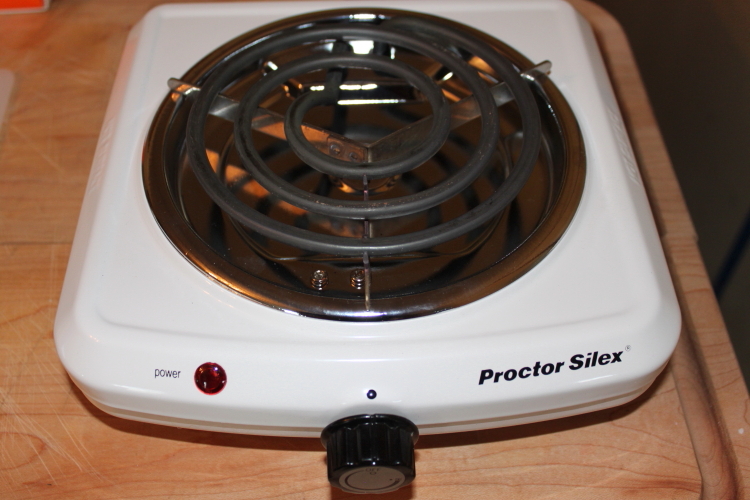 Which leads me to this. We are now approaching our third season without a kitchen and Lynn and I both came to the same astonishing conclusion — eating out is just a hell of a lot easier than eating in! A part of this decision was based on that fact that since December the town lost its only supermarket! Now, we do have a gas station that's open 24 hours and is well stocked with basics such as bread, eggs, cheese, cigarettes, condoms, beer and of course a milk shake in any flavor, but unless you're 18…these items don't really have that much appeal if you're trying to make dinner.
Now, it's not that the supermarket we had was particularly great, it wasn't, but at least I could manage to put together a meal if I had to during the cold weather months when there was nary a farmer's market in sight. And, since it was small and old school, it had some items that you don't find in big box stores like maple syrup that was made by a guy just outside of town. And they also had ham at the deli counter that I really liked because it tasted well, like real ham!
The word on the street is that a bigger, better supermarket will be taking over the space. But, two months, later this is what we're still looking at.
Yes, no sign of a supermarket, no sign of activity, no people shopping, no food, no nothing. Just a big ugly tractor sitting there looking like it was going to make way for the new…but actually was just kind of killing time.
Obviously, living on Long Island we have lots and lots of supermarkets so shopping and making dinner is never a problem. One of the reasons I also cook nearly ever night is that we actually rarely eat out on Long Island. Since we find most of the restaurants around us mediocre and overpriced, we try to save our "dining out dollars" for high end restaurants in the city (as in NYC) a couple times a year.  I hate to confess this but eating out near the Red House has enabled us to eat out more frequently for a fraction of the cost.
We visited The Tailor & the Cook last spring a few months after it opened and my review at the time waxed eloquently about the fish I had that night.  We've had many dishes since then, taking a cue from one of my online editing jobs that people still had something called "date night," a word combo I was not familiar with until now! Geez, people actually go out and enjoy each others company and a meal too on a Saturday night?
Therefore this past Saturday night found us once again enjoying the creative cooking geniuses of Chef Tim Hardiman and his sous chef Steve Arbogast at The Tailor & the Cook in Utica, New York.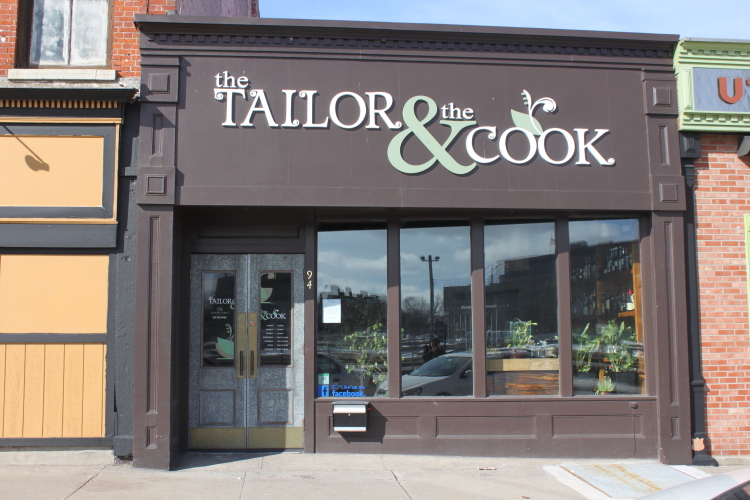 Three years ago when we first bought the Red House, I met Suzie Jones at a farmer's market where she was selling beautifully crafted little goat cheeses.  As I got to know Suzie, her husband Peter, and the farm, she also was able to sell me some chicken but most importantly little packages of chicken livers at a fraction of what I would normally have paid for a container at the supermarket.  These livers, since they are from the farm's organically raised chickens, have nearly no fat on them or any of that slimy green stuff you frequently encounter when trying to clean them.  So imagine my surprise when Chef's Tim and Steve had concocted a special chicken liver risotto appetizer that evening made from Jones Family Farm liver!
Set before us was a plate of creamy arborio rice, still-pink-in-the-middle chicken livers simply seasoned (so I was told) with ground pepper, fresh ginger, and a little cheese, then served up piping hot. I love liver and I love risotto, so this was a real winner for me.
The house salad that I wasn't crazy about in my initial review, remains, but since they know my tastes, now when I get the salad, it comes with extra dressing on the side that is not only heavy on the vinegar (which I love) but just makes the salad that much better!
Seeing really fresh fish on a menu in Central New York is difficult. Finding a chef who really knows how to cook it in any part of the country, is even more of a challenge.  Chef Tim who I had complimented the last time about his fish cooking skills, did not disappoint this time either. On the menu that night was a lovely piece of arctic char coupled with a quinoa salad and a green pea shoot pesto. My only complaint? The skin which is great when it's cooking in the pan and technically holds the fish together, I think with a quick flip of a spatula could be tossed (as in the garbage)  and not plated, too.
I did have another thought (sorry chefs, humor me here) of what to do with the fish skin. Lynn and I had dinner at Jean Luc Figueras in Barcelona many years ago where an amuse bouche of fried fish crisps (fried cod skin actually) was brought out to the table. At first glance the shape alone (a long thin cylinder) reminded me of those French cookies (pirouettes) that accompany many a bowl of glace or gelato in Europe. It was salty and sweet and crunchy at the same time. Thinking back on my arctic char, could the dish have been elevated ever so slightly with something whimsical (i.e., fried skin) on top?
While the shrimp and grits had been on the menu for a while, we had never tried it. And I have to admit, although it was technically Lynn's entree that night, I ate at least half of it! Calling a shrimp a shrimp, isn't fair if you're cooking up fresh prawns (heads and all) that have been beautifully grilled and seasoned and serve them with fried okra and an adorable dollhouse-size frying pan filled with the aforementioned grits.
Ripping off the heads of these delicious crustaceans and sucking out the bodies, well, had a yacht cruised by the front of the restaurant rather than the hourly snowplow, I could have sworn we were having dinner on the Cours Saleya in Nice. Which I think is the whole point of good cooking, if a chef or two can rustle up a dish that is absolutely delicious and reminds you of eating a similar dish someplace else, wow, that's real talent.
Which brings me to this part of the story. We think the kitchen will be done this summer. In order to at least believe it will happen, we've started picking out floor tiles. We laid the color tiles we've chosen so far on the (dirty) rubber mats that are currently lining the floor and all weekend we debated the merits of each and every one.
I know ultimately there will be more colors added to this arrangement so hopefully when the time comes we will choose wisely. Because after this long of a wait, the Red House kitchen is only being done once in our lifetime.
And if you think I remembered the name of the restaurant in Barcelona where we ate the crispy fish skin that easily, I didn't.  What I do have are old school composition books where I usually record nearly every single thing we eat when traveling!
I thought maybe one day I'd manage to weave into a Red House article the time Lynn waited for me at the Milan (as in Italy) train station for 16 hours so we could have a meal together. This story, I think, can be told now.
Why would anyone wait 16 hours to have a meal with a girlfriend one might ask? Well, first of all this was back in the Dark Ages when we didn't have cell phones, computers, or Facebook, etc., etc., and thus, no way of communicating with each other. So, you either waited for the person or you didn't. When I finally arrived, parched and starving, everything was closed. We ended up spending the night (on the floor no less) of the Milan train station and got the first train to Florence in the morning. And what may you ask was the meal we had when we arrived? Pasta carbonara of course! Which is the very first "real" dish I hope to make in the Red House kitchen this year. Unless, of course, I can convince one of the T&C chefs to make it for me!