According to a letter we received this past weekend from our FORMER insurance carrier Otsego Mutual Fire Insurance, our homeowners policy is being canceled "due to non-owner occupied." We also "no longer qualify for homeowners coverage due to ongoing renovations & poor conditions of dwelling. Coupled with the "deteriorated condition of garage, condition of driveway and large amount of debris on property, as well as increased fire and liability hazards."
Excuse me?
Did I not tell the broker on the account that this was going to be a 10 year project? Did I also not have the argument same time last year with the insurance company when they threatened to cancel me and I had to send them a very lengthy letter explaining all the renovations being done (ad nauseum) as well as pictures?
Seemingly, they don't really give a damn, they just took my money for the last 3 years and then just up and canceled my policy. Who would have thought that an insurance company could do this? Moreover, I think it's outrageous that this company is going to tell me how I need to fix my house and give me a time frame to do it in. (I don't think so.)
Furthermore, considering there is about 4 inches of snow on my driveway right now, how could they even see what the driveway looked like?
And that "debris" behind the garage, yes this one, is the result of us cleaning out all the crap in the house that the previous owner left us.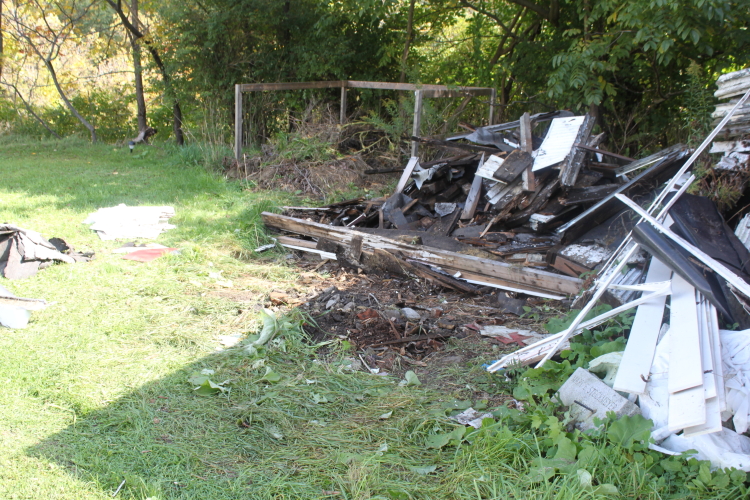 I've thought a lot about the "debris," and imagine it perhaps in the atrium at the Museum of Modern Art titled, "Red House 1850" as an interactive piece. I'd invite visitors to leave little post-it notes on each of the items found, encouraging them to scribble what they might use said "debris" for.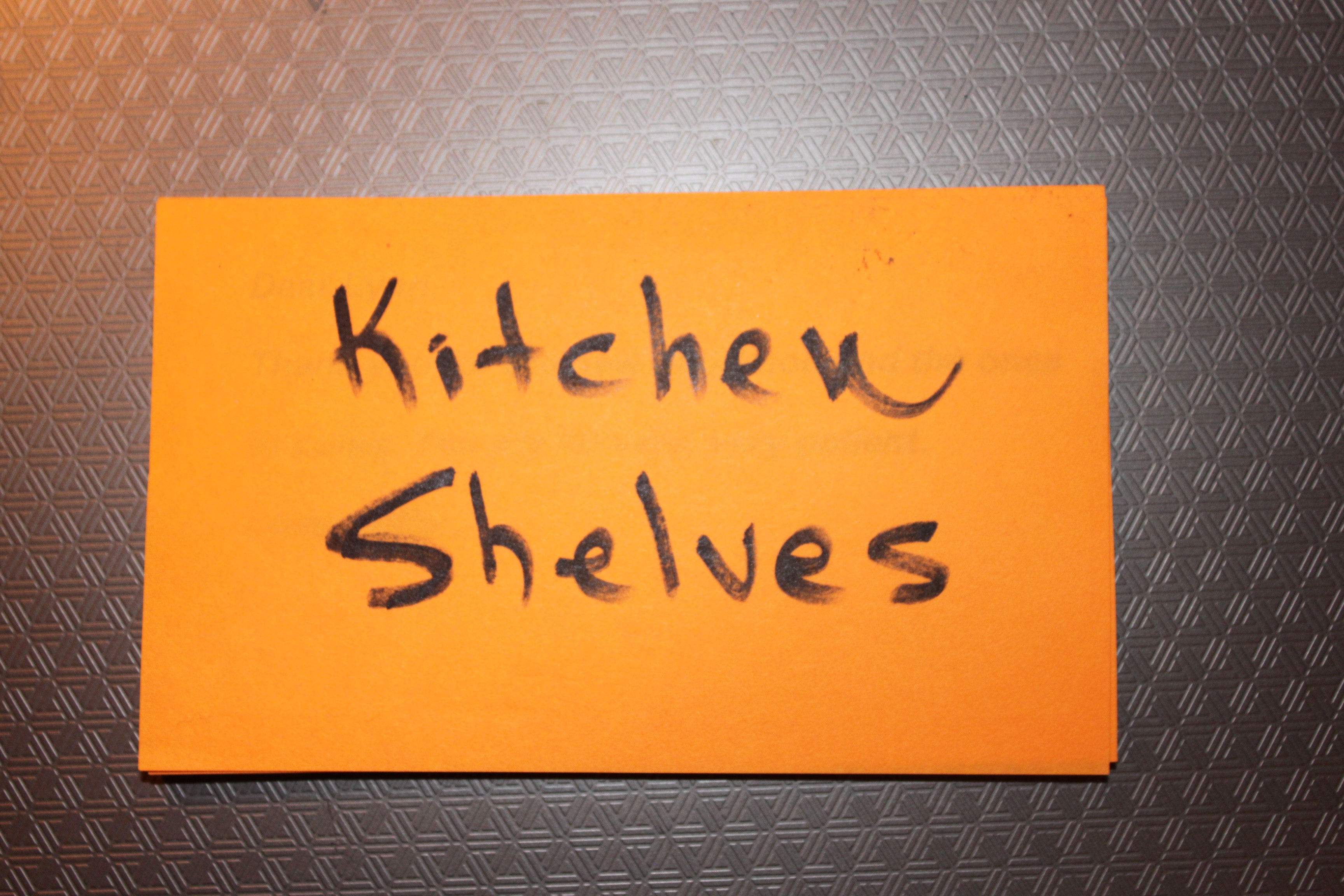 It appears to me that this insurance company is more concerned about "curb" appeal than anything else. The fact that we installed 30+ new windows, ripped down the entire back end of the house that had caved in (and started a new addition), put in a brand new furnace, and replaced a crumbling cement porch with a new deck, they didn't give a hoot about.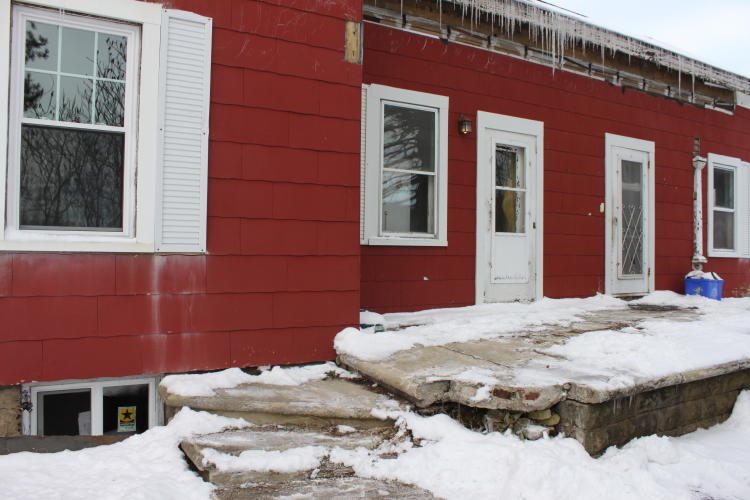 Do you think Peter Mayle when he was writing A Year in Provence got a letter from his insurance company saying the renovation was taking too long? (Well, he probably didn't have insurance, but you get the point.)
So I did what I always do, I got on the phone and called someone locally who agreed to come out right away (I like that) and is currently working on some numbers for us.  This new broker understood immediately the task at hand and seemed quite impressed with what we had achieved so far (I like that even better.)
The reality going forward is although we are in the midst of finishing our kitchen (yes) and a second bathroom (double yes!), the siding and the roof over the main portion of the house will probably not be done until next summer. That means for at least the next 12 months we will be living with a Red House that on the exterior looks like this, but on the inside is coming along very nicely.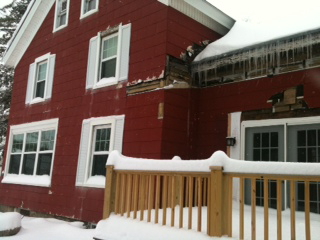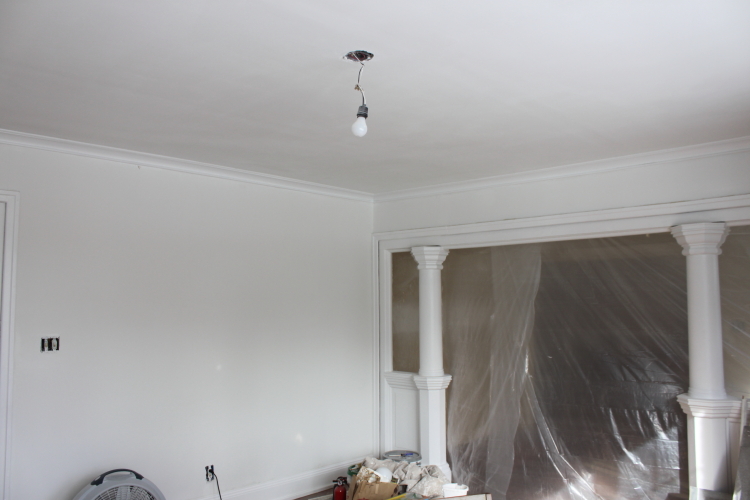 This past weekend, Lynn managed to sheet rock, tape and spackle a small hallway leading to the basement. He also put up new blinds in the master bedroom, and decided that he hated all the doorknobs in the house so he is going to replace them — one by one.
Since the glass doorknobs we have in every room are a dime a dozen in most houses this old (and can be found as collector's items in a few antique stores, too,) I didn't have a problem with this…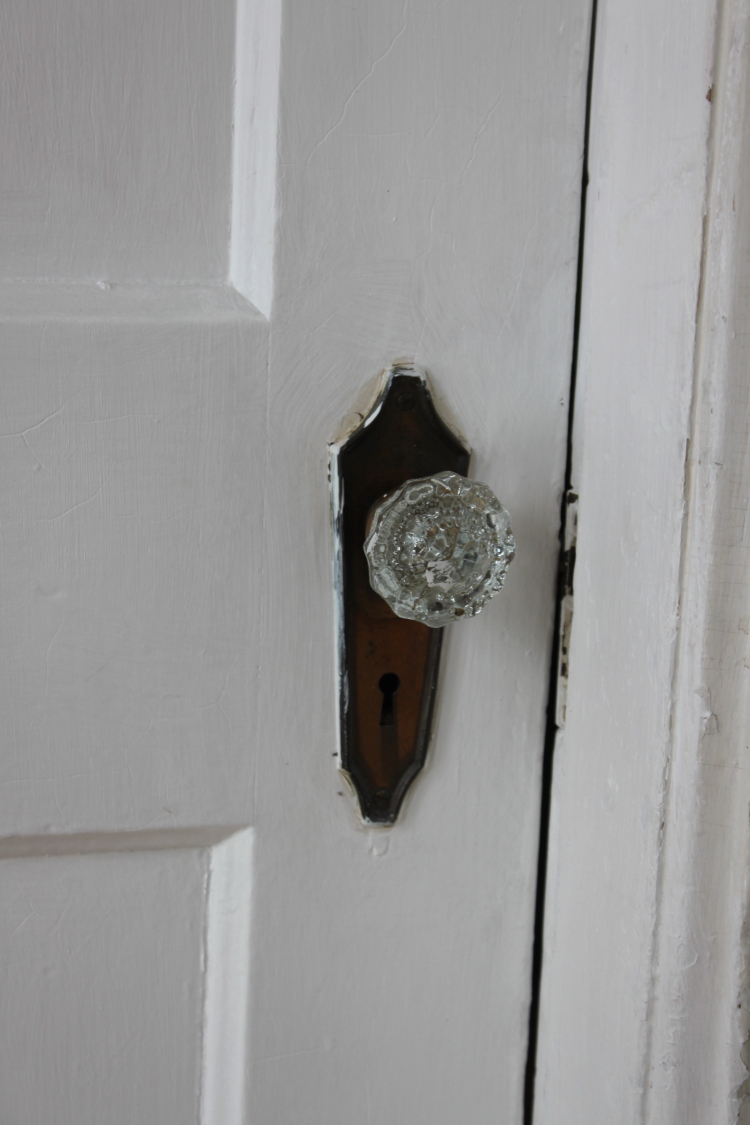 But then I did the math. Turns out we have 13 doors in the house that I know of that will need to have new doorknobs put on. This means that you first take off the old doorknob which leaves you with a big gaping hole in the door that you don't want. You need to fill the hole, then plane down the door so that the new doorknob fits just right. Doing this one door alone took him nearly 2 hours…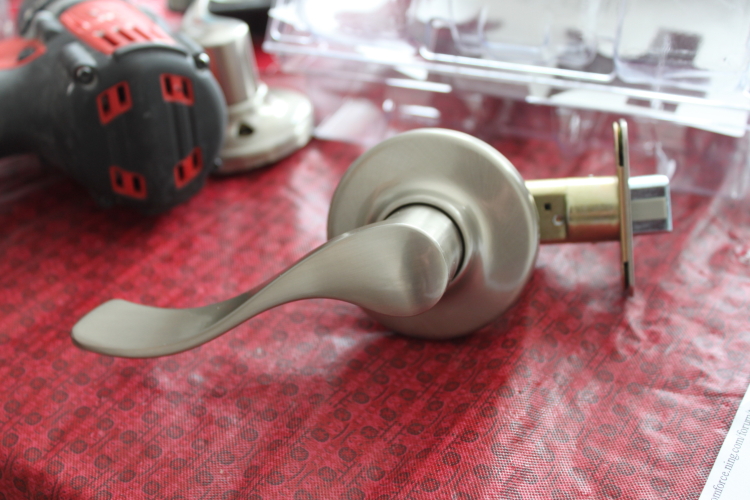 Didn't I always say this was going to be a 10 year renovation project?
I think I might add all of the old doorknobs to our pile of debris (so there Mister Insurance Company!) And when the time comes for the MoMA show, my post-it note for "Red House 1850" will say this: