Spring has arrived at the Red House. The bamboo is coming back to life which I think is the neatest thing to see up here so far North.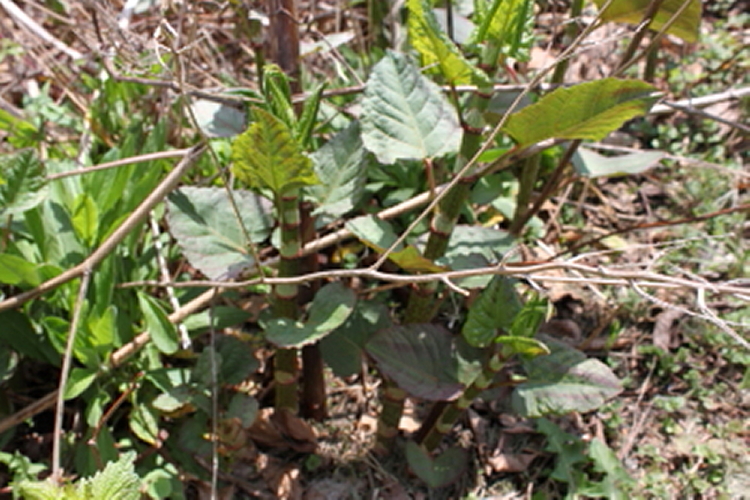 I even managed to pick a few thin stalks of asparagus that were growing in the garden, although looking at them in the colander they look like a very paltry crop indeed! (There's more coming up these were just the ones that were long enough to pick.)
Our first Red House dinner (if you can even call it that) on a Friday night at 11 p.m. was an all-American cheeseburger (sliders to be exact). Since it was late and I was battling a cold and couldn't really taste anything anyway, it just seemed to be the perfect and quick thing to cook on our new stove.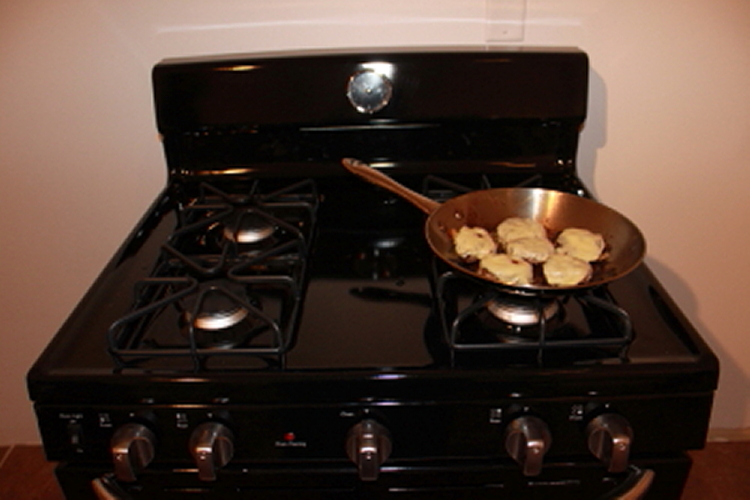 What I failed to realize when frying was that without cabinets or an exhaust fan, our newly painted white walls were going to be very quickly grease-speckled! Which led Lynn to rig up this fancy contractor bag "back-splash"  temporarily. (We're not winning any design awards for this one, trust me.)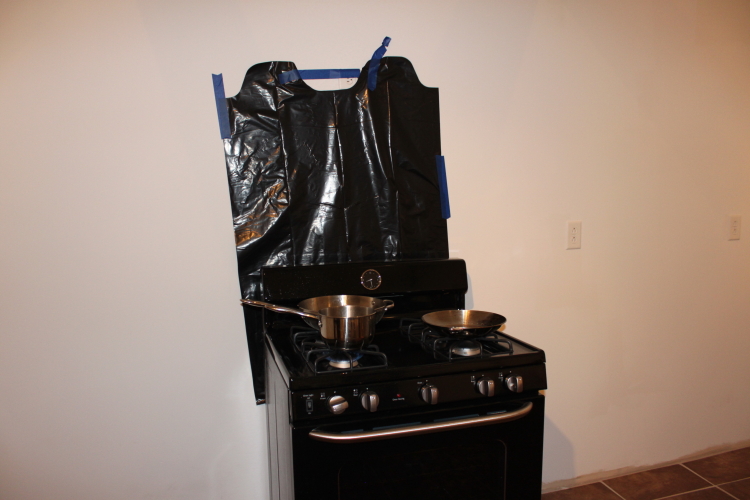 The other thing I failed to realize when we ordered the dishwasher, that without a countertop to hold the dishwasher in place (along with the brackets you have to attach to the countertop as well), you actually can't use the dishwasher because it tips forward!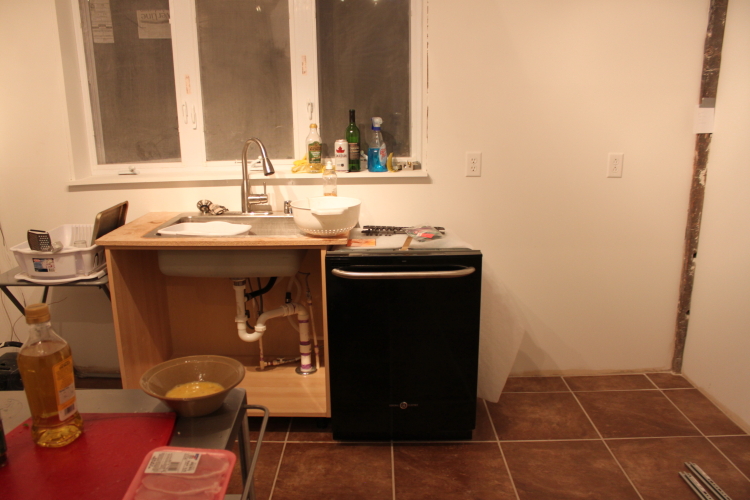 Consequently, while my intentions were good (no more hand washing dishes!), in reality I should have spent the money to get the rest of the cabinets and had a countertop done as well. Which means I have a basically useless appliance sitting around doing nothing which makes me a bit crazy.
The other thing that made me more than a bit crazy this weekend is that the town finally has a 24 hour supermarket. When I lived in Syracuse, New York, in the 1980's, Price Chopper was the lower-end supermarket where one could indeed buy things for less. Seemingly this is not the same supermarket it once was. Pulling into the newly paved parking lot at 7 p.m. last night eager to see what the store carried, I walked around in disbelief at how expensive everything was. Apples for $3.99 a pound? Fiddlehead ferns for $5.99 a pound? Fancy cheese and not even great-looking meat at upwards of $7 and $15 a pound? It made me wonder who did the market demographics for this supermarket since I can't imagine the people who live here wanting to spend that much money on food!
This made me realize that while I may have thought my days of lugging a cooler filled with food up here for the weekend were finally over, unfortunately, unless I want to spend a lot of money to buy mediocre stuff, they were absolutely not.
But let's get back to the kitchen. We bought four of the upper kitchen cabinets first. Since this will be our second Ikea kitchen, Lynn has mastered the art of putting the cabinets together in record time and only occasionally has to look at those stupid little drawings with the fake Swedish names for reference.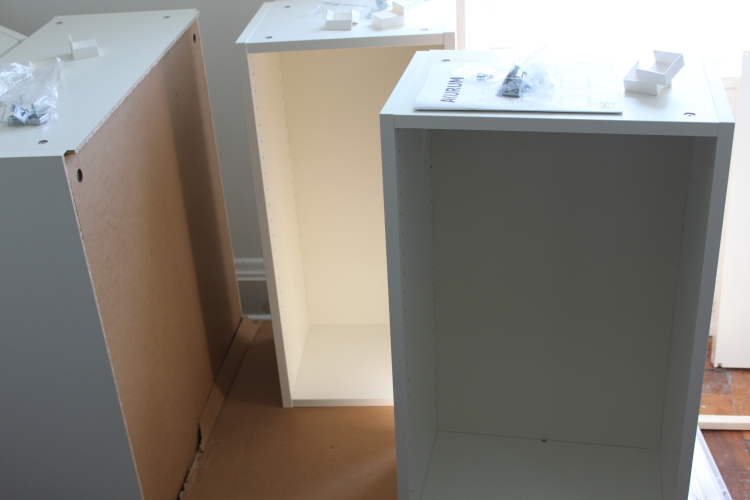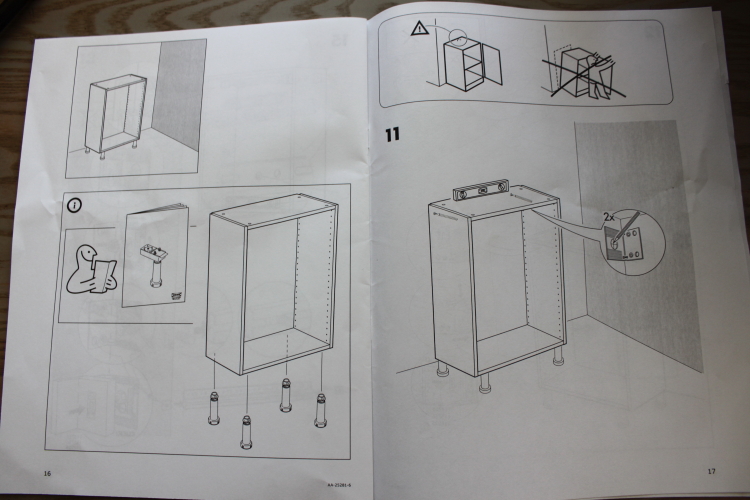 Yes, we still have to figure out how to hang them up on the rails that were provided, put on the doors and buy the hardware, too. We figured if we did the upper cabinets first, we could then put the lower cabinets in (which we haven't purchased yet.) So until the lower cabinets are in and countertop is on, we're still going to be washing dishes by hand.
Like the food we've been lugging upstate, we also managed to find tile for the master bathroom. Little did I know tile could be so very heavy! Even with a mere six boxes of tile, they felt like 66 boxes of tile! We actually opened the boxes in the car and hand-carried them 3 pieces at a time and laid them out on the floor in the dining room.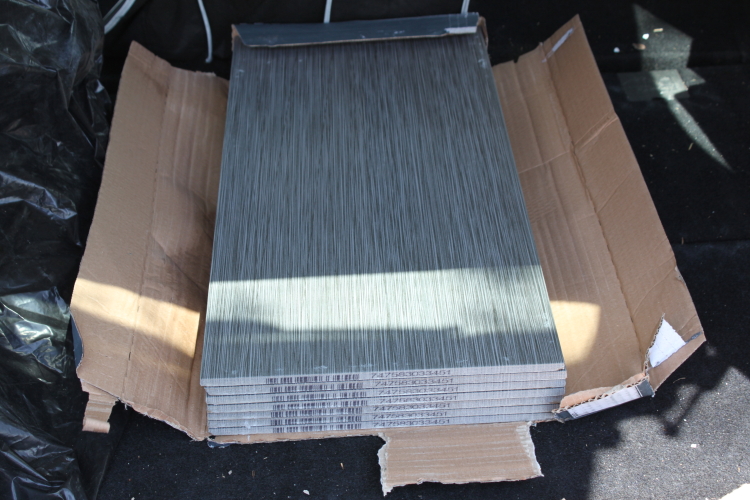 Now that the weather has gotten warmer up here, we aren't too keen on spending time inside the house when it's just so beautiful outside so we're torn with finishing the inside projects and working on the garden. While the daffodils have indeed come up, by next weekend I need to start planting my veggies and the garden desperately needs to be weeded, too.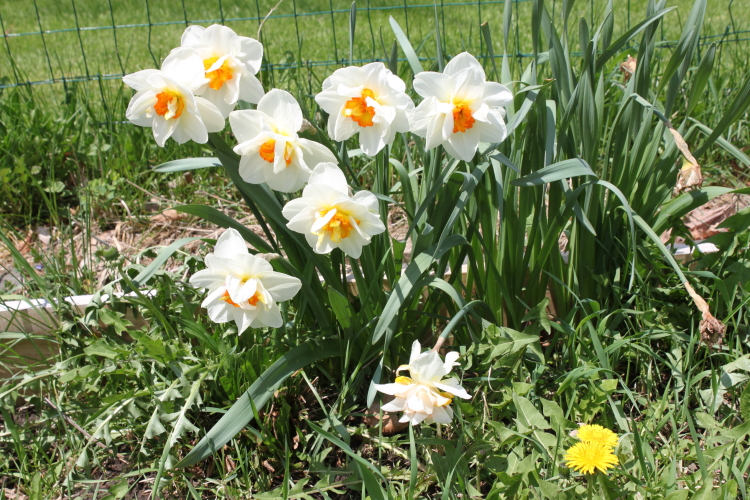 On another note, we have a strange looking bird who has made a nest on one of the old columns that's still attached to the house. Her nest is right by the kitchen door and I'm not sure what she's sitting on but she's been there for the entire weekend, sometimes with her mouth open sometimes with her mouth closed.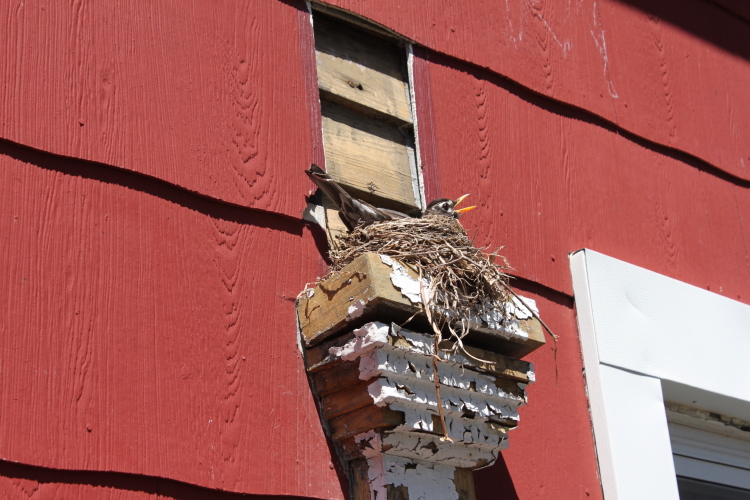 At first we thought she had died, frozen in that position because she just looked so strange. But then she started to turn around and at one point she even flew away and came back! I'd like to think that maybe she was like one of the San Juan Capistrano swallows who return mysteriously year after year, but this is the first time we've seen her. If, however, she returns next year at the same time, it will in fact be somewhat of a miracle. Kind of like how I'm hoping the Red House will somehow get done (without me going crazy in the process.)