Since I posted my last article (end of June), quite a bit has actually transpired at the Red House. First and foremost, we have all of our kitchen cabinets in place (minus some drawers and a couple of doors).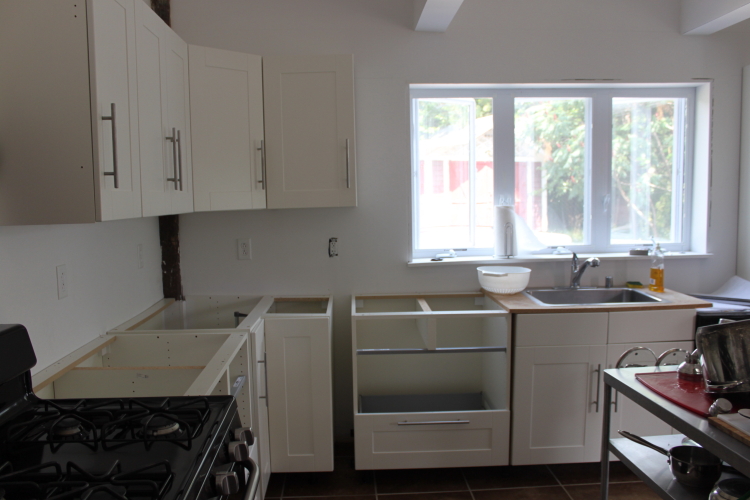 And even though Lynn was really cursing the entire time he was putting everything together, in the end he said it was "easy." Go figure.
I feel I have to share once again how the original kitchen looked in 2010 just to give this story some perspective.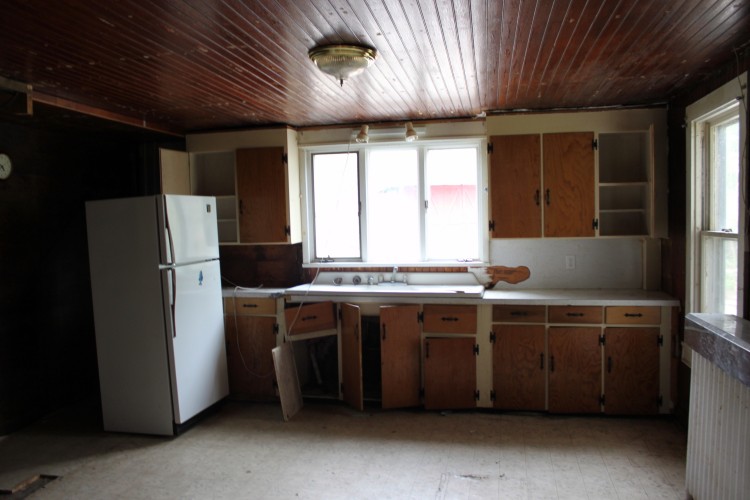 We also have two amazing hardwood floors in Guest Bedroom #1 and Guest Bedroom #2.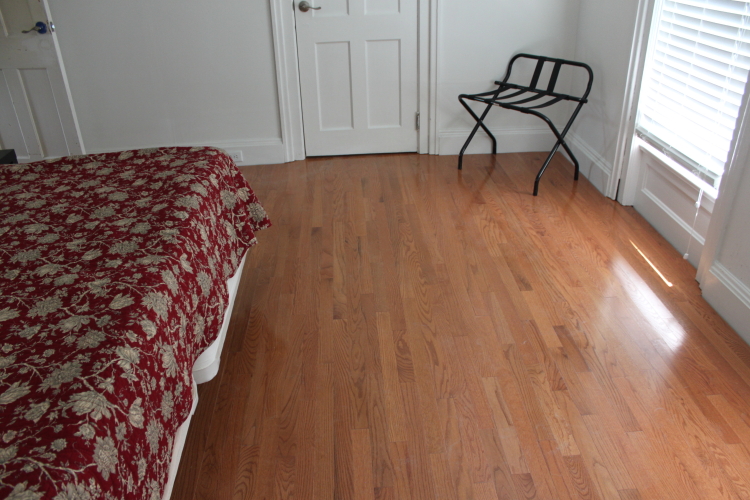 Originally I was going to get a laminate floor to save some money but the guy installing the floor (who came to do the initial estimate, too) advised us against it. Also we have hardwood floors throughout our teeny, tiny Long Island house and even 12 years later the floors still look great and are really easy to clean.
So in case you don't remember what the floors looked like, here's a shot: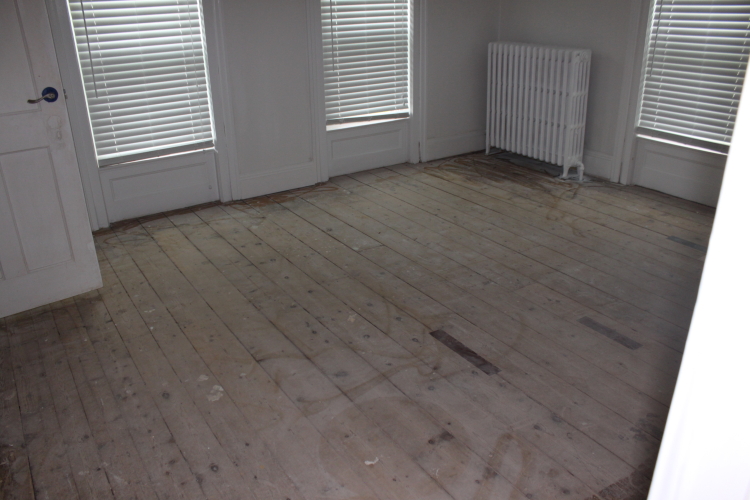 Unfortunately, our master bathroom and bedroom are nowhere near completion…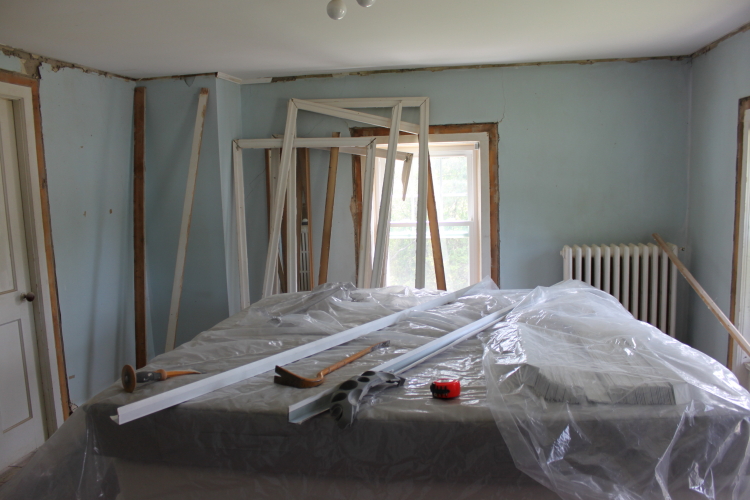 So right now we are bunking in Guest Bedroom #2 (the larger of the two).
We also finally got some of the electrical work done – so no more fixtures literally dangling over our heads.
Lynn and I always have a problem finding products that we like (ceiling lights and bathroom fixtures are our two biggest challenges) so we decided to try and salvage the existing light fixtures. A can of silver spray paint on one of the bedroom light fixtures and some rewiring on a decorative living room fixture therefore were a good compromise.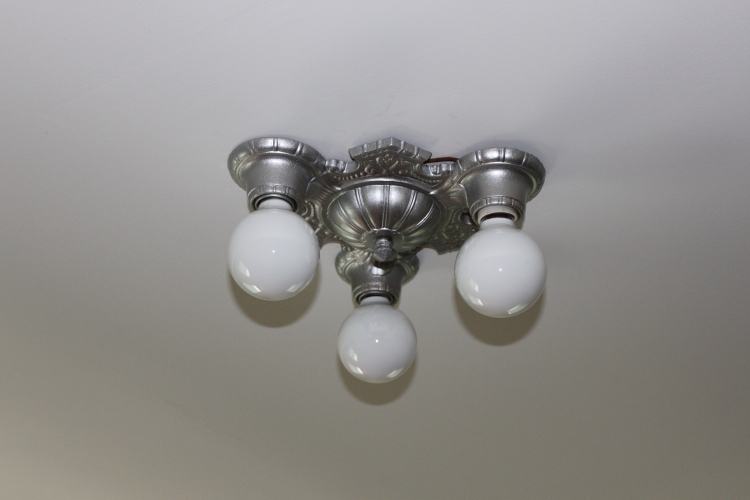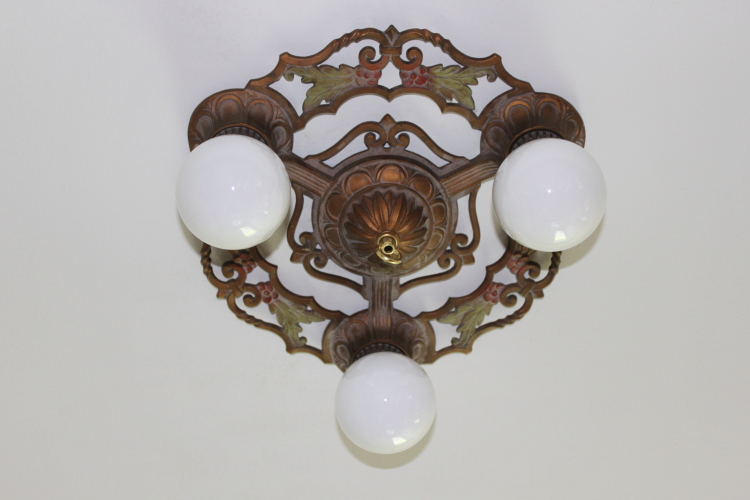 And yes, we cheated a bit, too and picked up a really inexpensive Ikea light that looks like a spaceship!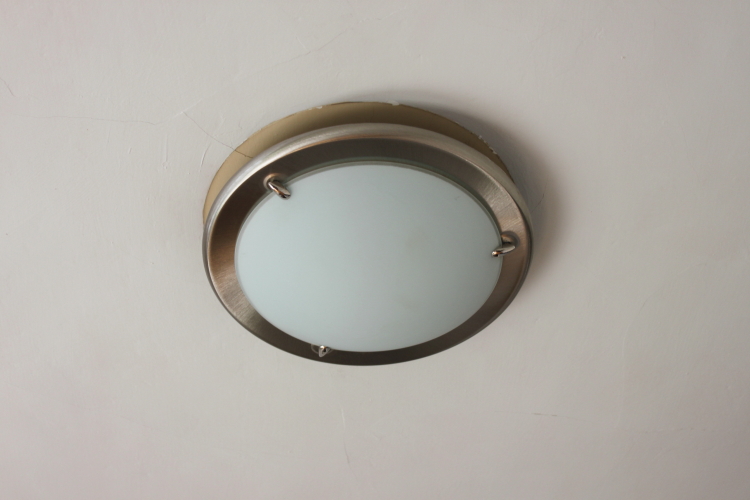 With my kitchen nearly done (I'm having an issue with ordering the countertop I want but more on that in a later blog post), and my parents coming up to visit, I also baked. I know I complain about baking over and over again but not only did I make zucchini bread but I made a cheesecake, too! Originally the plan had been to make zucchini bread using the zucchini that was growing in my garden. Obviously, that didn't happen but I can say I did get two huge zucchini from the farmer's market – one went into the cake, the other went into some homemade ratatouille.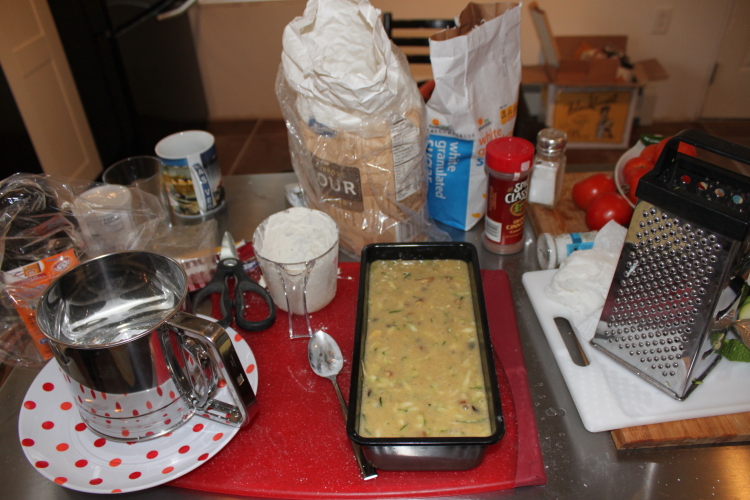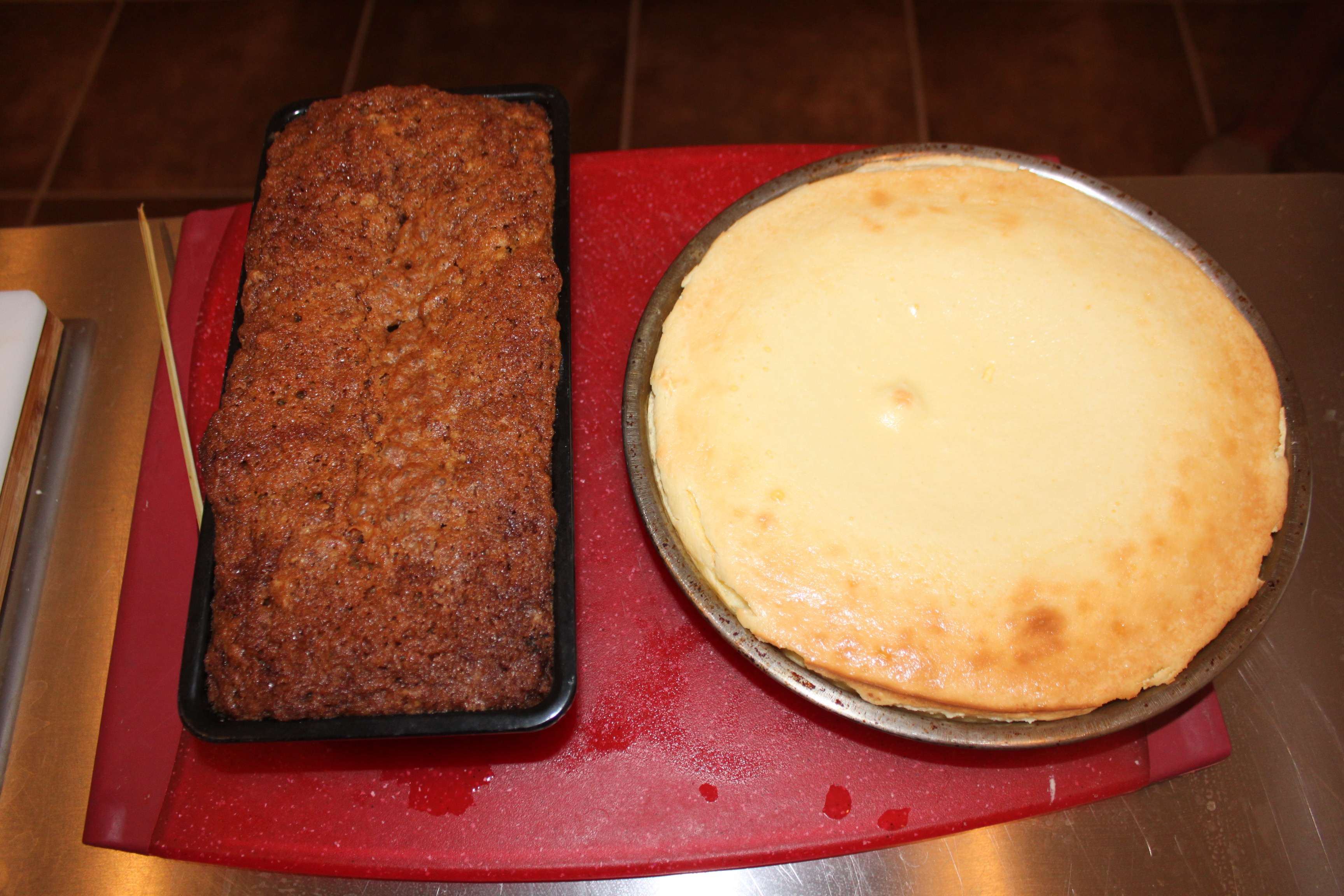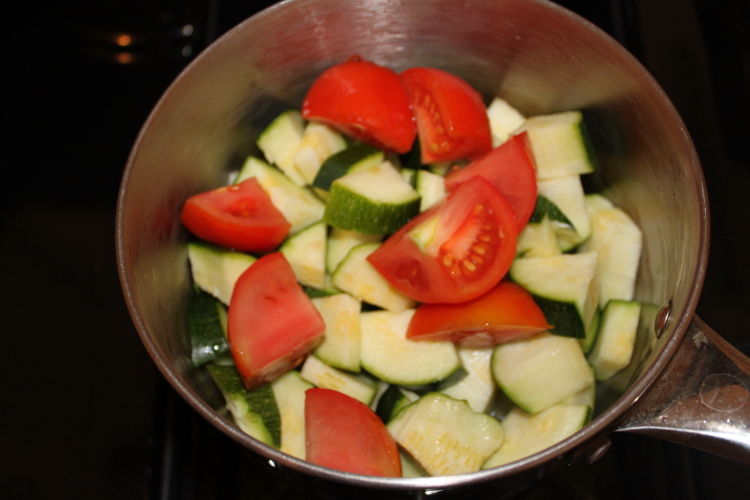 Originally I thought when we came up to the Red House our garden would be brimming with vegetables. I had planted zucchini, beans, peas, carrots, tomatoes and tons of basil. Unfortunately, we now have a very large family of bunny rabbits living on the property.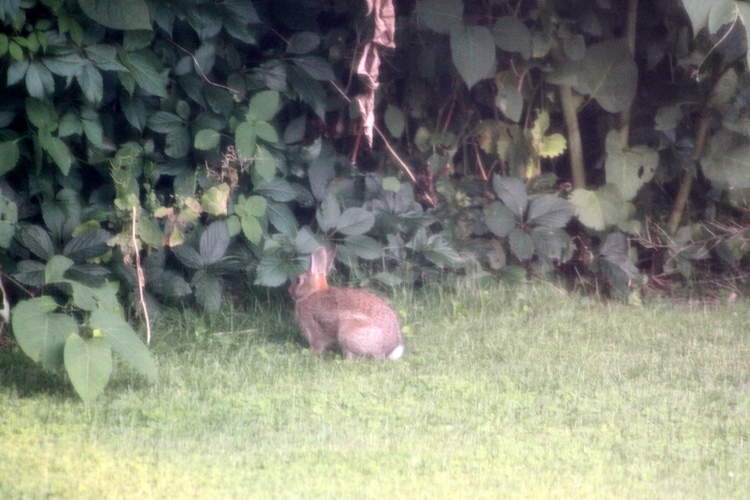 While they did leave me with some basil and a few tomatoes, they ate nearly all the peas and all the zucchini! (The carrots are still in the ground so I'm not sure of their status yet.)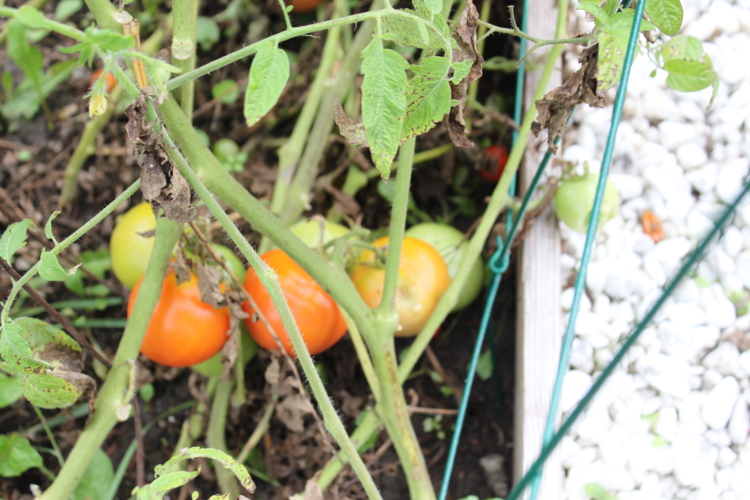 I did start to harvest some of the garlic since this time last summer I had dug it up. I was particularly happy that I managed to grow a crop from some of the cloves I harvested last year. After digging up about 30 garlic heads though, I decided to let them be for another week since some of the heads were rather small.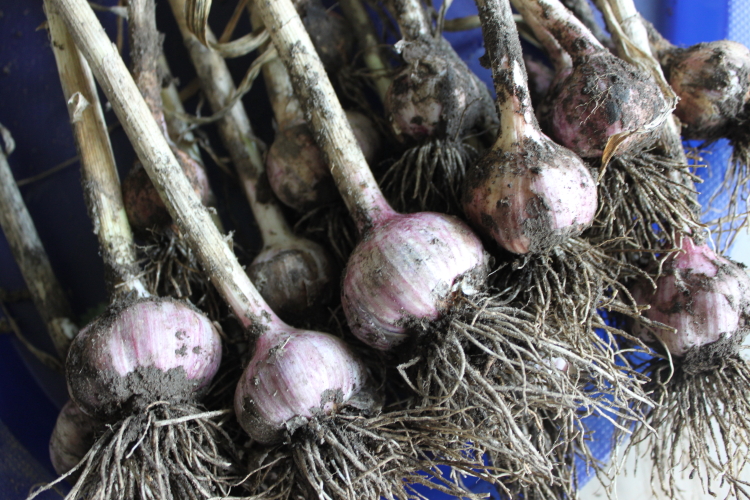 One interesting side note to our time up at the Red House this summer has to do with a reunion we attended. Most people know I lived in Munich, Germany, for 10 years but some may not realize I graduated from high school there, too.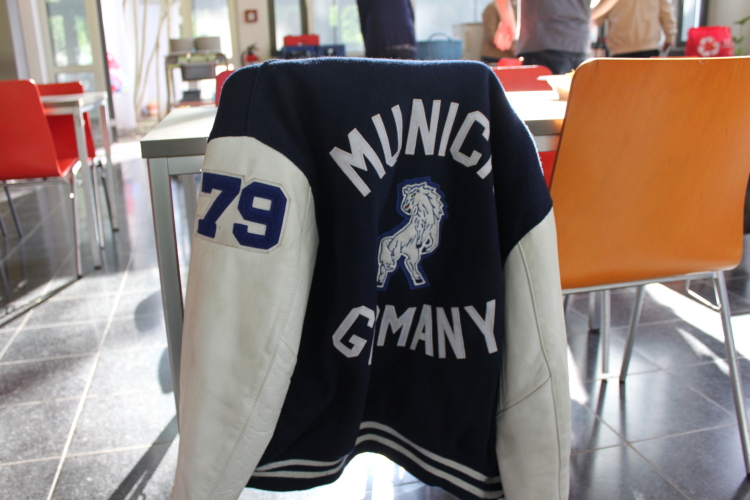 Since this was my 35th (gulp!) high school reunion and Lynn and I hadn't been to  Munich since 2007, I decided it was definitely time to go back (especially since I had also somehow missed every single reunion prior to this one as well). Dare I mention that Lynn and I will be celebrating 35 years together, too, this October?
Consequently, while most summers are spent exclusively up at the Red House, this year we spent 10 days in Germany and 5 days in Italy. As usual we did a lot of driving and eating and gushing at all the beautiful architecture, vistas and of course food.  And while I love the Red House even in it's unfinished state, I do want to share some pictures of the trip.
There were farmer's markets brimming with fresh radishes, artichokes, beans, tomatoes and lettuce, as well as flowers in nearly every hue imaginable.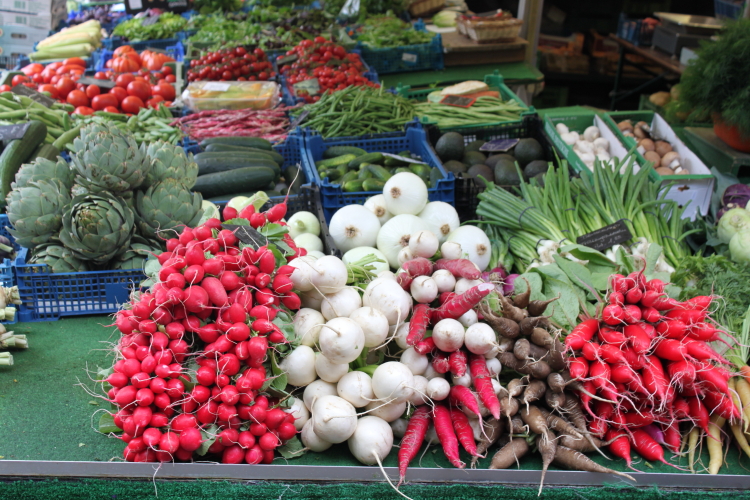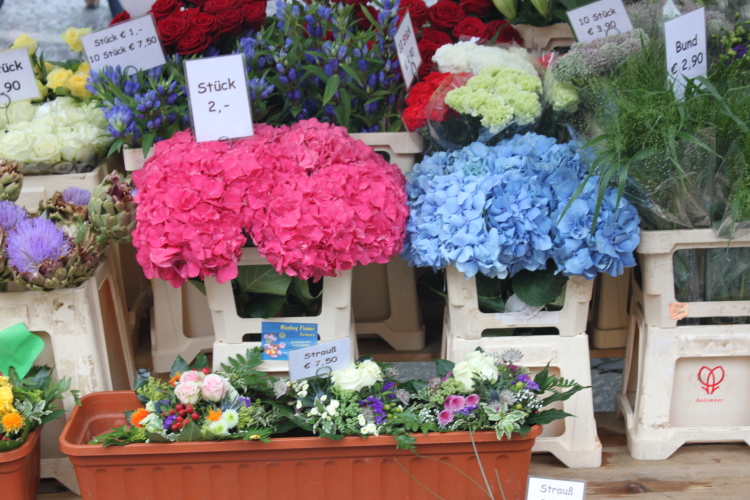 There were shots of castles on the Rhine as well as picturesque vineyards (even on a gray day), and too many pictures of Italian art and architecture to share but a handful.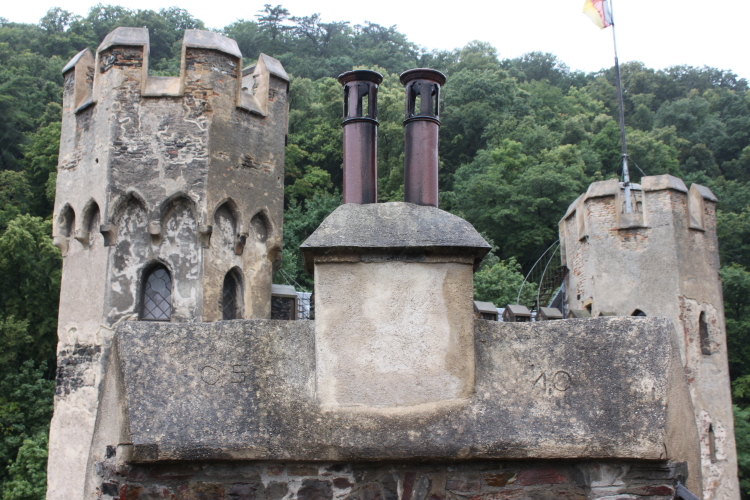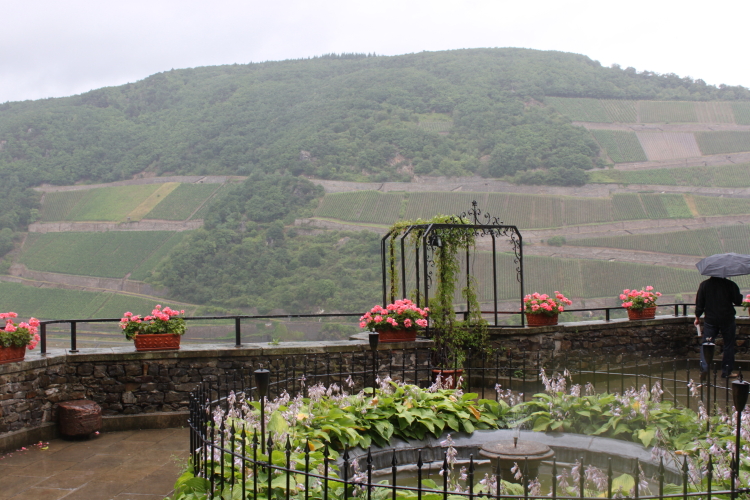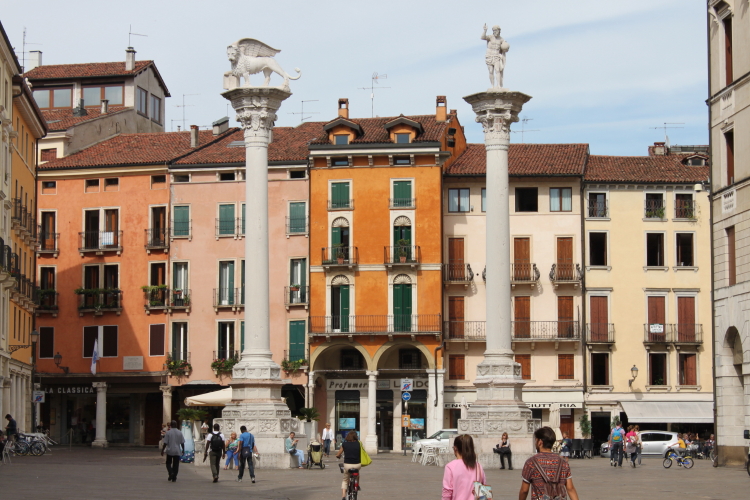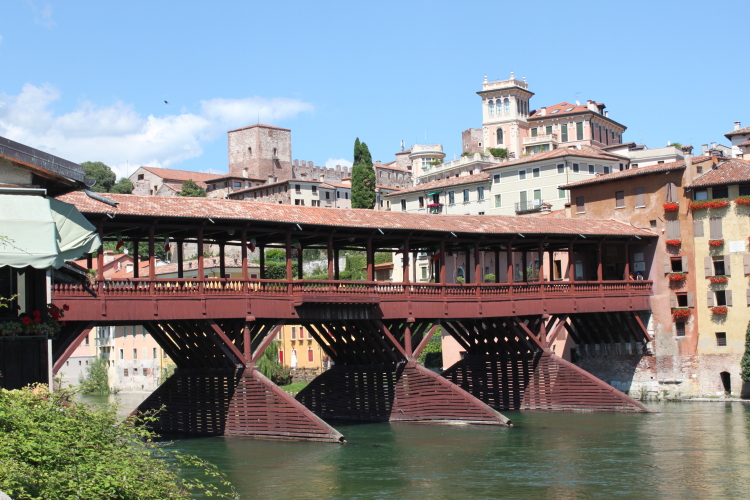 And then there was the food. Bread and cheese, homemade pasta, beer and pretzels the size of basketballs, Apfelstrudel and pizza!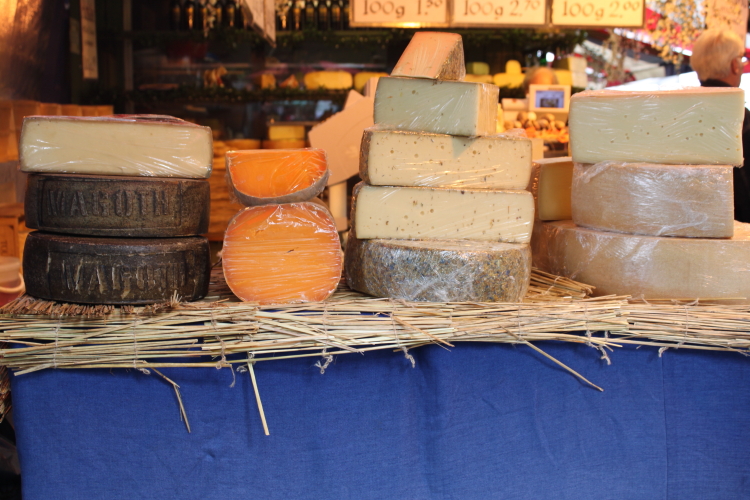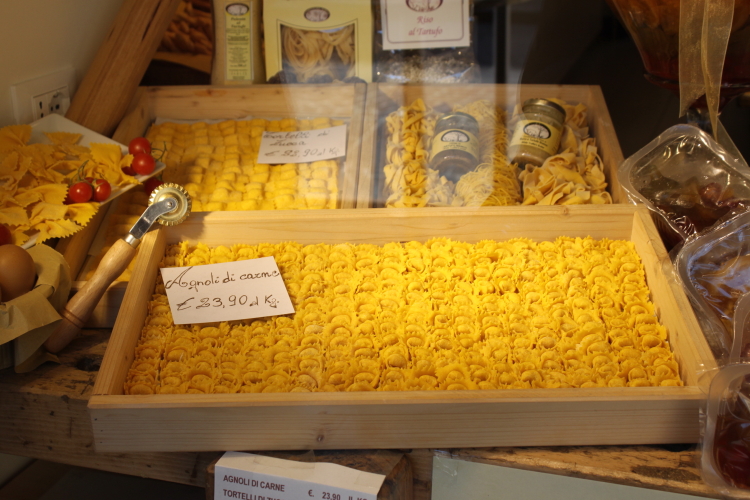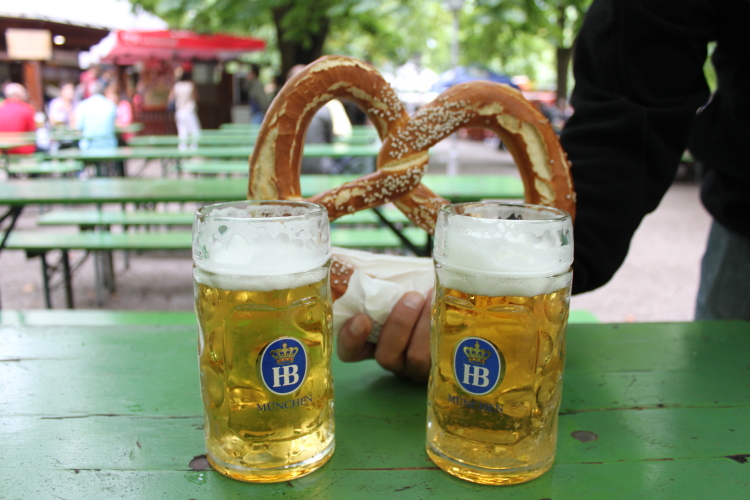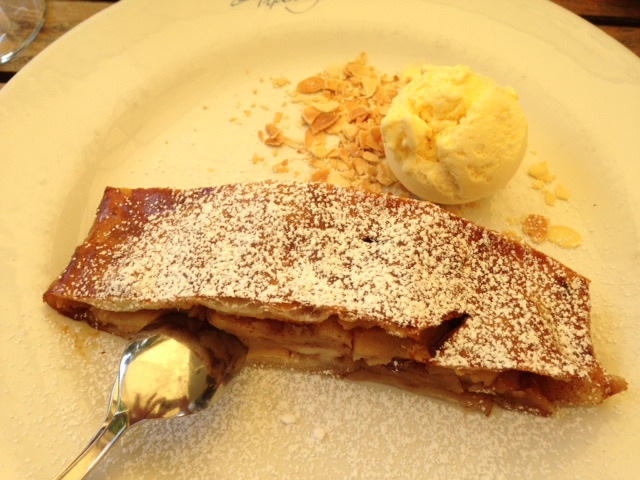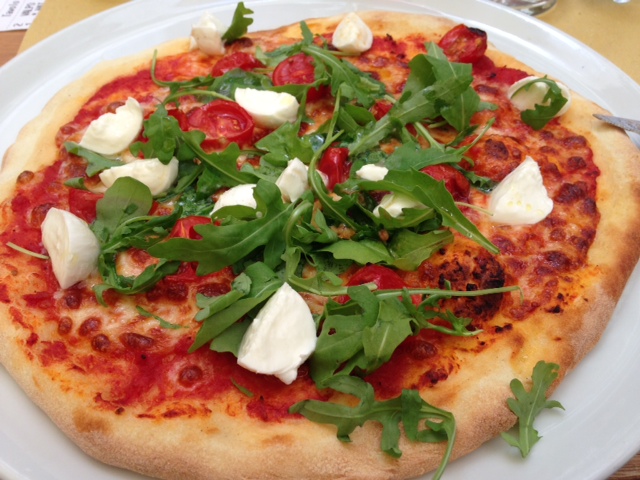 Of course after the Europe trip (particularly with nearly a week in Italy) and with a "real" kitchen, I had no excuse but to make my first Red House pizza in my new oven, too!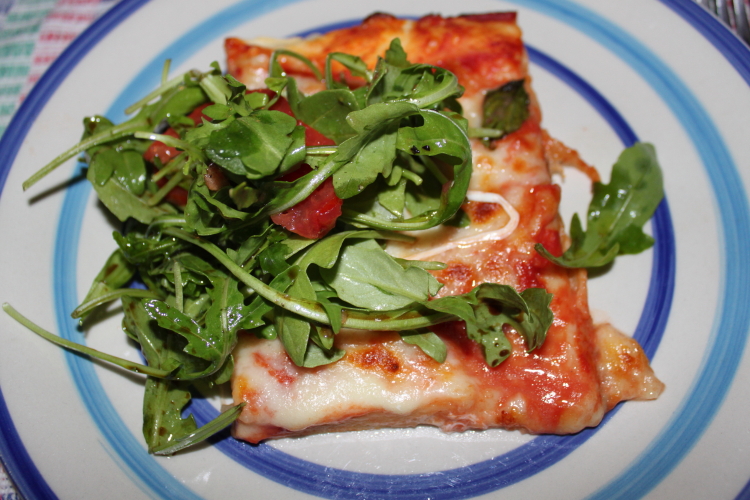 Truthfully, the oven could have been hotter since the crust came out soggy. (The leftover pizza that we warmed up and kind of burnt the next day actually tasted better.)
What I realized after this trip however, was how very similar the area around Munich (particularly Garmisch-Partenkirchen) was to upstate New York. Undoubtedly, it's why I always liked being up here. Granted, the mountains are not as high, but we have very pretty lakes and streams, rolling hills, and gorgeous forests a mere hour's drive from the Red House.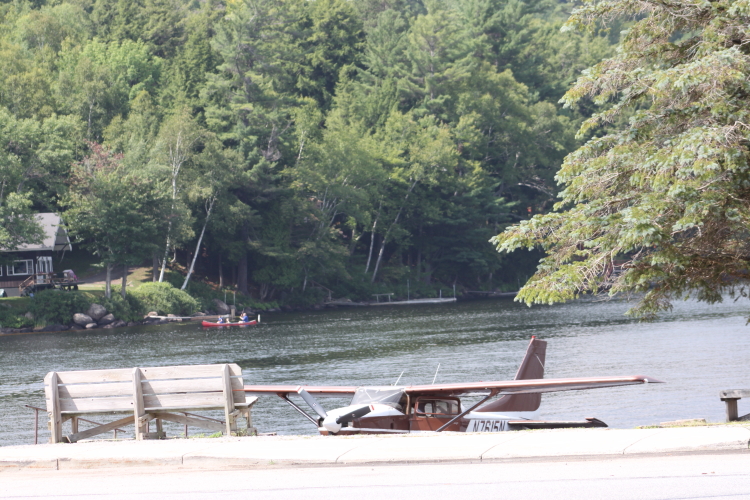 On a different and not so bucolic note, we came home from our journey to find bats in the Red House. Our contractor has been working diligently to replace all of the plumbing in the house primarily to put a bathroom in the master bedroom and in doing so has unfortunately created a few "holes" in the walls.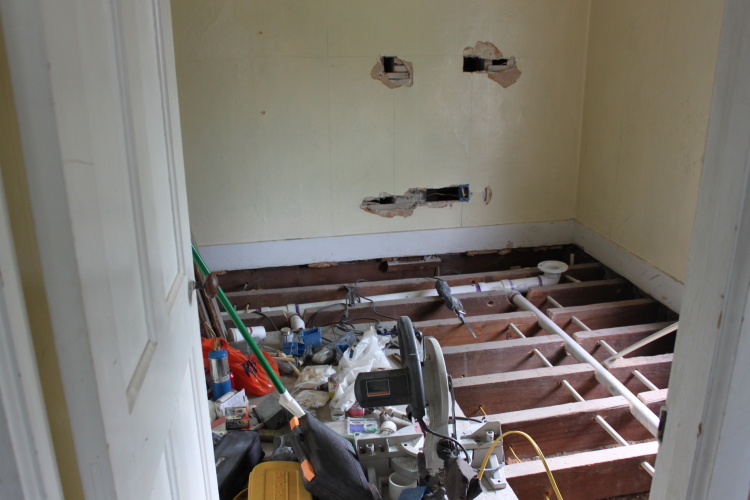 This has resulted in at least two bats trying to take up residence inside the house! We noticed this one night when we were watching a DVD. Suddenly one of us saw something fly by out of the corner of one eye with what looked like very dark wings. Lynn and I are not good with bats or any other type of scary monster-like animal for that matter. Consequently, we quickly exited the room, shut the door and ran upstairs.
The next morning, our contractor showed up and found the bat sleeping by the basement door. He put on a pair of gloves and simply picked up the bat and put him inside a plastic supermarket bag. Once in the bag, he took him outside and released him back into the wild! Since the bat slept through the entire experience, I can only conclude it was a "teenage" bat.
We thought the bat episode was over, until the next night we were watching another DVD and sure enough once again there was something dark flying around in the next room. So, we repeated our previous night's performance by quickly exiting the room, closing the door and going upstairs. This night however, Lynn also decided he was going to "seal" us in the room – so underneath the doors he wadded up some placemats and a kitchen towel.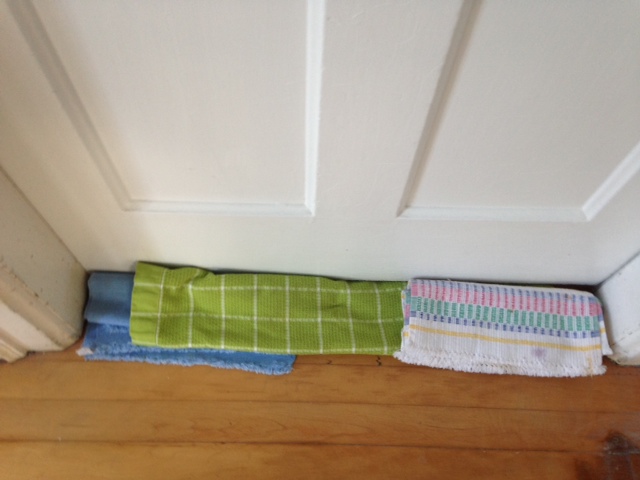 This didn't bring me any great amount of comfort and truthfully, I woke up at 4 a.m. thinking I heard and saw something flying around the bedroom. Plus, I was really really hot since the room was probably around 300 degrees since we had put in new windows, insulation and now a new floor! (Okay, it wasn't really that warm but it felt like it.) Plus, now that I was hot and annoyed, I really had to pee but was afraid to go into the bathroom. Note to self: this is why you've never been camping – you hate bugs, creepy crawlies, bats and other things that are generally scary.
Finally it was morning. Our contractor showed up again (in itself always a good thing) and he found the hole in the wall that he thinks the bats were flying through. He grabbed some insulation and filled up the hole. We have not had any bat sightings for about 24 hours now so I'm hoping this method worked.
I was also hoping that similar to Shakespeare's play, "A Midsummer Night's Dream," our very own "Puck" would emerge from the forest behind the Red House and tell us that the bats were only just a dream! Unfortunately, he did not, they were in fact very, very real!
I will leave you with this thought and image. We started our trip this year in Frankfurt, Germany, a city Lynn and I had never visited. We walked through the old town and came upon a pedestrian bridge called the "Eiserner Steg." There on the bridge, similar to many bridges we've seen in Paris and Florence, were locks that had been affixed not only to the structure but to other locks, too.  As romantic history buffs will know, the padlocks when locked with a key, symbolize a love that can't be broken especially since the key to that lock is thrown away.
Since I, too, am a hopeless romantic, I spent a lot of time looking at the engravings thinking I would find a couple who had the same initials as we do. Perhaps, instead, I should have been looking for a lock with the initials "RH." After all, I think our relationship is pretty darn good after 35 years (especially since this is our THIRD house renovation). The Red House still needs a lot of work and love put into it – somehow I know we can do it.