Lynn and I sometimes can't believe we've been working on the Red House for nearly 7 years. There are pros and cons to any project that takes this long.
First and foremost, if you buy something in the beginning and then decide further down the road you don't like it or it simply doesn't work, you can change your mind and replace it with something you think will work better. This, in my mind, is a plus.  The downside of this lengthy renovation is since you've had so much time to change your mind and do it differently, it inevitably will cost you more money than you originally anticipated.
Case in point. I'm afraid to even mention the upstairs master bathroom (recently renamed the "million dollar bathroom") but I will. Okay, I know it REALLY didn't cost that much but the fact that I paid a previous contractor a large sum of money to do the bathroom, but ultimately had to pay another contractor THE EXACT SAME AMOUNT to rip it out and redo it is why it has definitely earned that title.
Consequently, because I had to come up with double the amount of money I had budgeted for the bathroom, I had to eliminate something from our very lengthy "TO DO" list and that was (drum roll please), finish the kitchen.  I know, I know, it pisses me off, too.  I mean really, I would love for all the electrical work in the kitchen to be completed, the exhaust fan/hood above the stove to be installed as well as the "stop sign" window to be spackled, sanded and painted! Hopefully, by the end of the summer, this will move back up to the top of the list.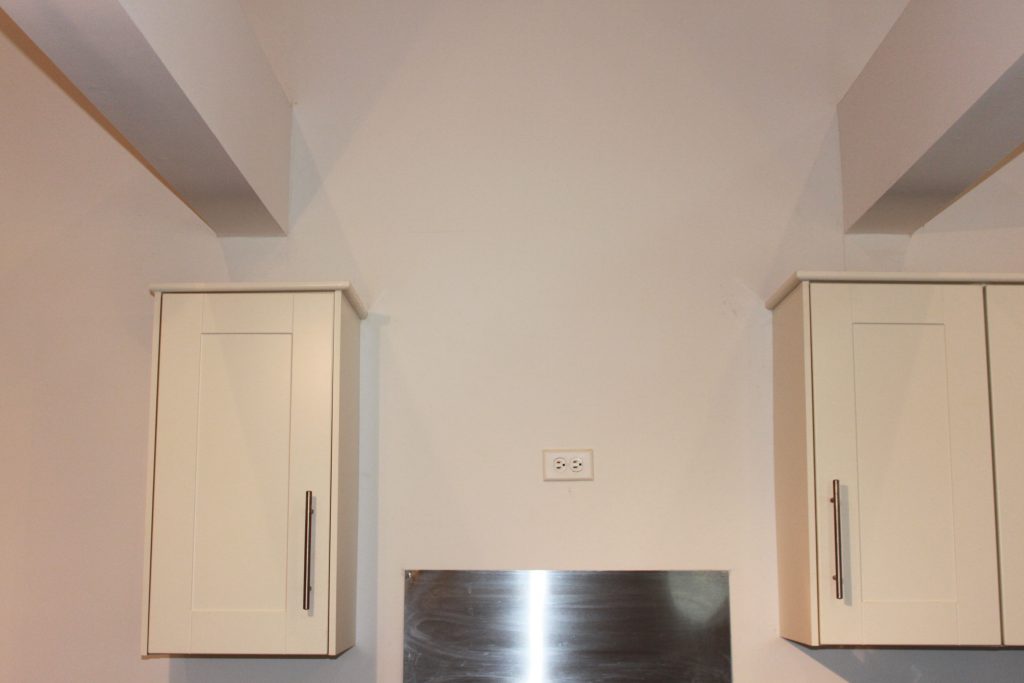 This is where the exhaust fan needs to go! Look the outlet is already there and waiting!
I guess the fact that we put up a decent looking metal back splash is a lot better than what we had before (that would be a very ugly black garbage bag and not even a good one, a crappy one) like you see below.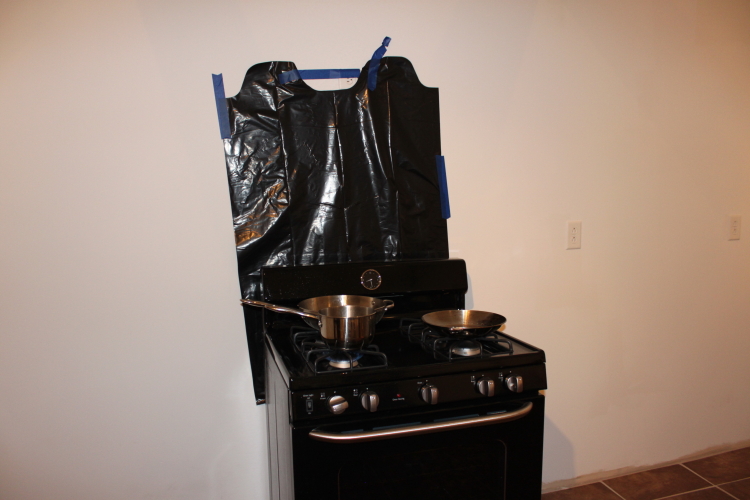 This of course was before we got cabinets, and counters, etc., etc., etc. Wait is the stove on? Am I cooking something and taking pictures at the same time? Do you see the flame? I do! Obviously I'm just boiling water since there doesn't appear to be anything in either of the other pans.
Besides having the exhaust fan installed, the "stop sign" window needs to be finished!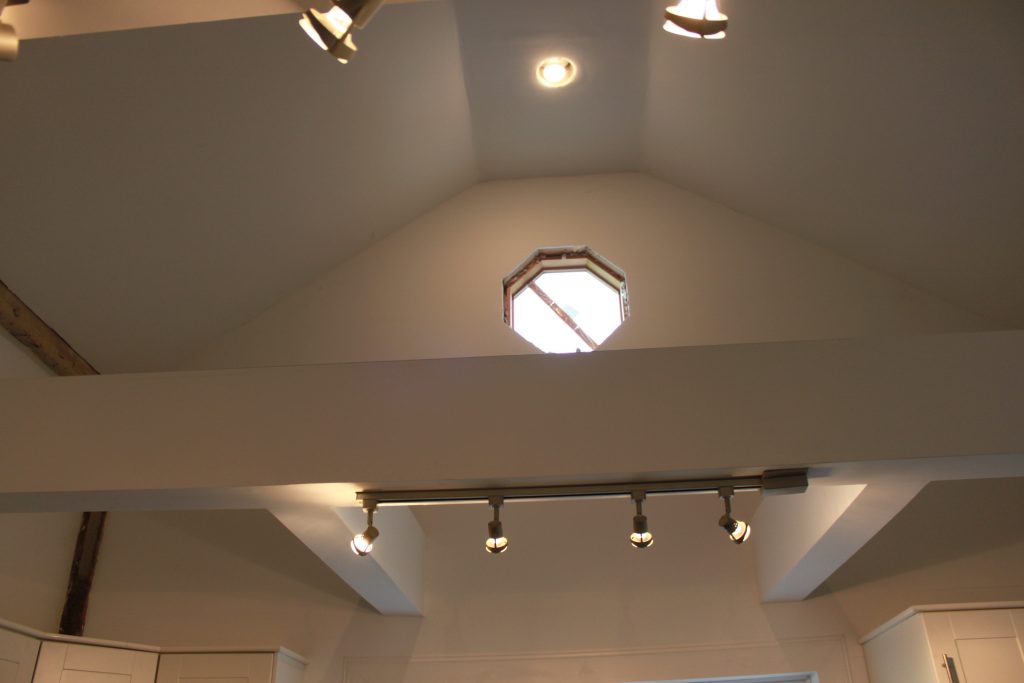 Trust me, it looks a lot worse on the outside. Technically, it is centered so we'll see how this really looks once the siding is done.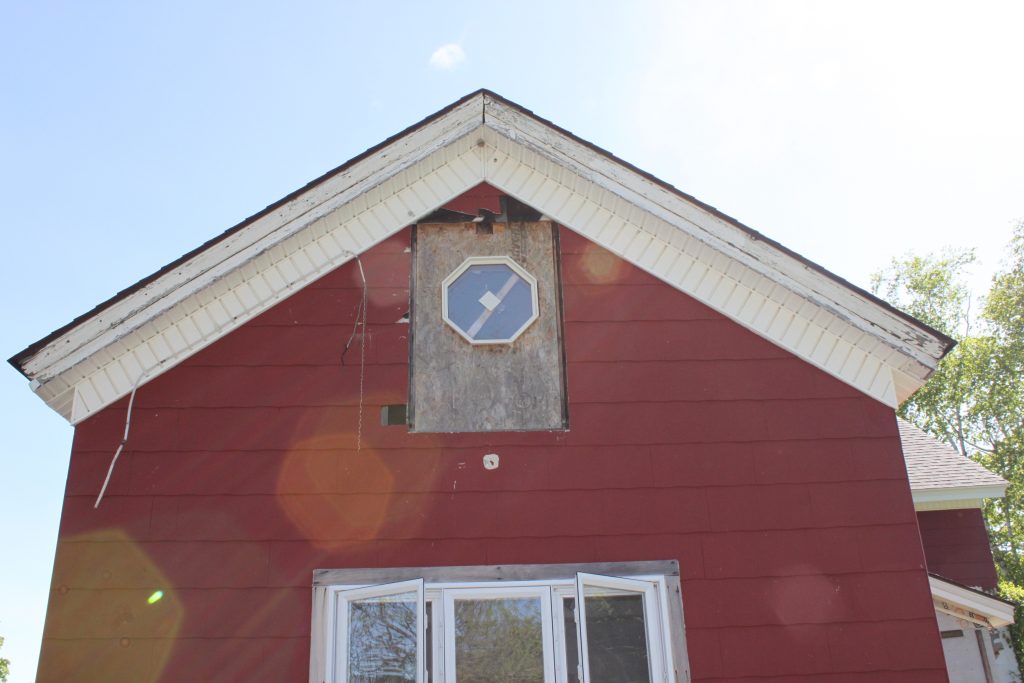 In the meantime, we are almost finished with the upstairs master bathroom! Hip Hip Hooray! Yes, it looks much better than we ultimately thought it would and it's the biggest bathroom we've ever had in any apartment or house we've lived in so I guess it was worth the wait and the money. We have to still install the shower door, hook up the faucet for the vanity and simply put the drawers in. I'll let you know how that goes.
Remember, this is what we started with – a former nursery with no plumbing that managed to become a bathroom. The original thought was to put subway tiles on the shower walls and a simple gray tile for the bathroom floor. In hindsight, the subway tile looked a lot better when we laid it on the floor than the wall.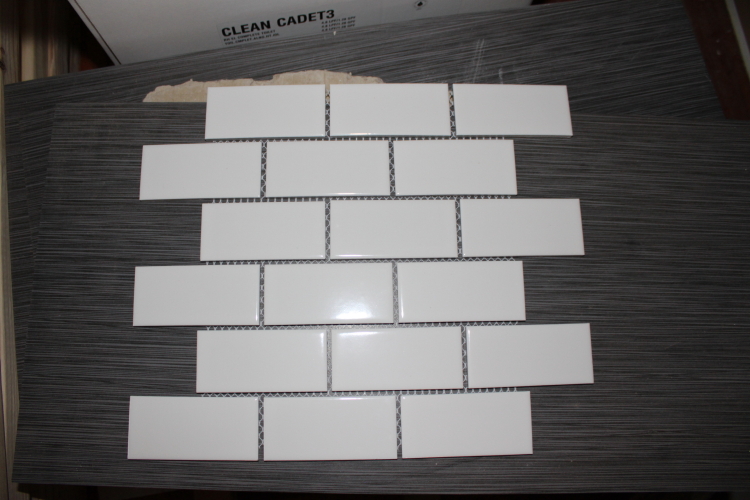 This was Round 1 of the bathroom. Yeah, it just didn't work.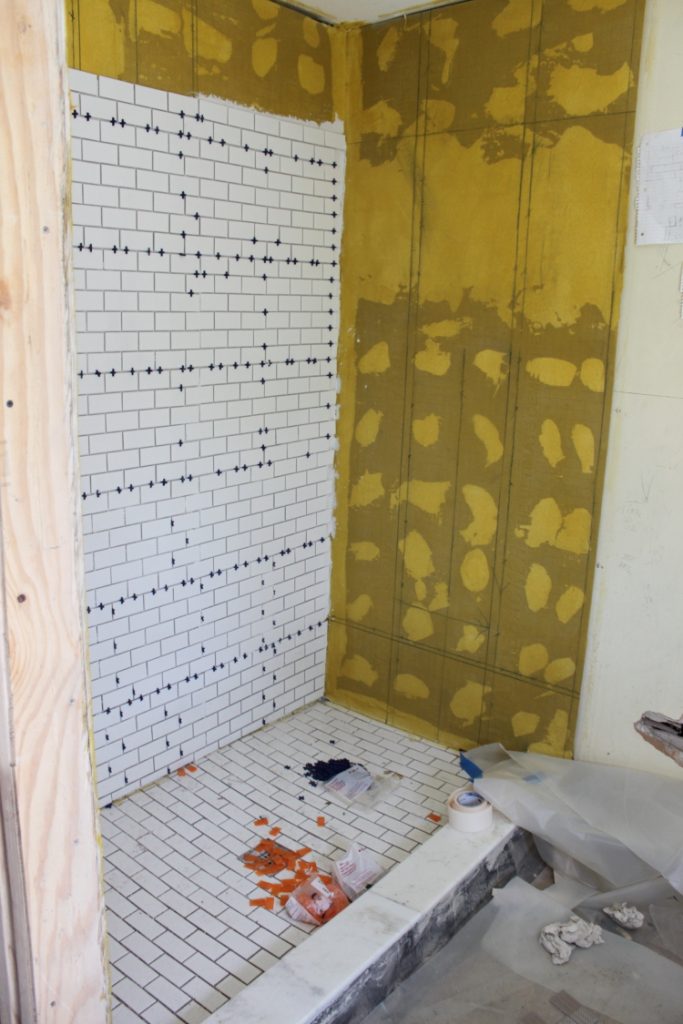 Ultimately the subway tile had to be ripped out and a whole new unit needed to be put in. And yes, they did throw out the piece of marble that cost us a pretty penny on the step you see here that I hoped could be saved! (Case in point: when you tell someone to demo a room and throw everything out and start again, that's what they do!)
And this is Round 2.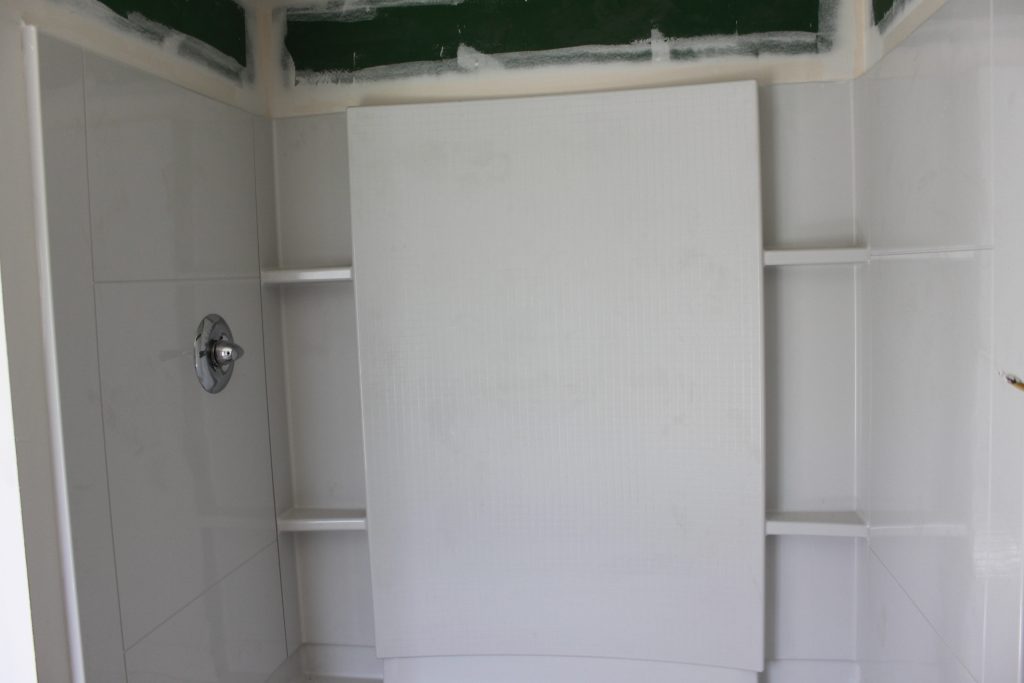 Okay, in hindsight this looks a lot "neater." And I do love the shelves although they will probably make me crazy trying to keep them clean.
And I think the floor tile came out nicely although Lynn is complaining the grout lines are too thick! REALLY?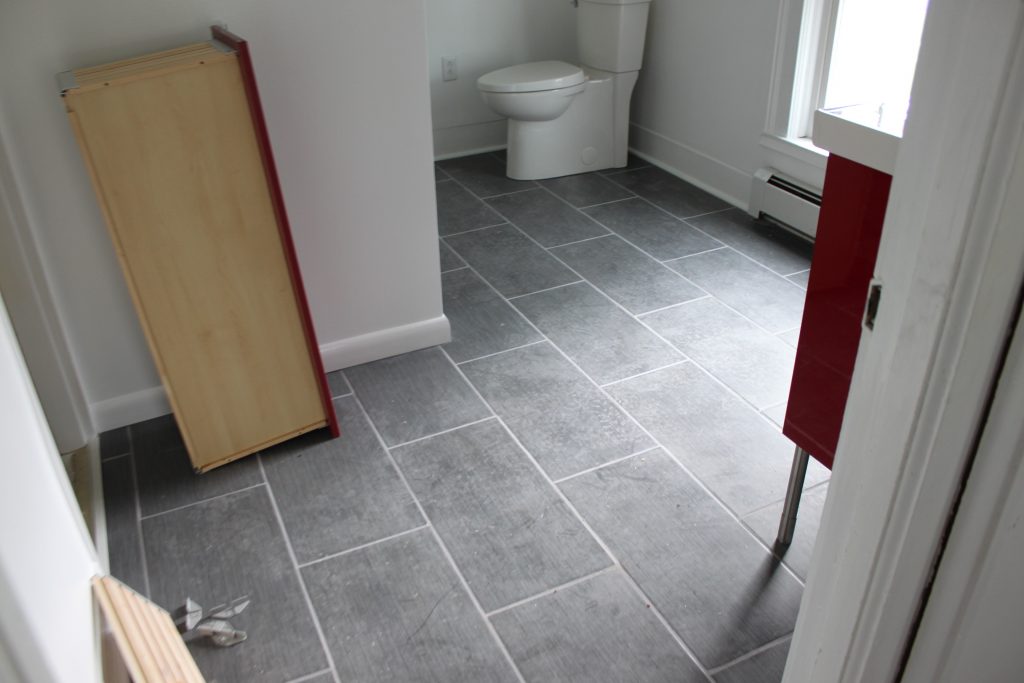 Besides the master bath near completion, we also managed to convert a bedroom into what will eventually be a walk-in closet but more probably some sort of office. (I don't really have that many clothes and would rather have a room to work and/or write in.) Remember we originally had six bedrooms (!) and are now down to three. Here are some before and after shots.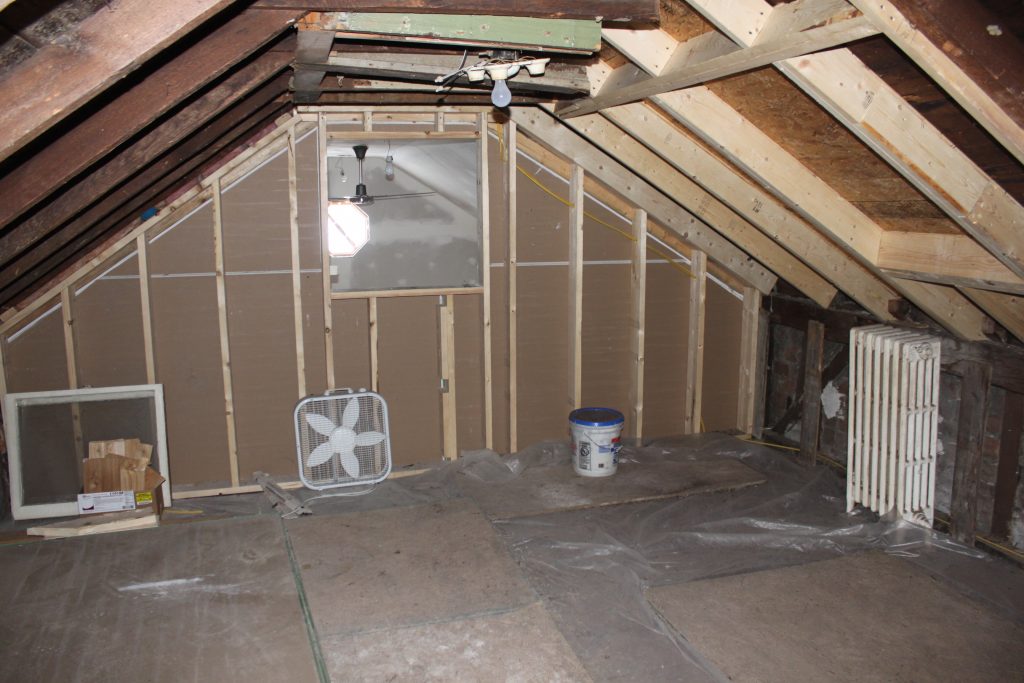 This shot actually looks a lot nicer than the space really was.  I hated walking into that room, it was really scary. We also originally had planned to have a skylight in the room (notice the plywood frame in the upper right hand corner where the skylight was going to go) but since then the wall has totally been dry walled.  Here are two pictures to show the process.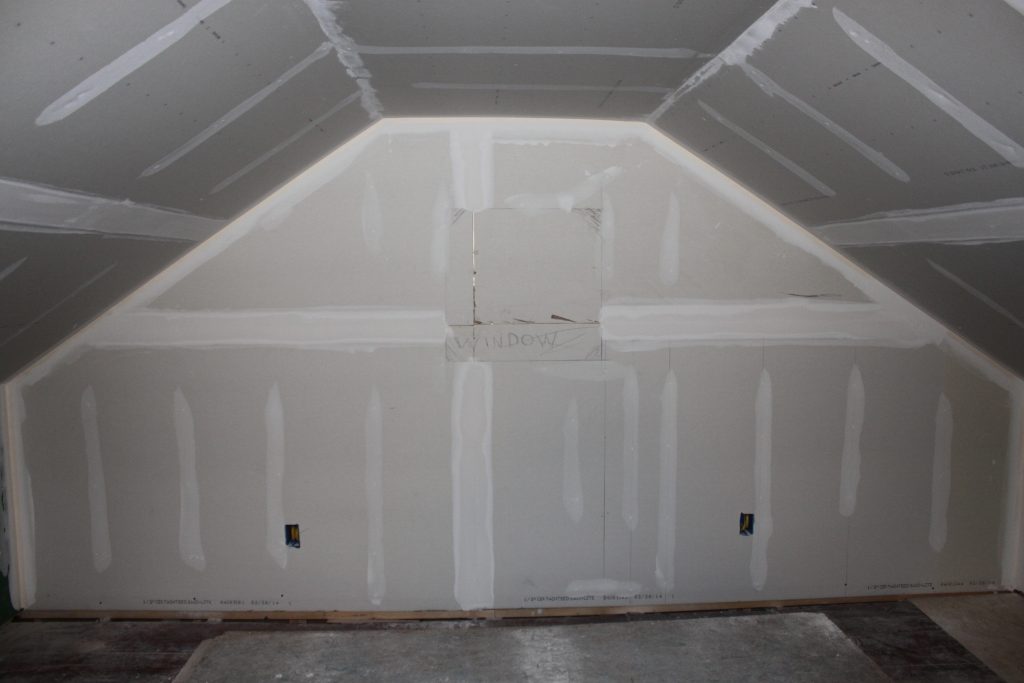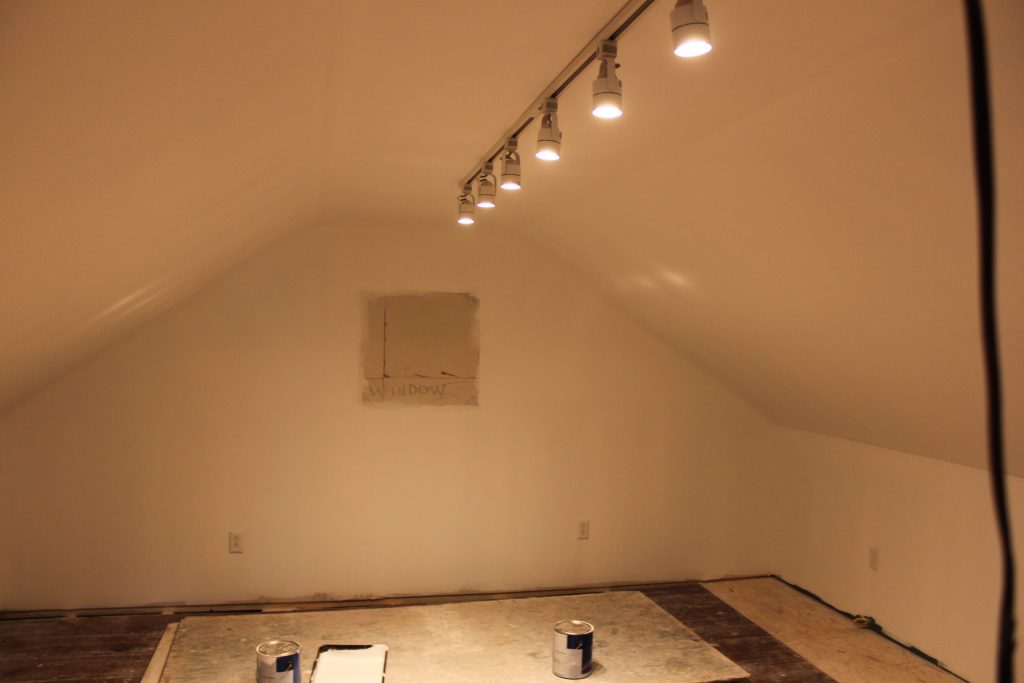 I think the track lighting to replace the single hanging light bulb is a huge improvement! The walk in closet also leads to the attic but a portion of the attic stairs had to be ripped out to put in the plumbing for the master bath.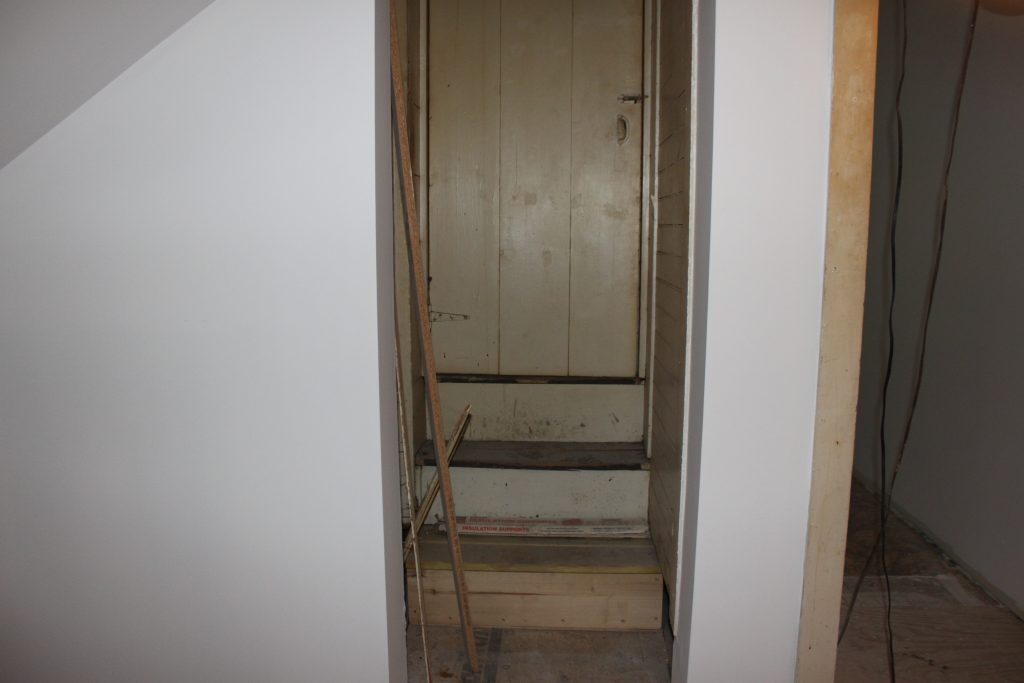 Now that the plumbing is finished, the stairs have been put back.  This means I can finally start putting some of the many boxes we brought up from our old house up there in storage. Somehow, I just couldn't bring myself to throw out all the kid's old toys and books and school certificates just yet.
Once that's done, I can also focus on putting a new wood floor in the bedroom as well as new flooring for both landings. (Yes, we have two landings because we have two staircases.) Unfortunately, with all this construction going on (think dust and more dust), there's a lot of clean up we have to do. Really, how is this going to become a bedroom one can comfortably be in! Courage!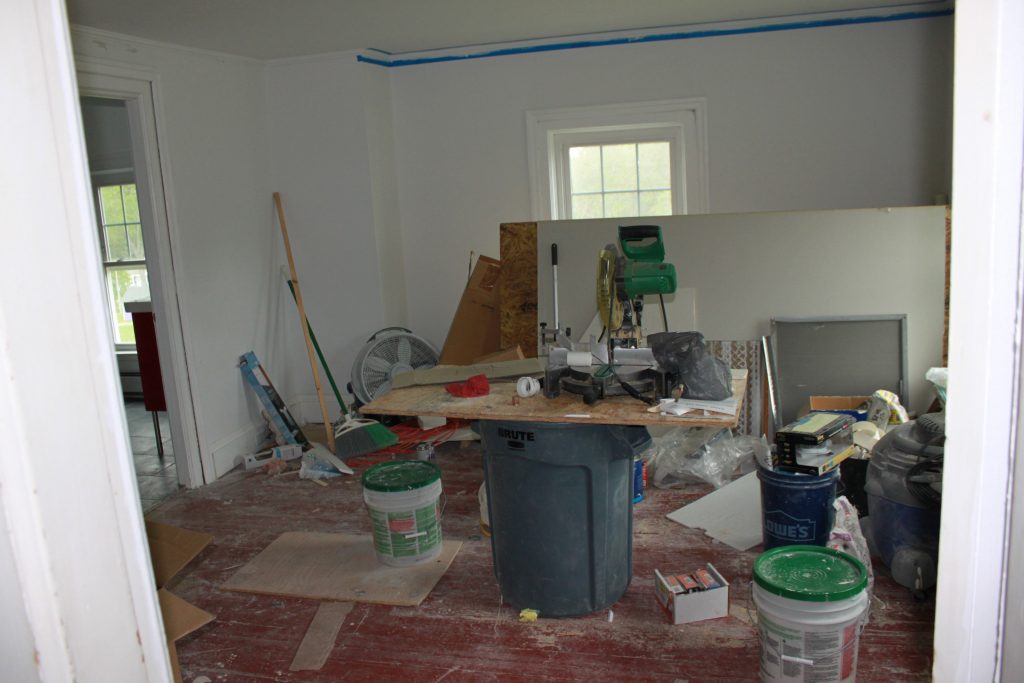 Okay, I know the table saw, shop vac and garbage can, coupled with leftover drywall, plywood and tubs of spackle will all go away but really – this is a huge room to clean up.  Let me segue here briefly.  When my current contractor started the job and one of the stipulations was to throw out all the old iron radiators, he actually asked me if he could just throw them out the window.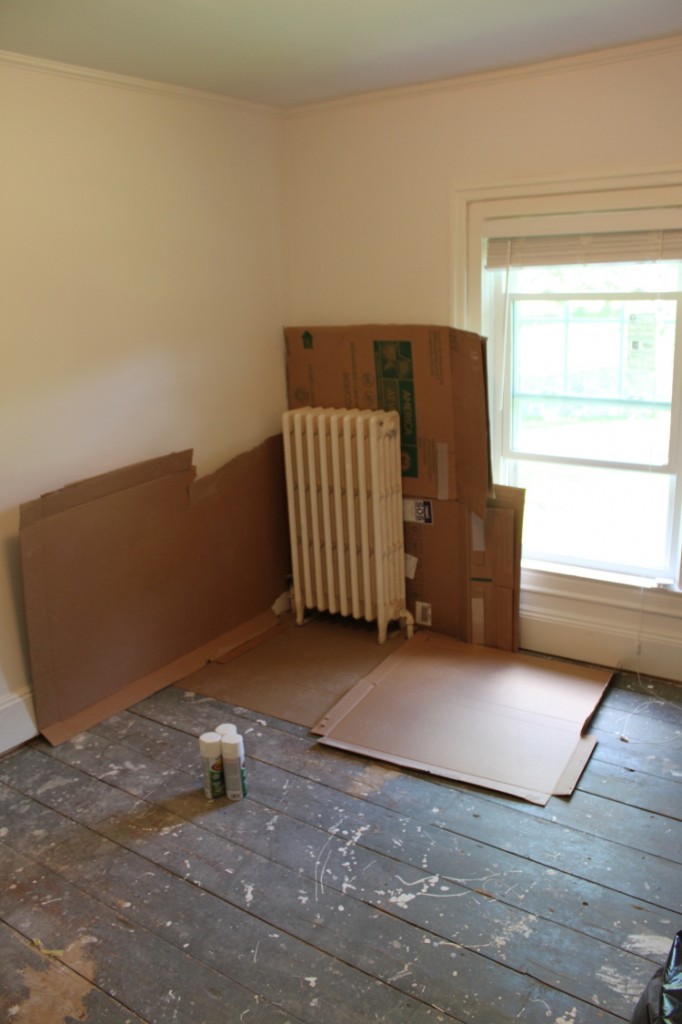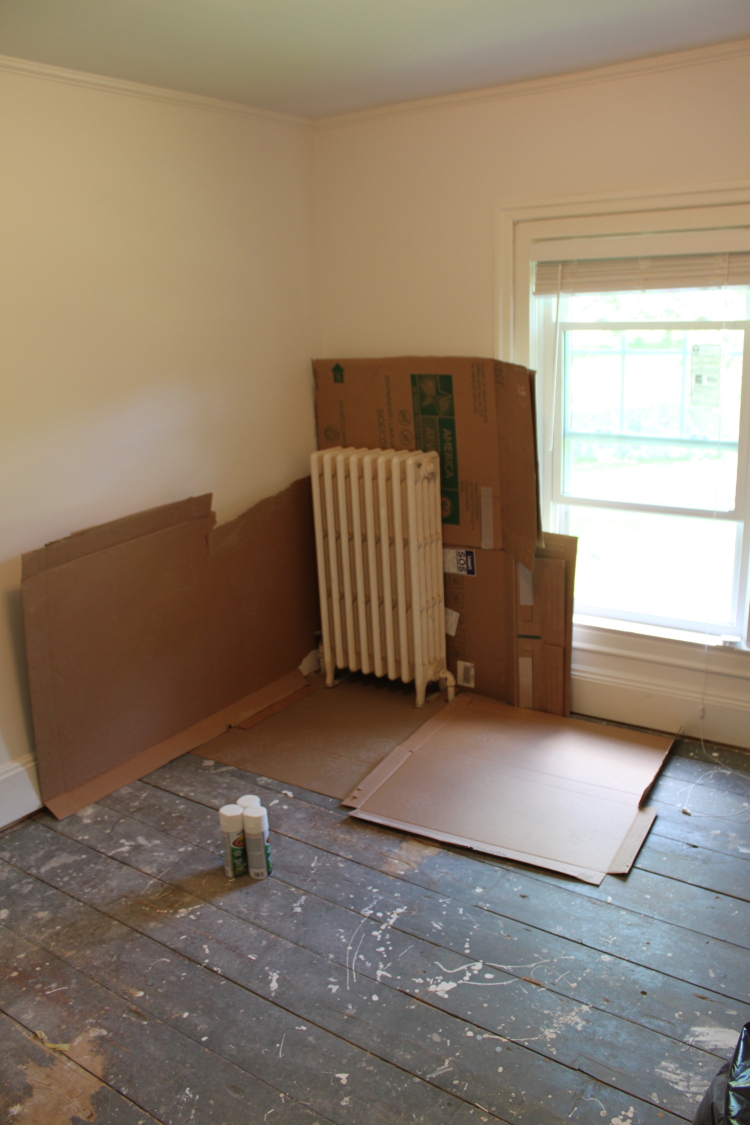 See this radiator (yes, of course we did save some), well imagine this times 4 and you get the picture –  they're old and weigh a ton. So no, throwing them out the window was not an option. My luck, they'd bounce back and break a window!
But back to the landings. Here's one of the landings that's big enough to perhaps accommodate a reading nook in the future. When I get rid of all the boxes and put a bookcase I bought the first year someplace else (along with numerous dictionaries), I think this will be a pleasant little space.  In case you missed the dictionary in the picture, it's the big white paper thing with black tabs on it. Side note: Before anyone had an app that would help you spell and define a word, there were dictionaries! Besides English, I also have dictionaries in German, French and Italian! And they're all really big and heavy! But more confusing is why exactly do we have so many blinds lying around? What rooms are missing blinds? Are there rooms in the house we haven't discovered yet?  Just kidding!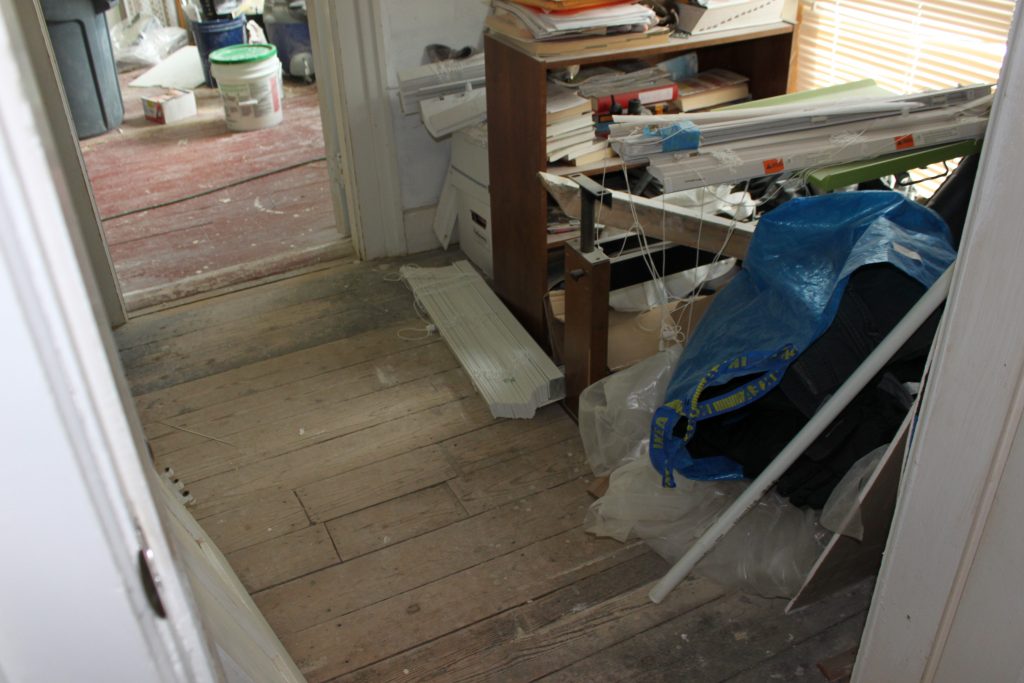 Our biggest project this summer (money-wise, too) is that we are finally ready to do the siding. We also hope to install some much needed gutters over the porch. This should help to alleviate the "shower effect" we so often get when we're trying to get into the house when it's raining.  Yes, indeed the water just pours off the roof! And with new siding we'll need new outdoor lighting since the ones on the porch are no longer a complete working pair since one particularly bad winter a heavy duty icicle smashed one of them.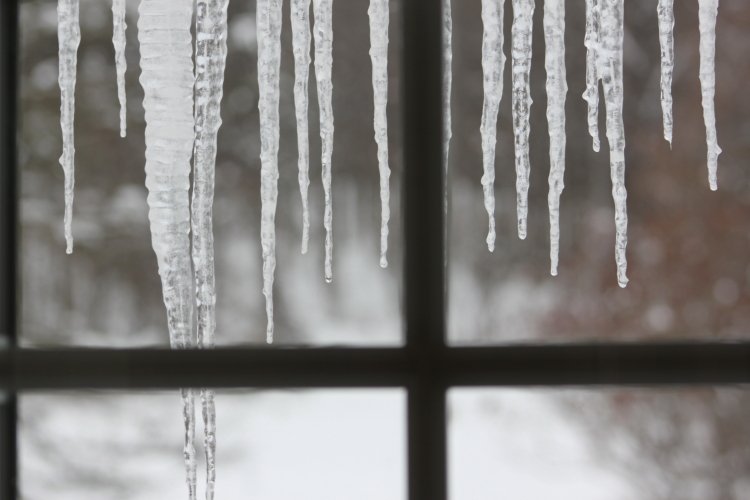 We also have been working on the dining room. I say "we" but really Lynn has been doing all the work.  He ripped off some weird moulding and other strange material that had been put on the walls only to find some old floral green, white and gray wallpaper and what I can only describe as an attempt to stencil huge bows on the wall.  I do wonder if there were any family portraits at one point that had been put in these ornate "frames."
Here's a before and after shot.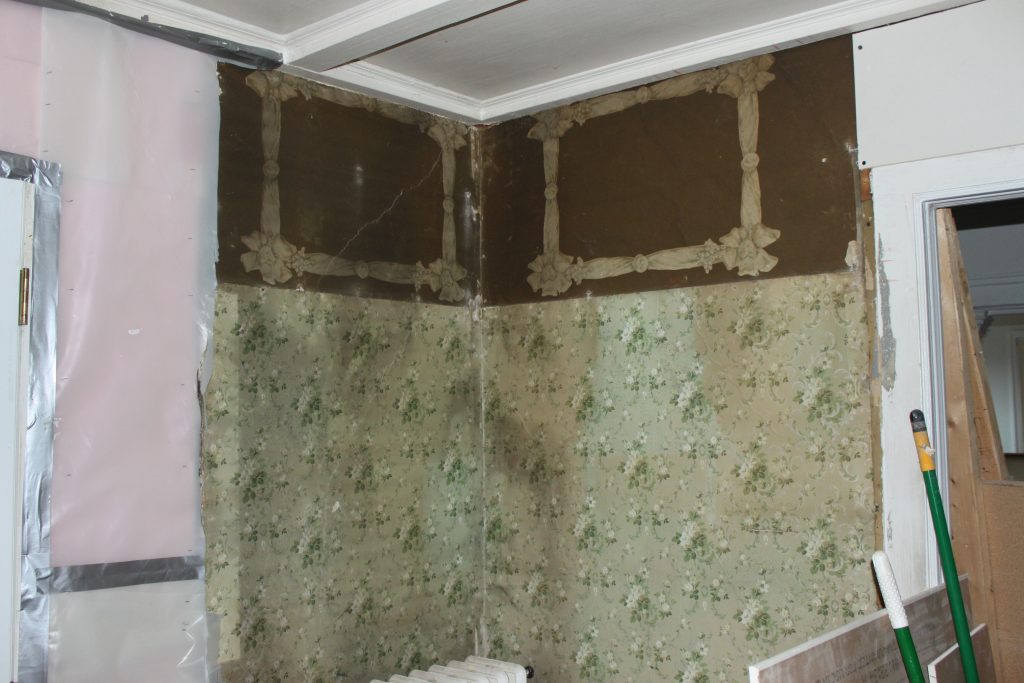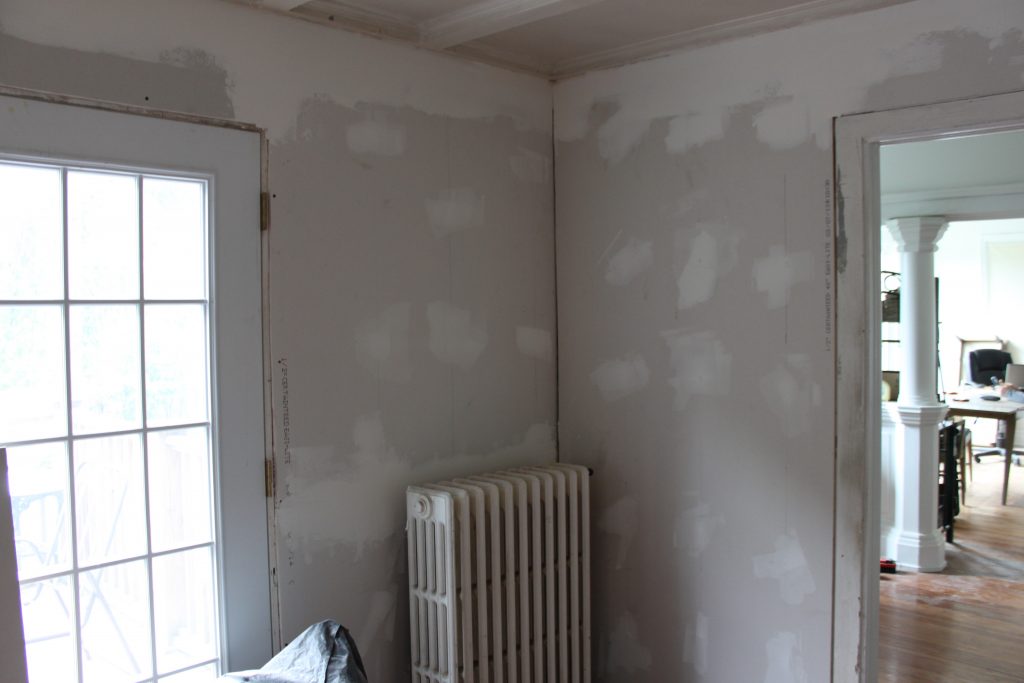 Gearing up for the summer planting season, our garden took a beating this winter even though we were told it was a "mild" one.  "Mild" compared to what I wonder? This weekend I spent a few hours tilling the soil, thinking about what I would plant, trying to remember what worked last year (zucchini, beans, beets and peas), what the rabbits ate (zucchini, beans, beets and peas) and what didn't grow at all (sage, eggplant and peppers).
We had luck growing basil in containers when we had our house on Long Island so Lynn suggested we try that this year. Luckily, we seem to have a nice crop of asparagus that seems pretty hearty (here's a shot of a few very tall stalks early in the season).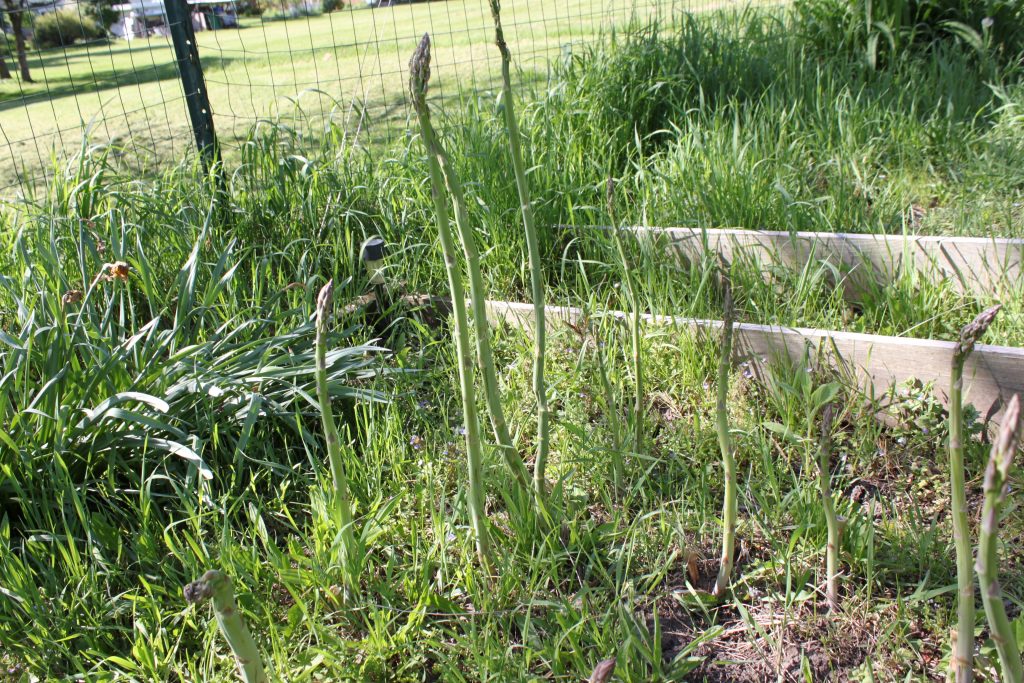 The strawberries appear to be doing well, too, provided the birds and aforementioned rabbits don't eat all of them. Dare I mention I saw a couple rabbits the other day and they looked really BIG! Maybe they'll be too full to venture into the garden? Or maybe they're large because they're about to birth little bunnies! Hopefully they won't eat a new rose bush I was just about to plant in the ground.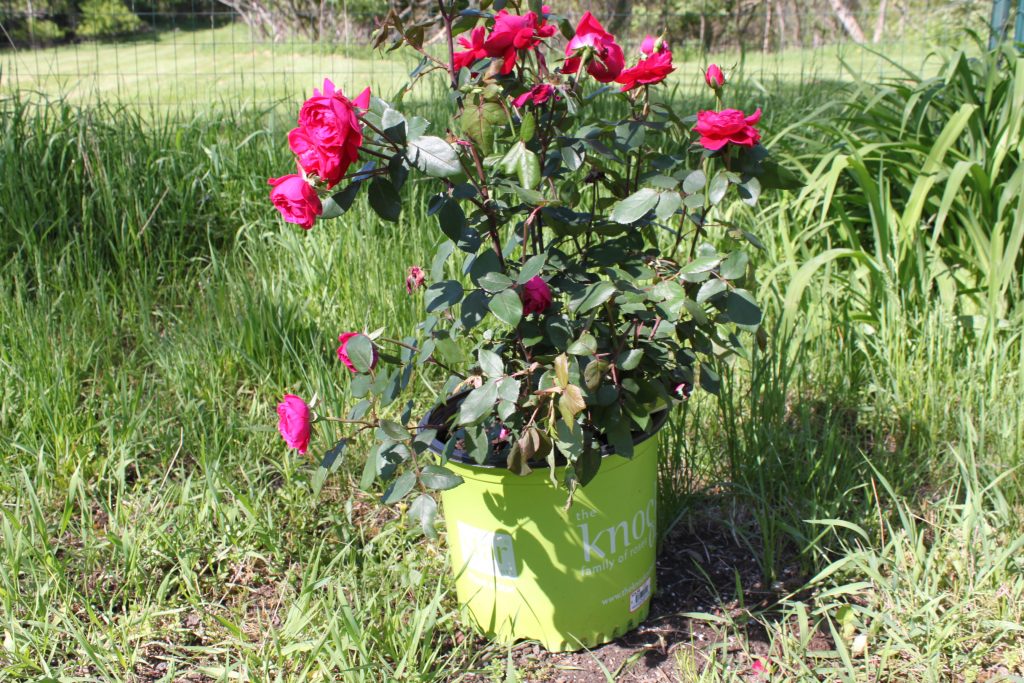 On that note, if you're planting any veggies or flowers this Memorial Day weekend, think of me! And, don't worry, I'll have lots of follow-up photos and a story or two about the Red House and its new "look."
And so our 7th summer at the Red House begins.