Hard to believe we've been living with light bulbs hanging perilously from the ceiling, a bladeless ceiling fan that was begging to be updated and probably the ugliest "chandelier" that was ever manufactured. (I know someone probably likes the light in the third photograph just don't tell me you think it's lovely, it's not.)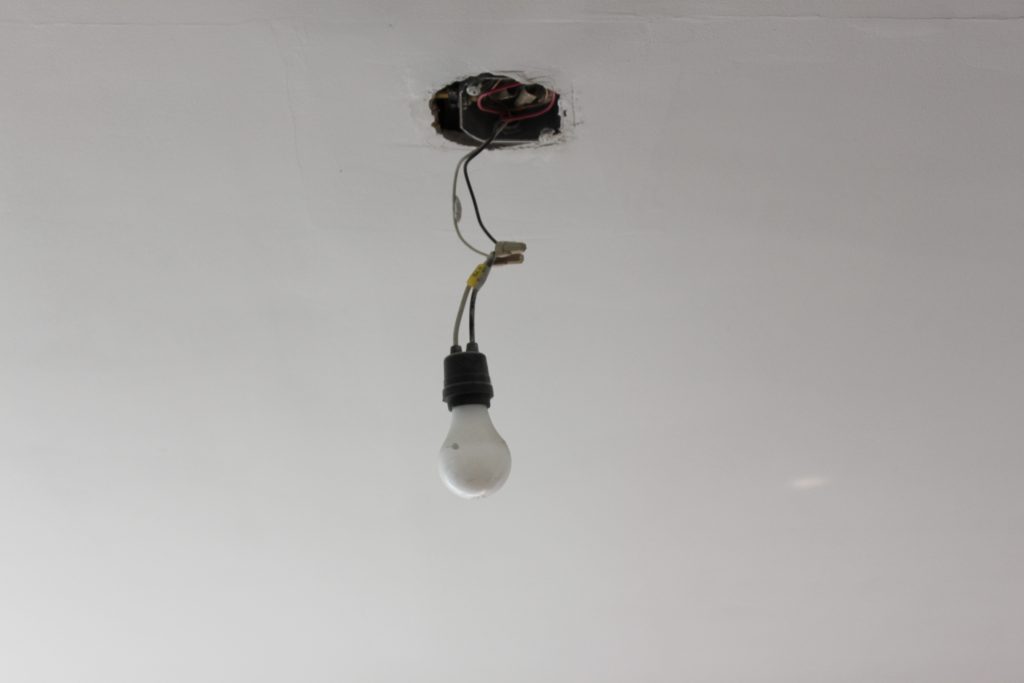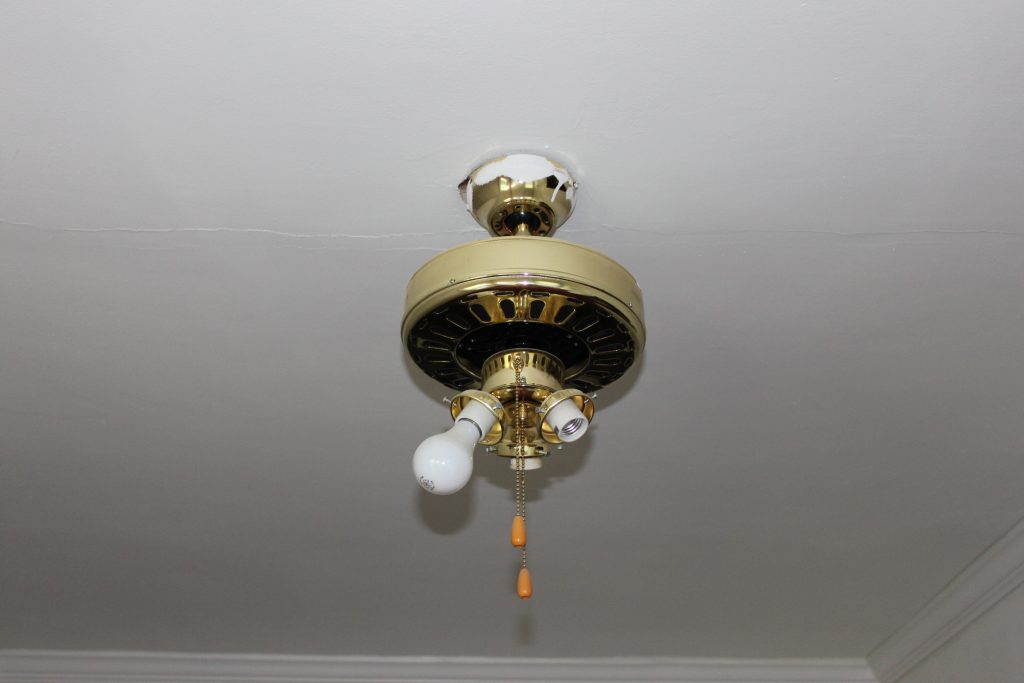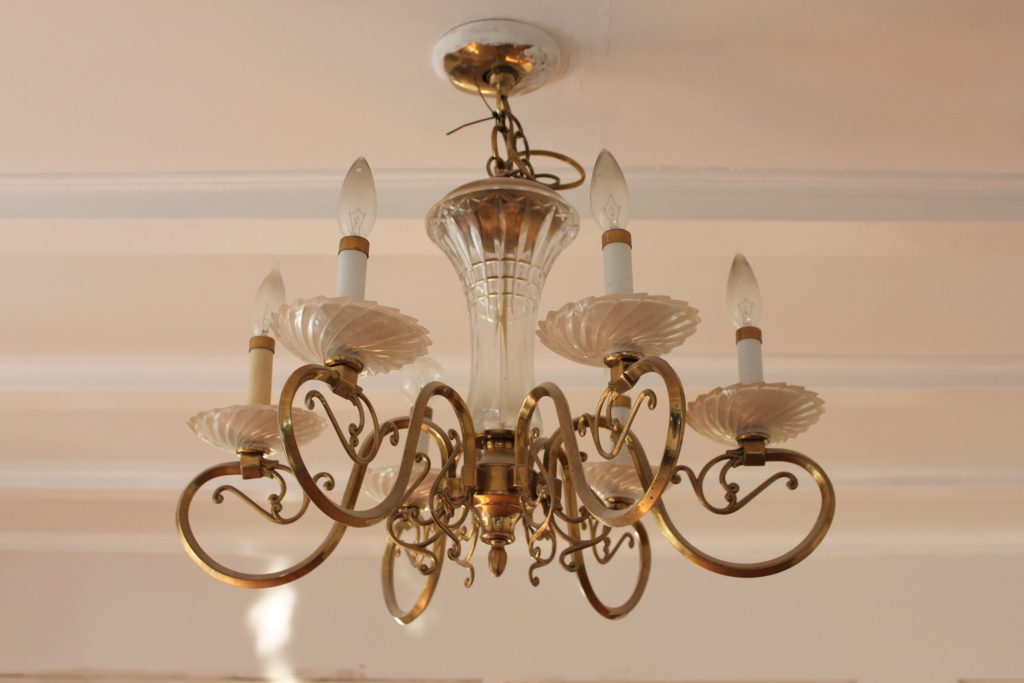 Along with the massive siding project, we finally broke down and hired an electrician to put up every light we had purchased in the last seven years for the Red House as well as a new fan for the ping pong room. Oh yeah, maybe someone who could even put real covers on all the exposed switches?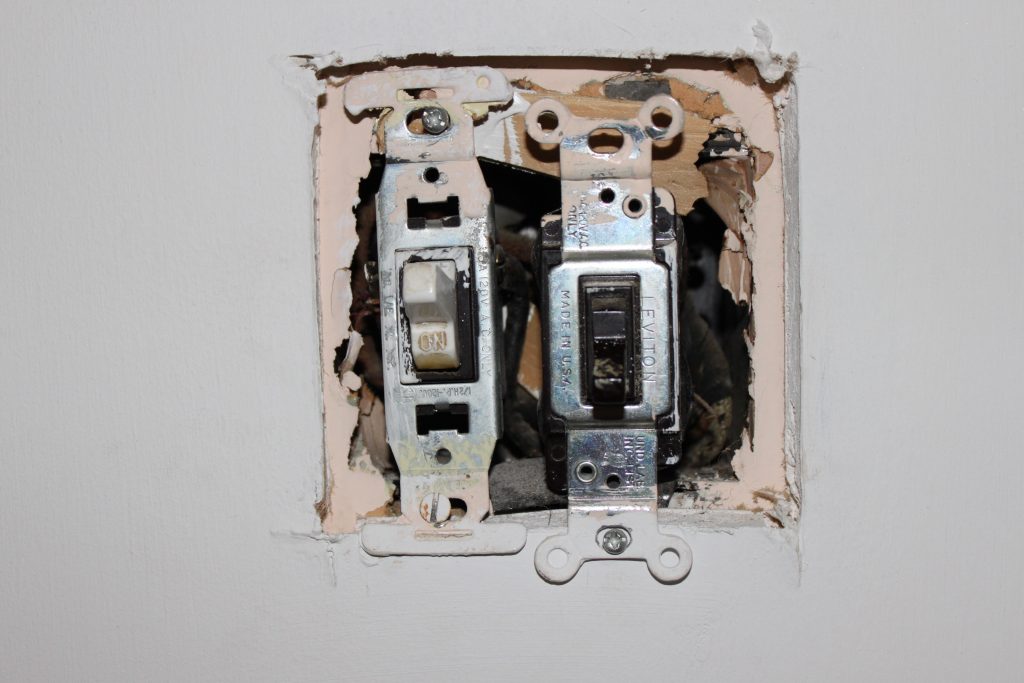 Yes, you can live like that for years and years when you no longer have any young children running around.
First to be capped were the exposed wires in the kitchen we had been looking at for at least three years.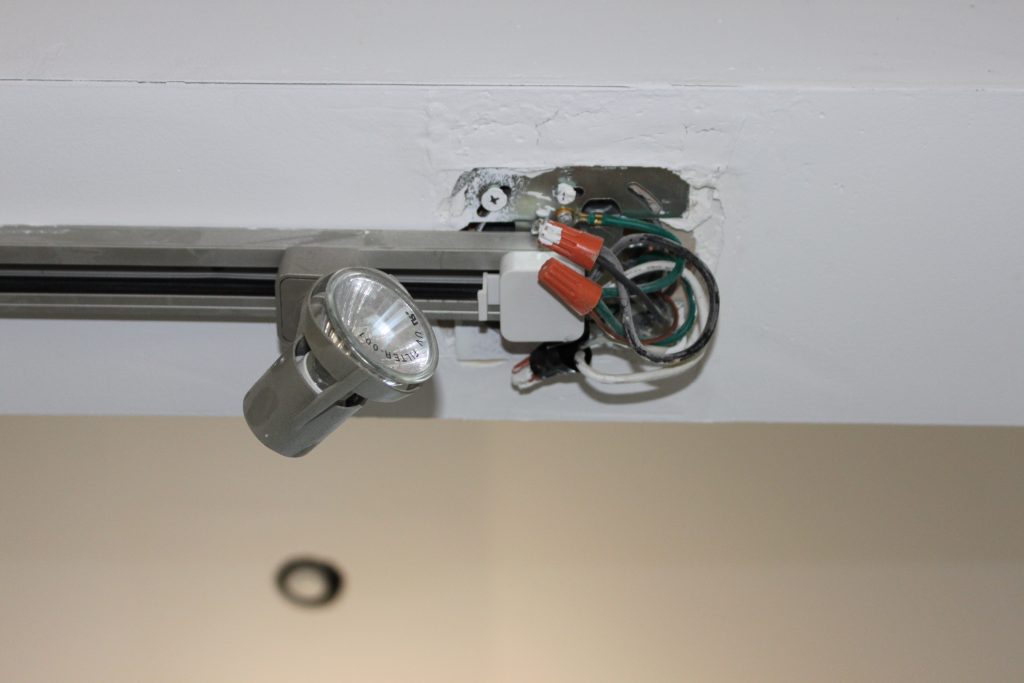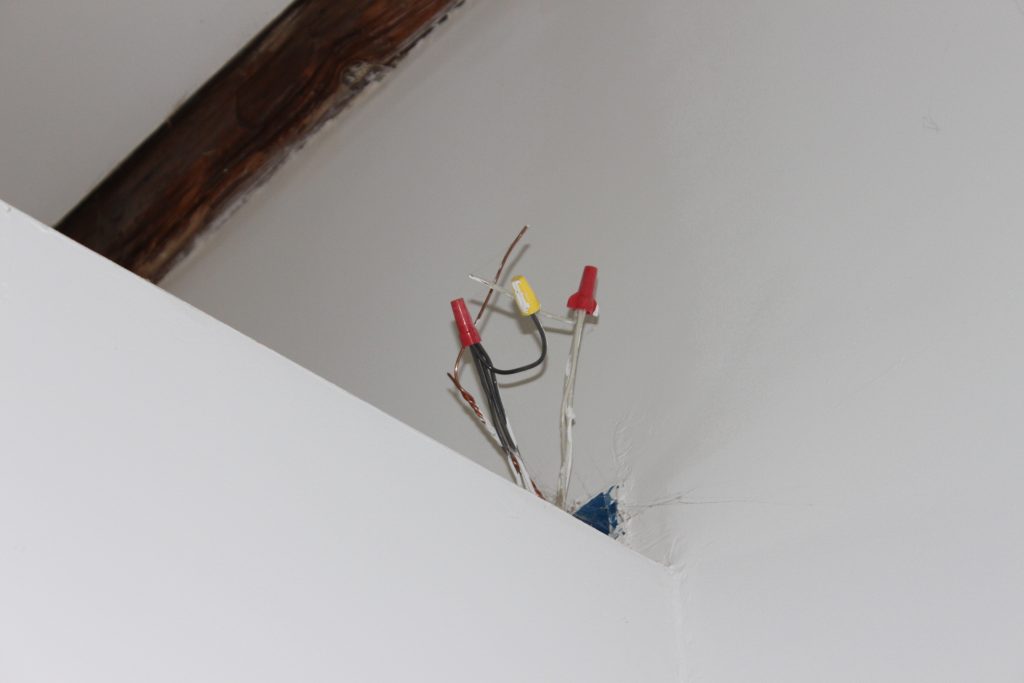 Next was the dangling light bulb that was replaced with a soft glow "sputnik" and a funky new fan whose glass cover broke so we have to try and find one that size. (Initial research has revealed that this, however, will not be an easy task since it's not a "standard" size. )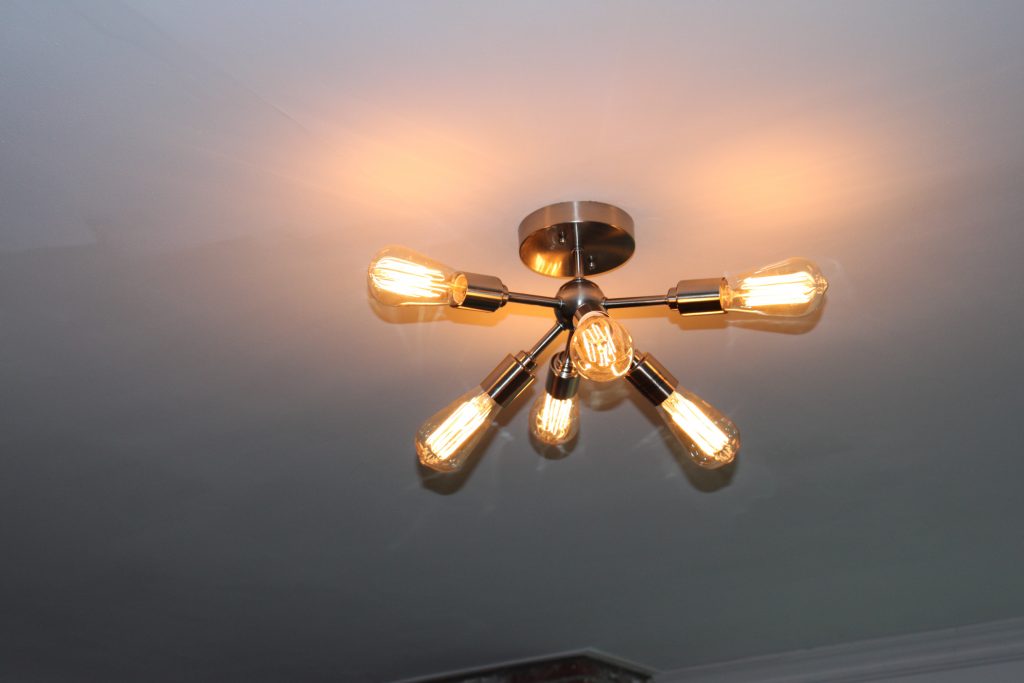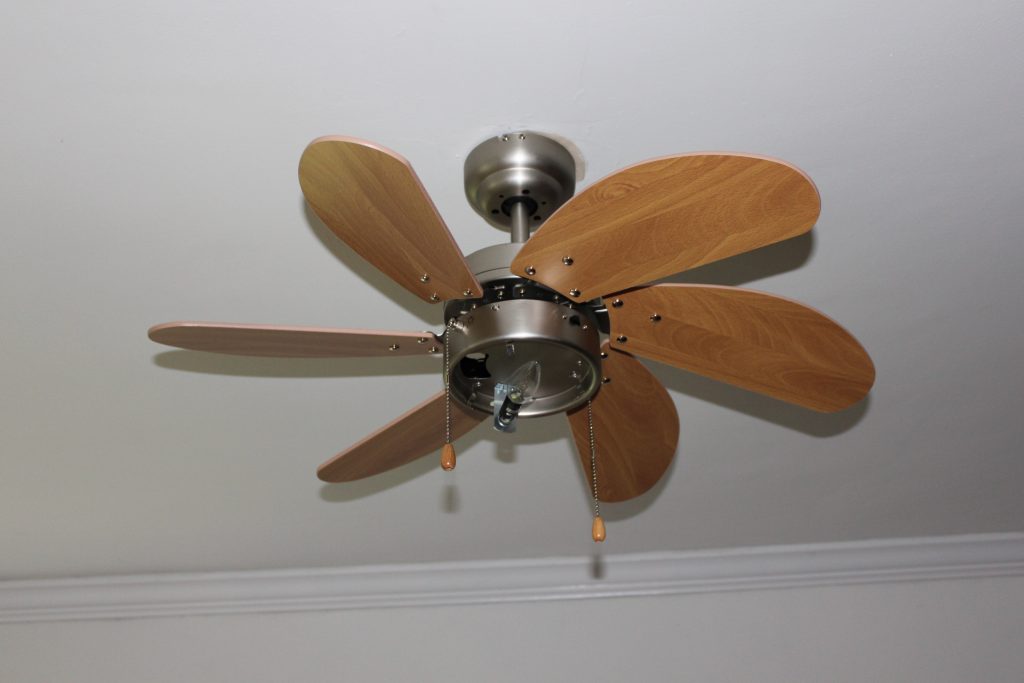 I was just happy I wasn't the one who had to stand on a step stool (or more likely a paint-splattered chair) holding up a light fixture while Lynn attempted to install it and not electrocute himself.  There are just some things we refuse to do anymore and this has become one of those things.
Besides the new lights throughout the house, we have finally finished all the siding. The installers said it would take one week which I was skeptical about considering the size of the house and hence I took off 2.5 weeks from work to be here to make sure that all went according to plan. When all was said and done, it took them 8 days – they lost one day to rain, one day to "camping," and one other day to do a window installation at another property.
Here are some pictures of the process.  We even got to see the original color of the house (dark brown) when they tore off some of the old shingles.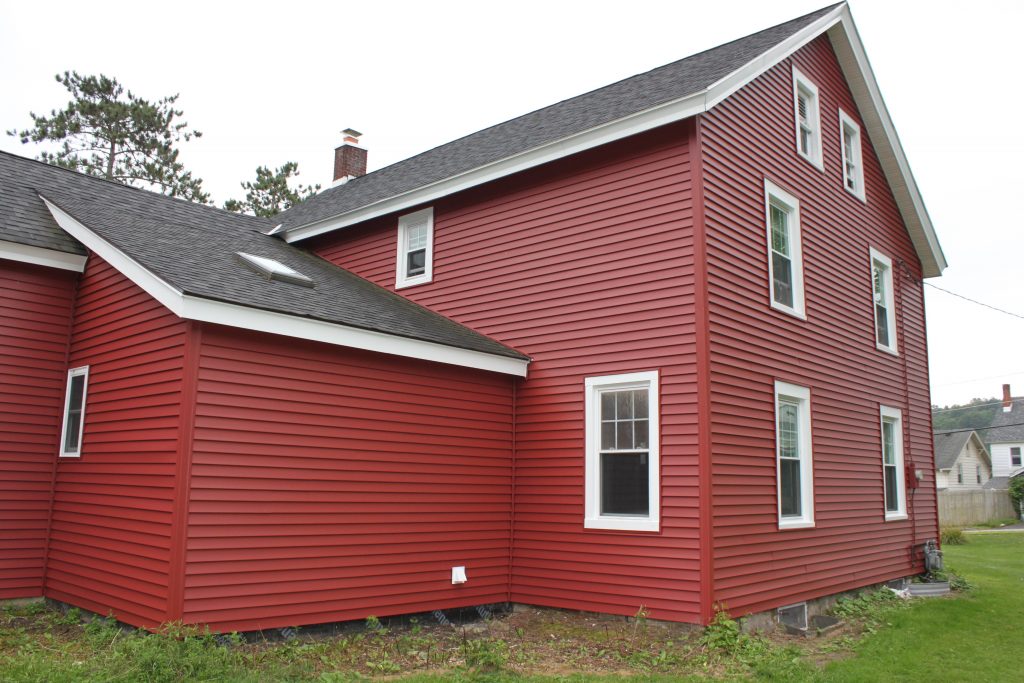 And yes, the Red House is still RED! And while I was skeptical about the color of the siding when I saw it online, I have to say the Red House looks really really nice. I was worried that the vinyl would look really plastic-y but it doesn't.  It looks exactly like the color it should be. Watching people drive by the house, it's been amusing to see people do double takes when they see the sudden transformation. Not so amusing is that someone from the post office took it upon themselves to stop delivering our mail because they thought someone else had bought the house and finally made it look "pretty"!) Can you even imagine that?  It took me two phone calls over two days along with a trip downtown to chat with the postmaster in charge to have this corrected.
Meanwhile the other morning, there was an older gentleman taking pictures of the Red House while his wife was sitting in the car.  I politely inquired what he was doing and it turns out they are friends with one of the early owners of the house (that would be 1950's not 1850's!). They were going to visit this elderly couple and wanted to show them the "progress" of the house. When the wife got out of the car and joined in our conversation, she was eager to know if we had kept the third staircase in the kitchen. (I politely told her we did not.) But "what about those wonderful wood floors?" she asked. I told her they were still there but were in pretty bad shape and we were wondering what to do – refinish or totally redo.
It's difficult to try and convey to people what the house looked like both inside and outside and now with the new siding it will be even more of a challenge.  Although I don't think this blog and the tale of the Red House is quite over yet, ironically I am missing the look of the old beaten up Red House a bit.
So here's her new look! (Of course the Red House is a she.)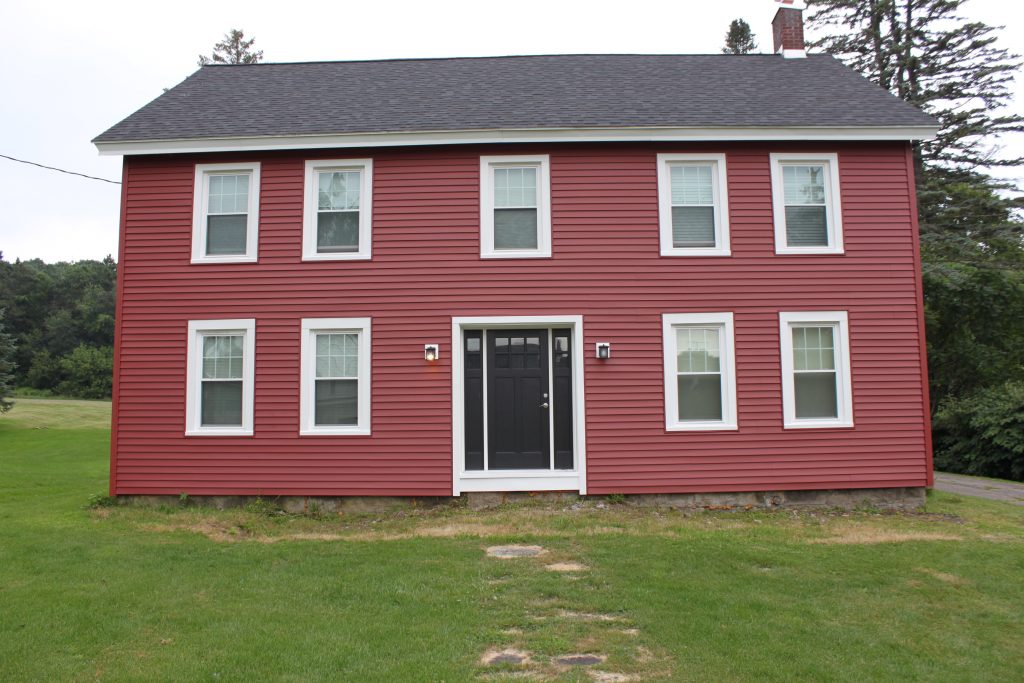 And yes, we absolutely still need some front stairs, a new garage, a mason to redo the foundation and last but not least landscaping please!