So far it seems the meadow that used to be an old potato field still has a lot to offer.  When you look at the soil, it's dark and rich and tills up quite nicely, unlike our suburban garden that's sandy and dry and filled with rocks.
When we started the garden and planted asparagus and green beans, tomatoes, eggplant and peppers, some leeks, and yellow and green squash, too, neighbors repeatedly told us that even if anything did grow, the critters (namely deer, chipmunks and squirrels) would eat it. I didn't want to negate what they were saying, but realized they might be right when I looked at our tomato plants and thought they looked like well, a tad clipped.  In fact, it looked as though some sort of animal had taken to biting off all the good parts, namely the flowering part, without leaving us humans with anything to eat.
I, however, wasn't going to give up. Working on the theory that sometimes if you just keep pruning it will eventually grow back, I did just that.  Unfortunately, the tomatoes weren't the only vegetable the animals seemed to like;  the green beans that usually grew so abundantly everywhere else, were shriveled and tiny and didn't bear any resemblance to the healthy plants I knew.  The eggplant in particular seemed to be suffering from some sort of bug infestation with all the leaves chewed in various places.
I kept watering and looked at the abundant sunshine and hoped for the best.  The good news is that what I'm left with looks very pretty.
Like this single green baby zucchini that I can imagine selling for $7.99 a pound at a Greenmarket in Manhattan, and the zucchini blossoms stuffed and fried and served on a plate at Eataly.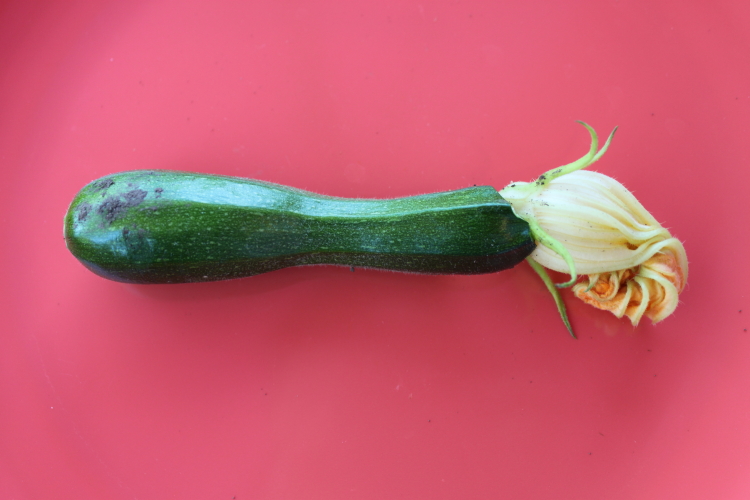 No Zucchini Should Be This Lovely!
Then there's the  single, slightly dark jalapeno, that no animal has claimed.
And a nice crop of basil and celery, too.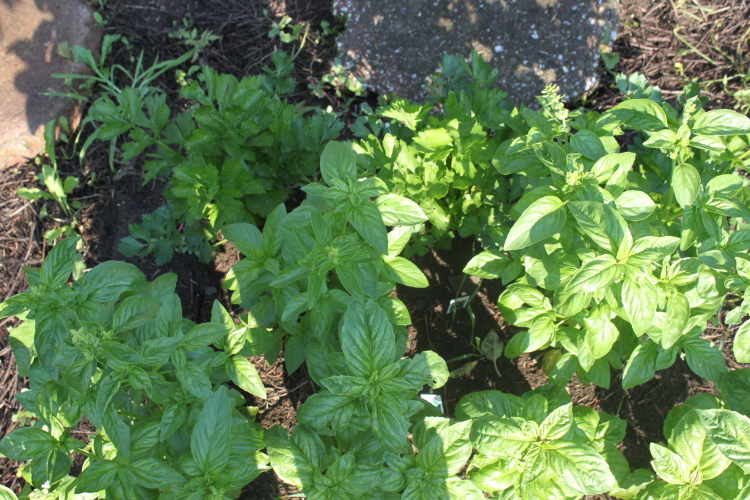 Gorgeous Basil — Lots of Pesto!
My biggest discovery working with a garden this size are the weeds.  They are prolific, constant and truthfully add some charm to the plot.  I don't want to admire them so much that they become an integral part of the landscape, similar to the overgrown acreage of Philip Johnson's Glass House in Connecticut, with only the bare minimum being plowed and plucked, but it is fairly tempting to go that route.  Ironically these weeds, since they originated from the hay we lay down to purposely keep the weeds at bay, have very pretty yellow flowers.
These "flowers" are not to be confused with everything else I've got going, interspersed as they are between the vegetable beds.
I also have the beginnings of a very long cucumber vine, with a lone and chunky cucumber hanging off.  I know he just wants to be a pickle already.  I mean look at him, he already looks like a pickle!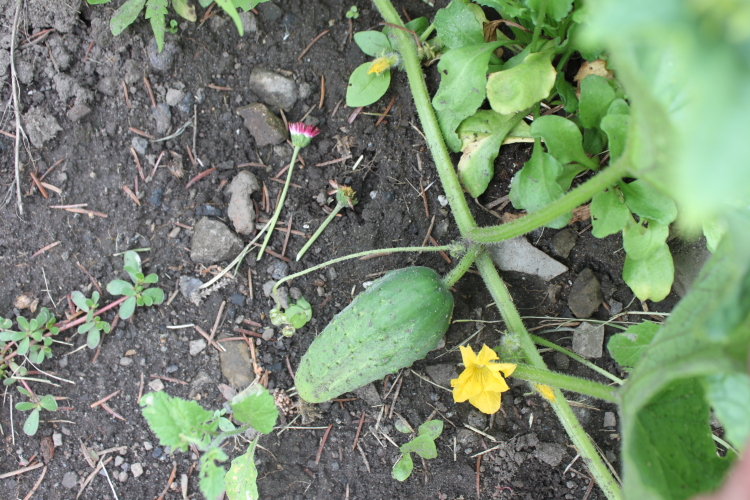 I Just Wanna Be A Pickle!
So even though the few tomatoes that I have are still green.
And my eggplant looks like it's been attacked, I do have the beginnings of some lovely strawberries and asparagus.
My leeks, unfortunately, look like they've battered by a windstorm, or maybe I just stepped on them by mistake!
While my chives prefer to hang out in a pot filled with pansies!
So even though some of my plants are being stubborn or eaten by the animals, like my green beans for example…
I, at least, have newly painted chairs (red, of course!) to sit and watch everything grow….
But not until all my work is done.