My husband, Lynn, tells me I'm no Bobby Flay, but do I want to be?  No, but I have to confess one of my few accomplishments this summer is that I have somewhat perfected cooking pretty decent meals on the grill and its side burner counterpart.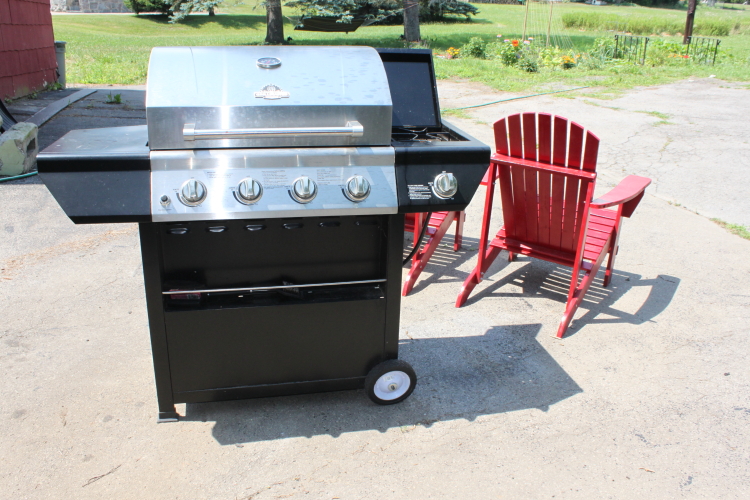 So when Mom and Dad came up to visit last weekend, I wanted to show them my "stuff."  I started by grilling some chicken thighs and brushing them with BBQ sauce.
Then I picked some yellow squash from my garden and wrapped it in some tinfoil, but not before putting some butter and brown sugar on it. When I opened the package, the brown sugar had formed a nice little pond which would be oozing sweetness when we cut it up into chunks.
The red potatoes however, were a bit of a challenge.  Since I started dinner later than I wanted, (we decided to go for a spur-of-the-moment afternoon swim), I knew that simply plonking them down on the grill would take hours, if not days to cook.  I decided to boil them a bit first, then give them a good dose of olive oil, salt and pepper, and some dried tarragon, too, and put them under a piece of tinfoil to cook, but keep them peeking out so every once in a while I could move them around a bit.
On the side burner I put a skillet pan filled with peppers and onions but truthfully, at that point, it was cocktail hour and I forgot about them.  Luckily, Lynn loves all things burnt, so he was more than happy with their outcome.
I thought the meal came out nicely; we ate outside, even with all the mosquitoes biting our ankles and elbows and toes, and everyone seemed to enjoy just being at the Red House. And if you are wondering whether I still need an oven, the answer is if I am making bread pudding for dessert I do!
Using leftover hero rolls that I tore up and added some milk, cinnamon, sugar and an egg to, I popped the mixture into muffin tins, stuck it in the toaster oven, and plated the whole thing with fresh raspberries.  I want to say it was yummy but actually it was kind of dense, which leads me to think, maybe I should have tried making a "grilled" bread pudding?
Next time.