It's been very very hot up at the Red House and even with the complicated sprinkler system Lynn has set up, some things are being watered, others are not. (Half the garden is on a timer, half is not, half the hose was run over and flattened by our car, the other half just had a kink in it.)
I'm disappointed that all the zucchini I planted have revealed zucchini flowers only. So if any chefs out there want flowers for stuffing, just let me know!
I also have lots of peas and beans, both of which I picked and picked and we ate and ate.
Also, for the first time ever in a garden, I was able to grow sunflowers aka known as "happy heads" in our family because of a family trip we took one summer to the south of France. Our daughter Rachel, probably around 10 or so at the time, saw so many sunflowers (i.e.,"happy heads" ) bobbing to and fro as we drove past fields and fields of sunflowers that forever more amongst the four of us that's what sunflowers will always be called! (Obviously, this was a trip that was taken where simply looking out the car window for entertainment (and education, I might add) was the norm, and texting was still a few years away.)
There's also brussels sprouts and asparagus gone wild, and literally towers of lettuce. Now, I know you're not supposed to let lettuce grow that tall because it supposedly makes it bitter, but I picked some of the lower leaves, and the truth was it tasted just fine and better than anything I'd get in a supermarket anyway.
More reassuring, however, is that I will eventually have lots of red tomatoes because right now there are so many green ones growing in all different shapes and sizes.  Since we couldn't wait to try one in its red state, Lynn decided to fry some green ones up and then topped them with fresh basil!  They were so yummy, thank you sweetie!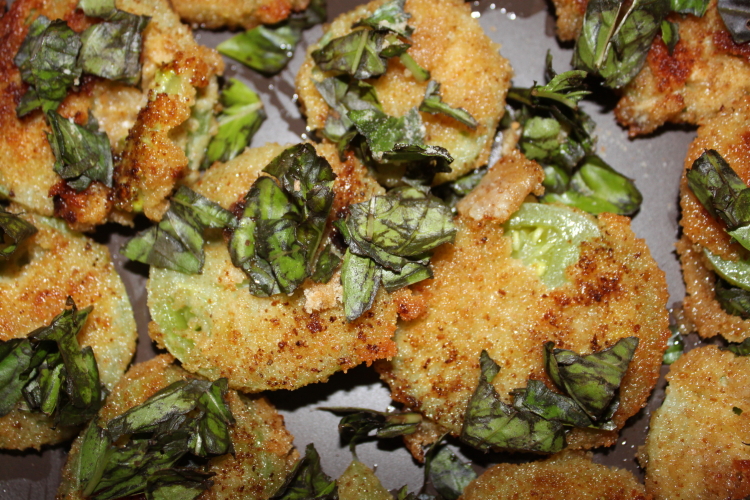 A Plate Full!
 See here they are before we cut them up and ate them! I predict buckets and buckets of sauce down the road…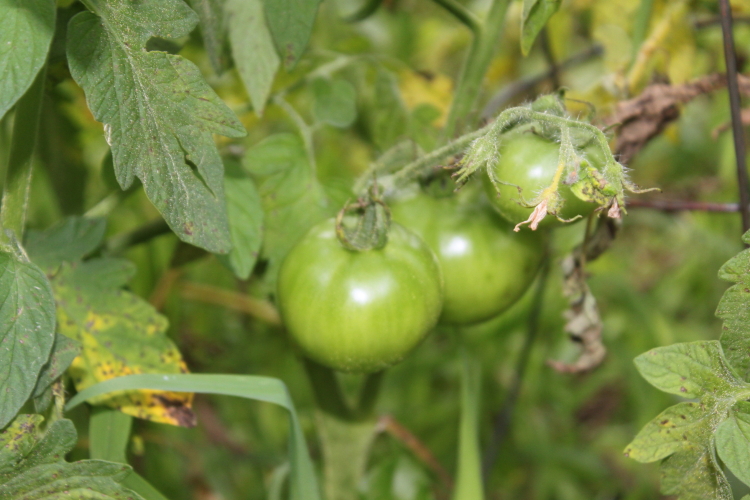 Tomatoes on the Vine