It's now shortly after 1 p.m., the smoke alarm has gone off twice and we've already blown the same fuse (upstairs bedroom where all the big boy toys are apparently being used simultaneously) twice as well. Did I mention I have to listen to country music in between the sound of a painfully high pitched saw as wood is being cut, an electric nail gun is being used as well as the hissing of a large compressor. (I don't actually hate country music, it's just not my preferred genre.)
Yes, thank you for asking, I do, in fact, have a headache…
It's Thursday, the day we've been waiting for nearly 3 months to get our bedroom floor installed.
Three months prior, this is the image that greeted us early in the morning. Boxes of wood flooring that had simply been dumped in our driveway. How they were getting up to the second floor bedroom appeared to be a mystery.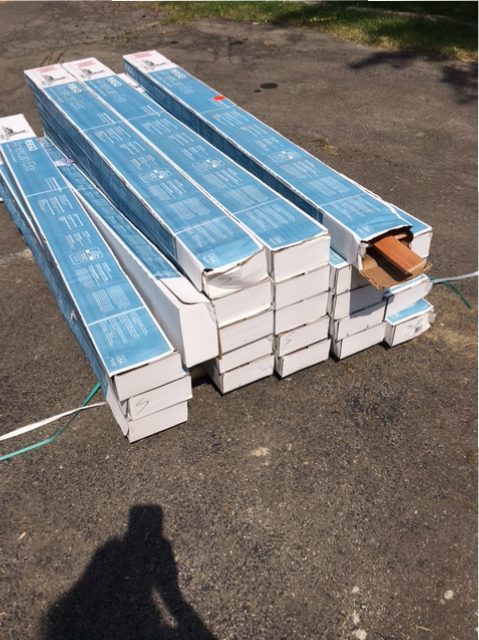 When we had two other bedroom floors done 3 summers ago, I don't remember it being such a big deal. All the supplies and the wood got delivered IN THE SAME DAY and the installer came and did BOTH rooms in 2 days.
Now, we have one room, a narrow hallway and two small landings and it's become a project that became impossible to schedule let alone have all the required materials delivered. Did I mention that this one room and above mentioned spaces is also costing roughly $500 more than both bedrooms combined?
Three guys and 8 hours later, we had half a bedroom and the hallway done. In fairness, they actually weren't able to start until 10:30 a.m. even after showing up by 9:15 a.m. because even though the wood has been here for nearly three months, everything else they needed (plywood, matching wood thresholds and tar-like paper that is making the whole house smell like we put in a new driveway) was not and one of the installers had to go pick  everything else up himself at the BIG BOX store.
Obviously, this is no way to run a business!
The installers were concerned they were not going to be able to finish the job in 2 days so I had to give them the reality check that they might have to work on a Saturday (imagine that)! Christmas Eve I said would work for us too. (A small lie as to when we would next be back up at the house, but effective.)  Their response was they would be here by 9 a.m. tomorrow and bring a "fourth" guy.
In case you're wondering, this is what the bedroom floor looked like prior to the installation.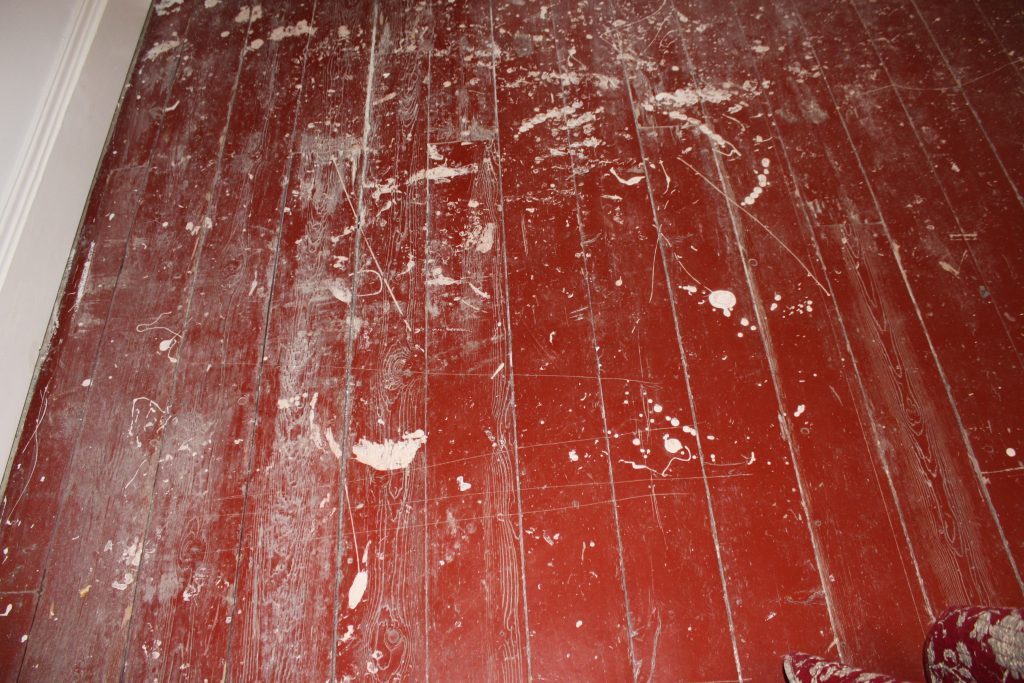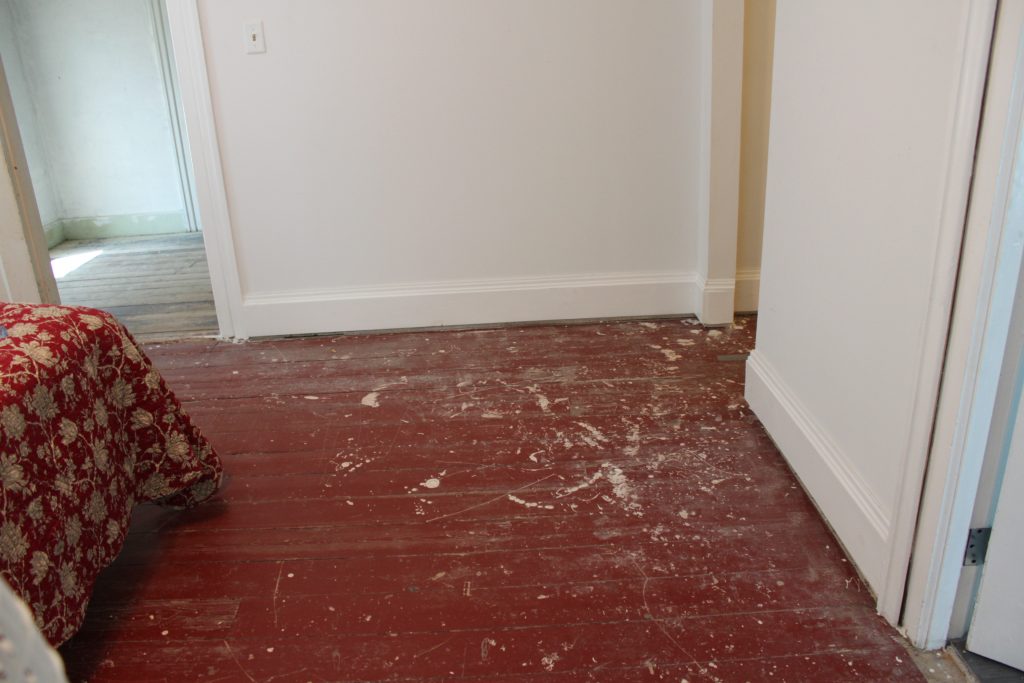 Plus a hallway that was still covered in what looked like old snake skin patterned linoleum circa 1964.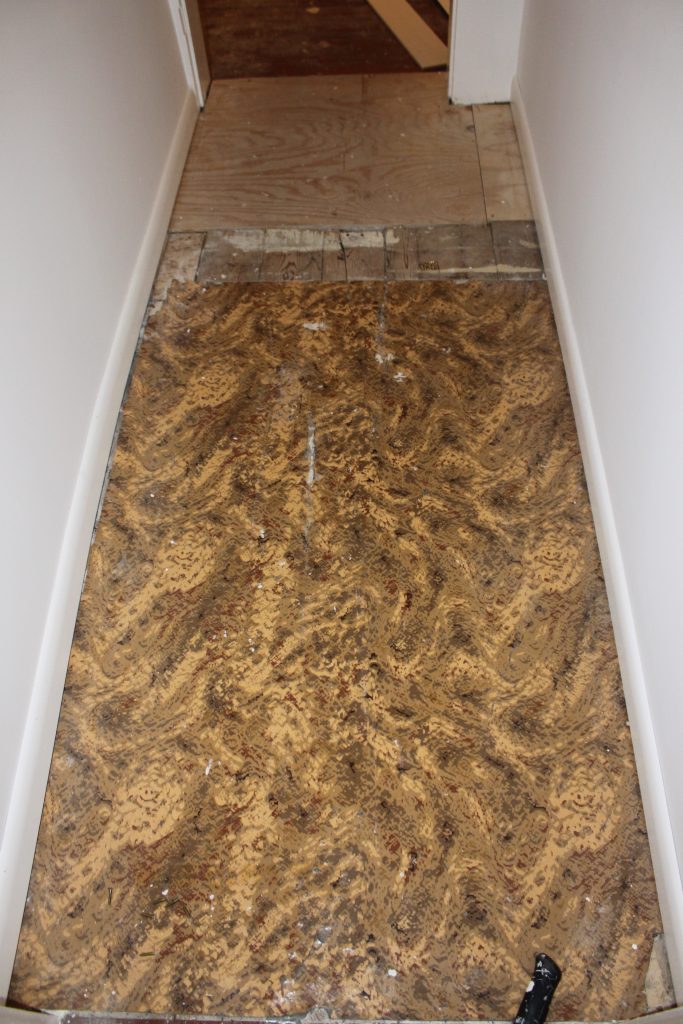 And two very dreary landings. Here's one of them.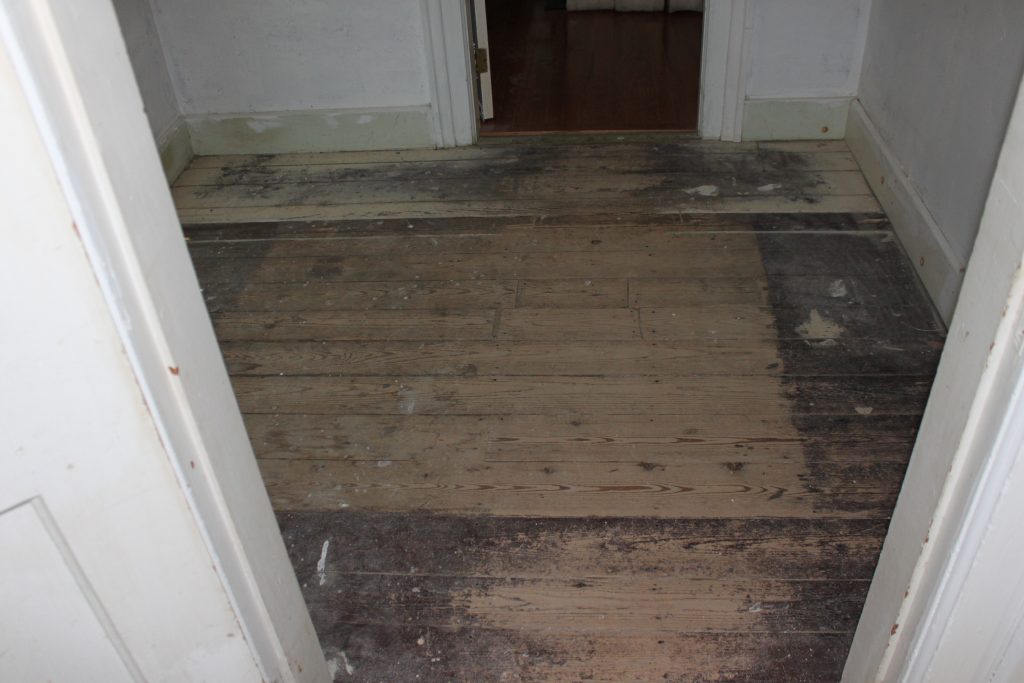 Day 2.
8:56 a.m. The two original guys show up. No word on third guy (the boss) and the mystery "fourth" guy. The compressor goes on right away as does the radio where they've managed to find a station that's playing Lynyrd Skynyrd. I can live with that.
9:59 a.m. Third guy (boss) shows up by himself.
10:20 a.m. "Fourth" guy shows up. He's actually the guy who came out in JUNE to do the original estimate. We spend a lot of time complaining about BIG BOX store and how they don't have anyone working there in flooring who knows anything about flooring. Really? I remind myself they are subcontractors and tell him this is our very last project with BIG BOX store.  Well, at least I hope so.
1:34 p.m. "Fourth" guy leaves to go do paperwork for another job and says he just came to "help," and make sure they would finish today. We tell each other that we hope to never see one another again (in a nice way) but then I mention we were thinking about putting some carpet in one room and bingo – he does that too.
Meanwhile, when they're working upstairs, I go outside to look at the garden.  This summer weather (oops, I forgot today is the first day of autumn) has resulted in very colorful wild flowers, lots of peppers and jalapenos and marigolds that look like they are just starting the summer season not ending it.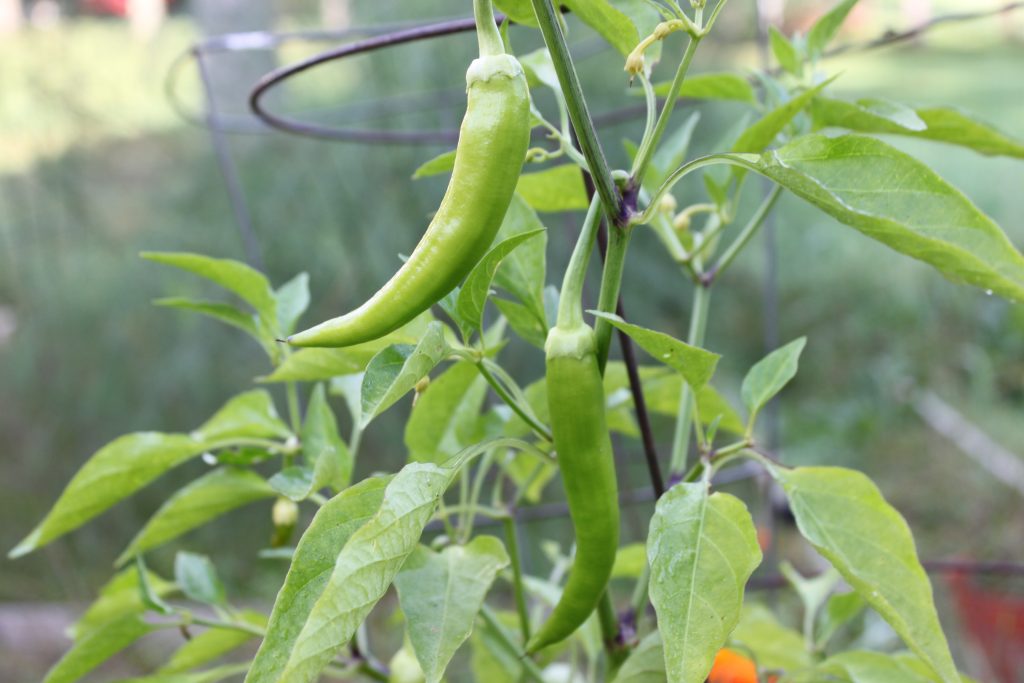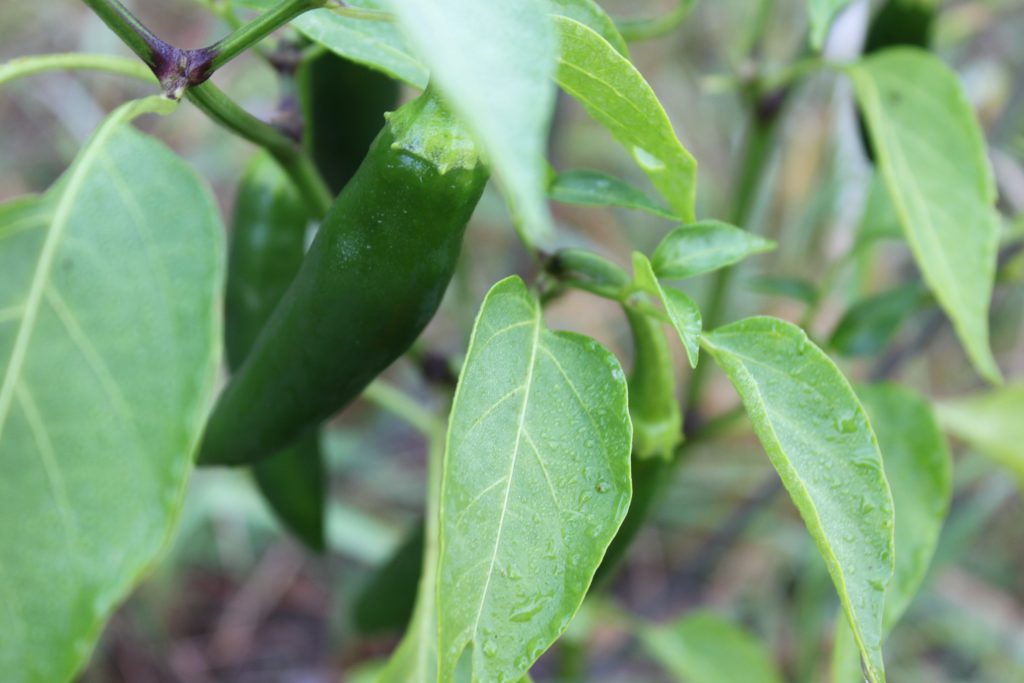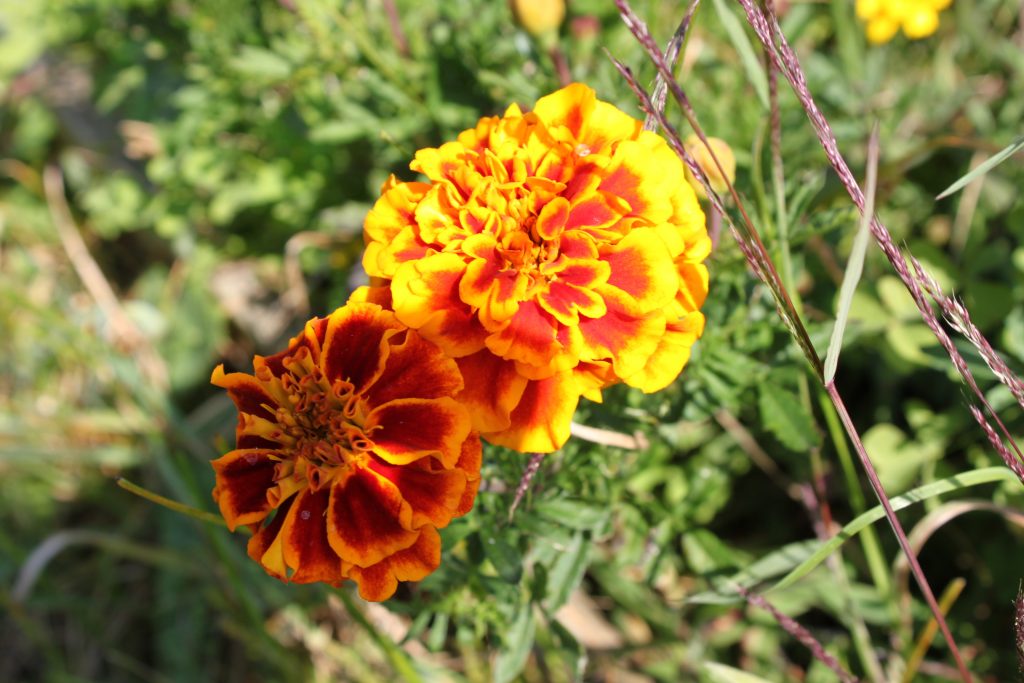 After the garden, I walk around the house and look at all the new gutters that we had installed Labor Day weekend which seem to be holding up so far.  Of course, it has barely rained in the past 3 weeks and even this weekend the temps are in the high 80's!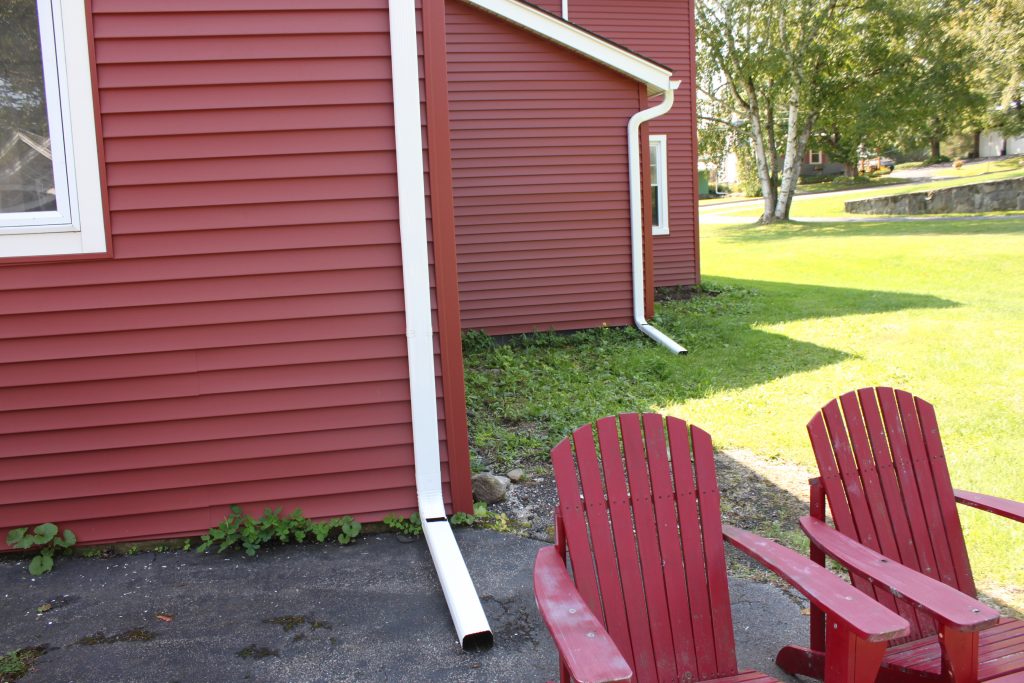 One of the gutters is ridiculously long but we are hoping that the "pond" that collected on the side of the house after the last heavy rain storm won't have a chance to form again if we try and divert the water as far away from the house (and down the driveway) as possible. The bonus feature of this gutter is that it actually flips up (so you can mow under it) which I thought was pretty clever.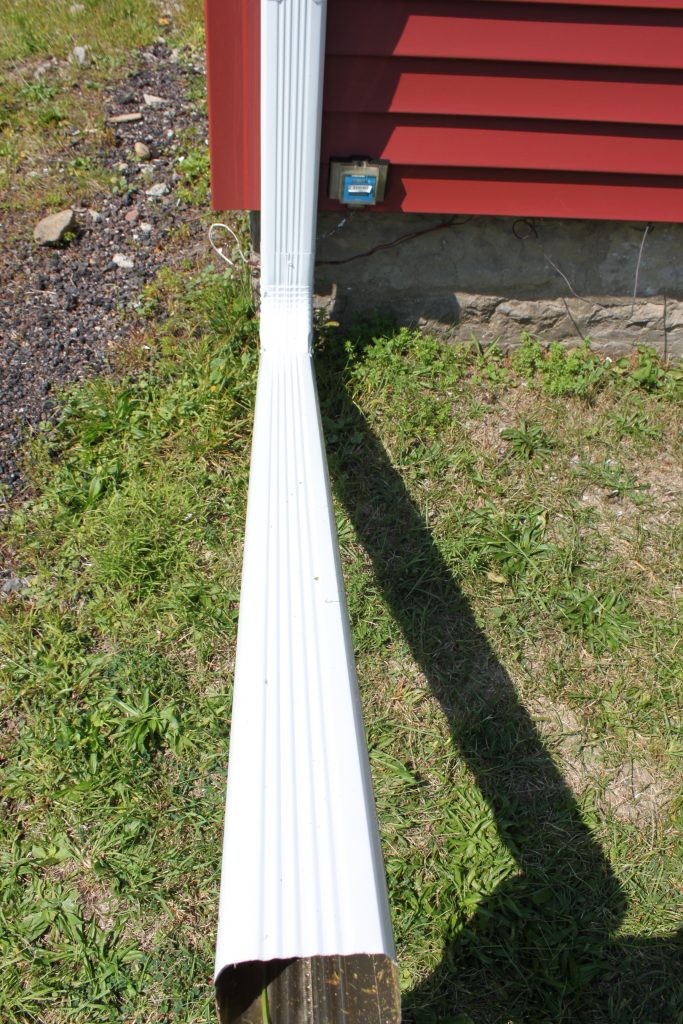 Geez, it looks even longer in this shot!
2:55 p.m. One of the two original installers has to leave to go get a "haircut" since he has a second job bartending at a banquet hall that night. My reaction is why not just sweep your hair up in a"man bun." He was already in his car before I could suggest that to him or even hand him a pony tail holder.
Now we're down to two guys. I go back to the garden and look at the last remaining tomato still clinging to the vine, decide to leave it alone but cut the pumpkin since I figure evil bunny might eat it before I could at least admire it.  The pumpkin is heavier than I thought but I love its "wrinkles" and the vibrant shade of orange.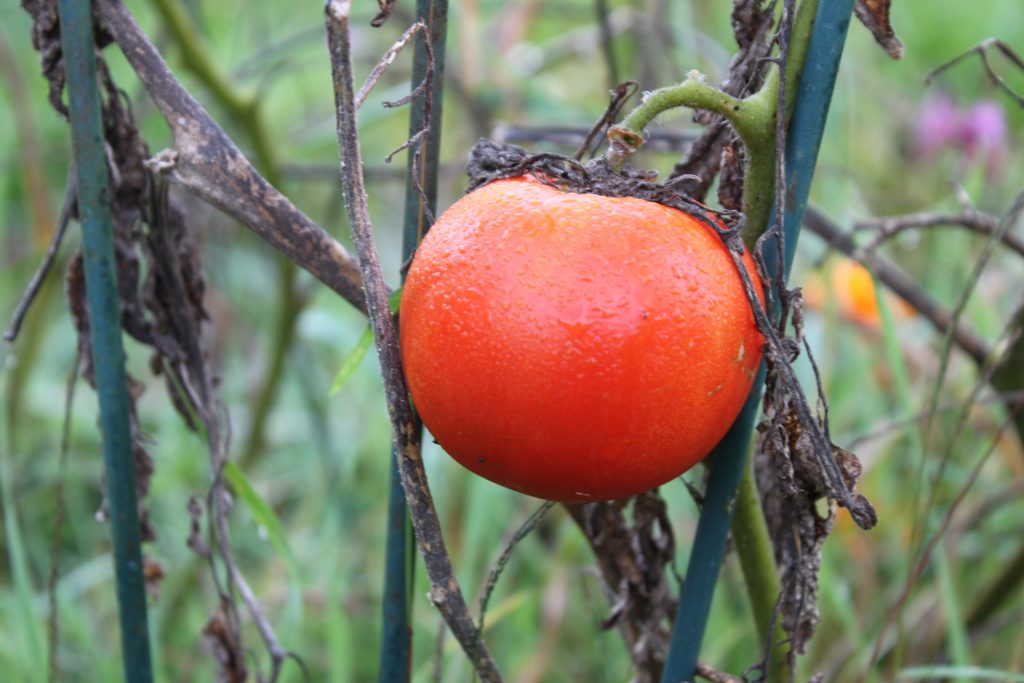 3:21 p.m. They claim they're done and start packing up all their things. I go upstairs to look and yes, I am impressed, the floors came out really nice! But then I realize we didn't pay for them to install any quarter round moulding around the baseboards so Lynn has yet another project to add to his very long "to do list."
I happened to catch the sun shining in the windows after they left which made a pretty pattern on the bedroom floor.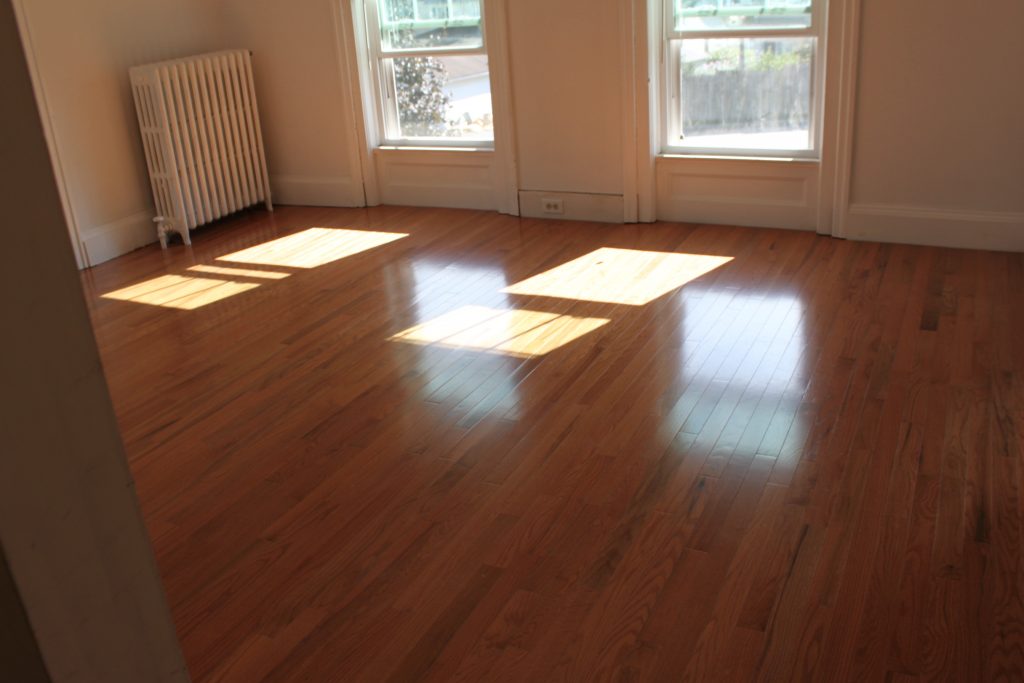 The landing came out really nice, too.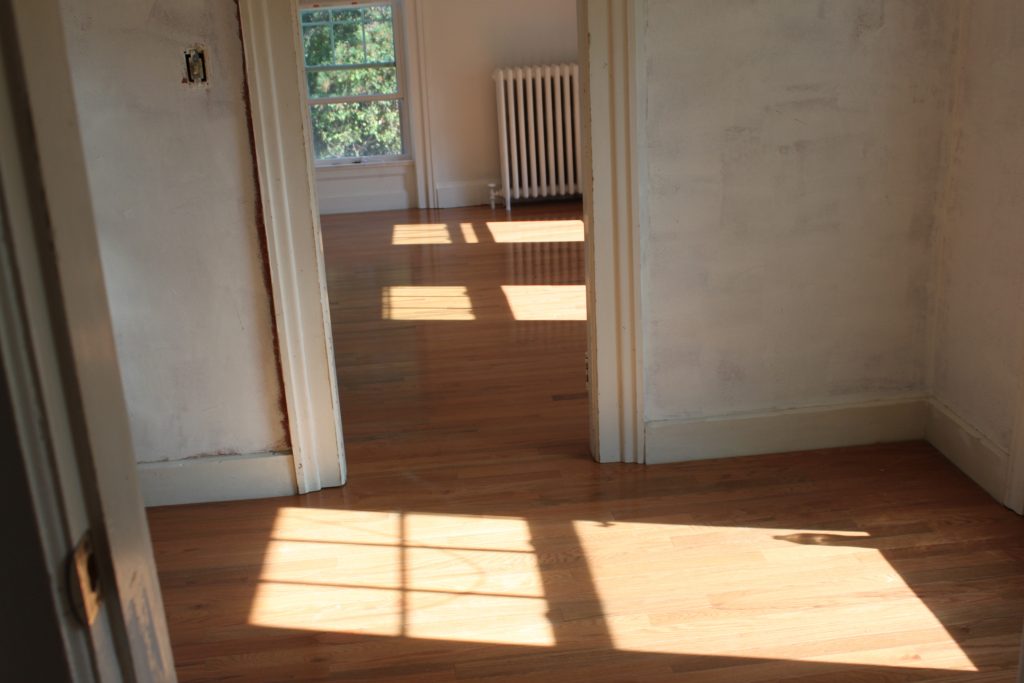 But wait, why do we have so many boxes of wood left? FIVE BOXES to be precise. Did they totally overestimate the job? Yes, they did, Yes, indeed. We decide to put four of them in the car (the fifth box is broken and impossible to carry down the stairs) and return them to the store in the morning. Then, I think, we can relax for the rest of the day.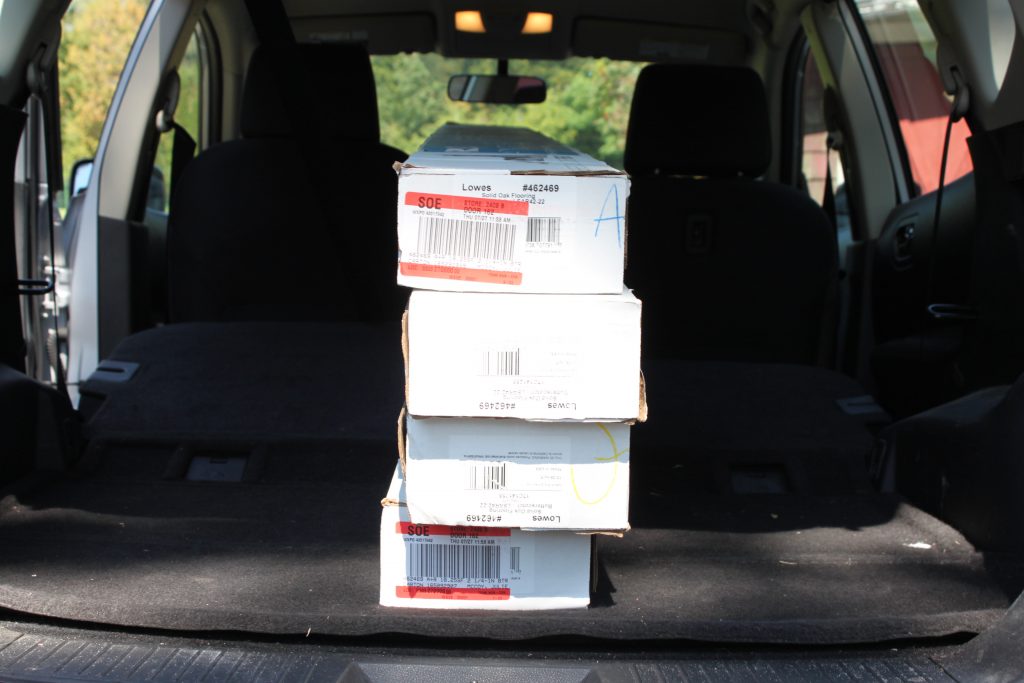 Relax? Oh yeah, I forgot, we need to put the bed back in the room so we can sleep tonight which means setting up the frame and dragging in the box spring and mattress and making up the bed. But before this can be done, everything in the room has to be swept, then mopped. Including the landing with windows and window sills that hadn't been washed since we got new windows 6 years ago!
But wait, suddenly we realized that the installers had taken off all the doors – doors to the bathroom and bedroom and hallway – in order to install the floor, but hadn't put them back up. And guess what, when we tried to put one of them back up, we realized it wouldn't fit because now the floor was higher! So while we thought about taking the doors outside and shaving a bit off (as we have done for other doors in the past), the thought  of carrying 3 doors down the stairs, outside, and then back up again was daunting.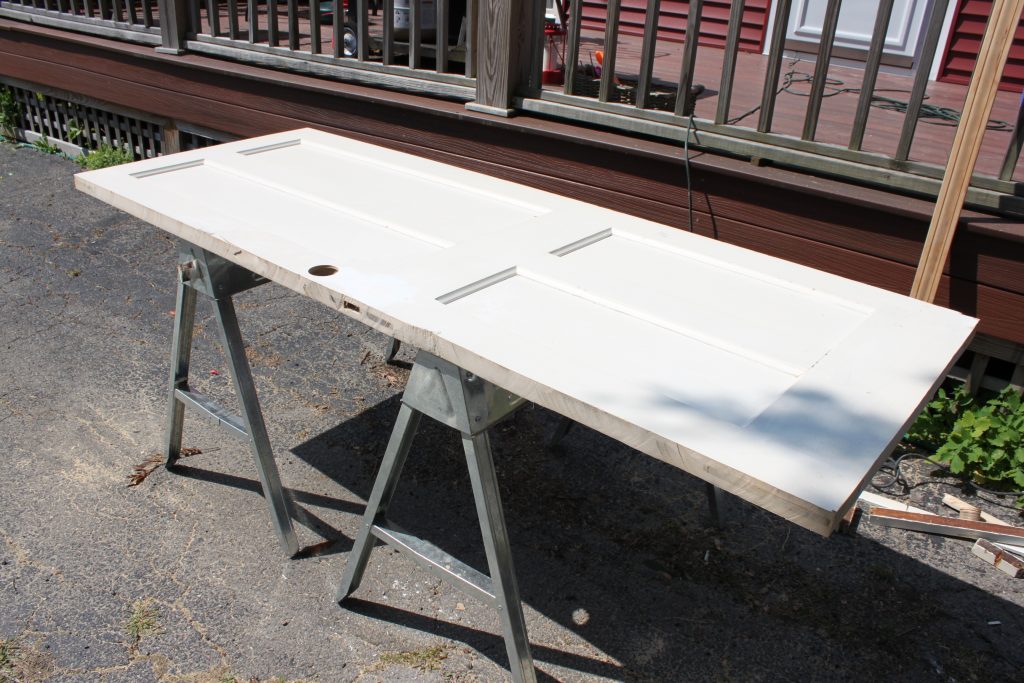 So Lynn brought the saw horses upstairs and we cut two of the three down so they'd fit. Then I made the bed – sheets, blanket and comforter – only to realize I had forgotten the mattress pad (!) so I stripped the bed and started all over again.
This final floor in our bedroom was our last project for the summer. Hip Hip Hooray!
I'll leave you with a summery flower arrangement I put together from the Red House garden and hope everyone has a lovely fall and not too dreary a winter.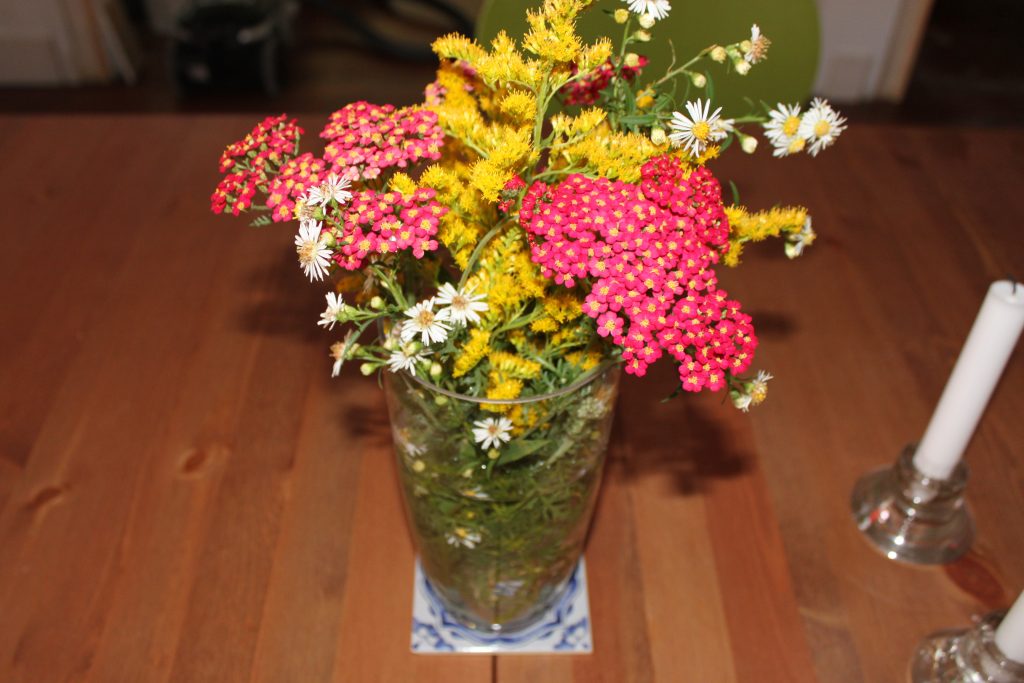 PS I just realized our new dining room table almost exactly matches the oak floors we put in the bedroom! Trust, me this was purely accidental.