Our kitchen is done.  Well, except for a single windowsill that needs to be painted.
The goal this past fall was to have contractor #3 do "indoor" work during the cold snowy winter months. It wasn't like there was a huge amount of work that needed to be done in the kitchen but it was the annoying little projects (many of which required a very large ladder) that Lynn and I were simply not capable of doing. (#1 we don't have a ladder that long and #2, I hate heights. More than that I hate being the girl that holds the ladder for the boy to go up and hope he doesn't fall.)
So we had a "stop sign" window that had been installed roughly 6 years ago that was never finished or painted.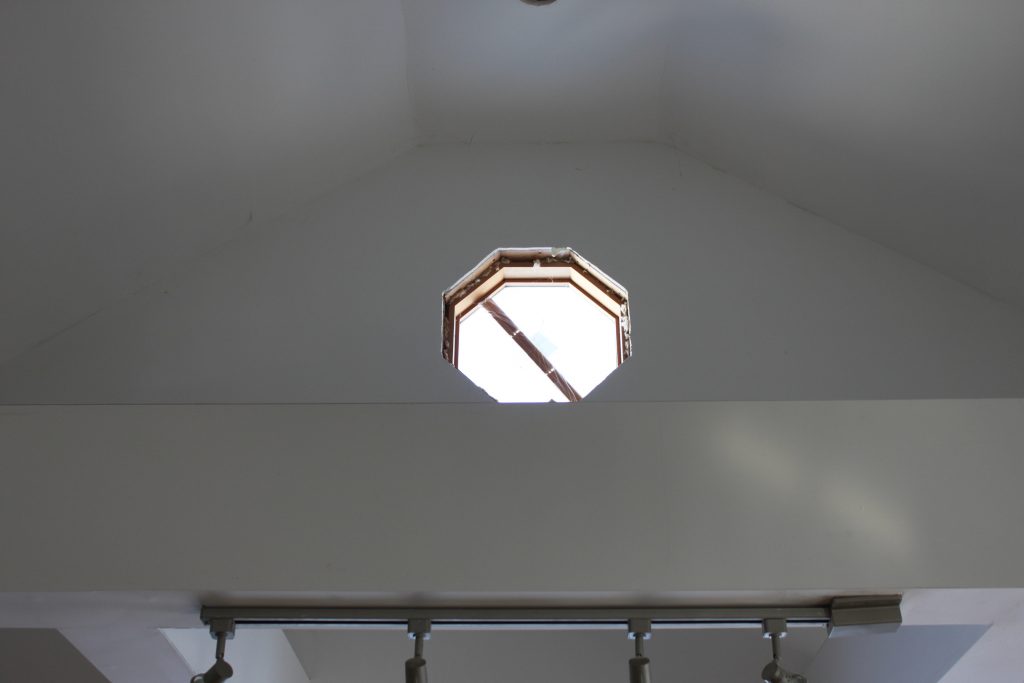 It was annoying to look at and even more so since no one could reach it!
Because we couldn't just have one annoyance in the kitchen, on the other side of the wall, same height but different shape, we had another window that was also unfinished! This we named the "Juliet window" because technically if you stood in that room (a bedroom that will hopefully morph into a closet), one could lean out and look down into the kitchen.  No one knows why we named it the "Juliet window" other than it kind of reminded us of Juliet's balcony in Verona.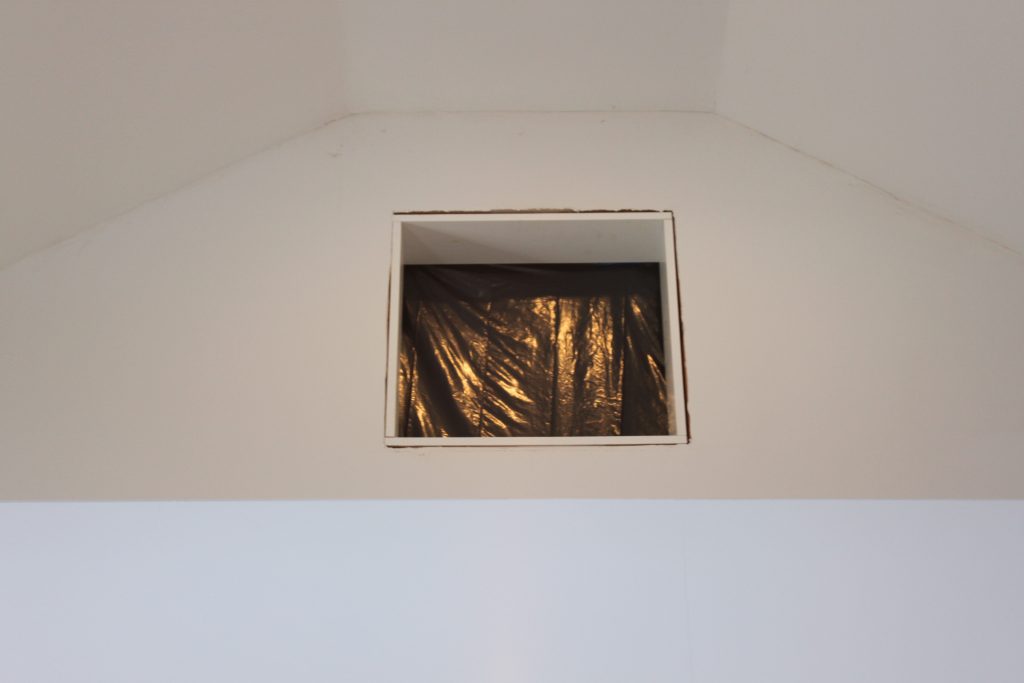 Consequently, a few weeks ago, both these windows had proper moulding installed around them and were painted as well.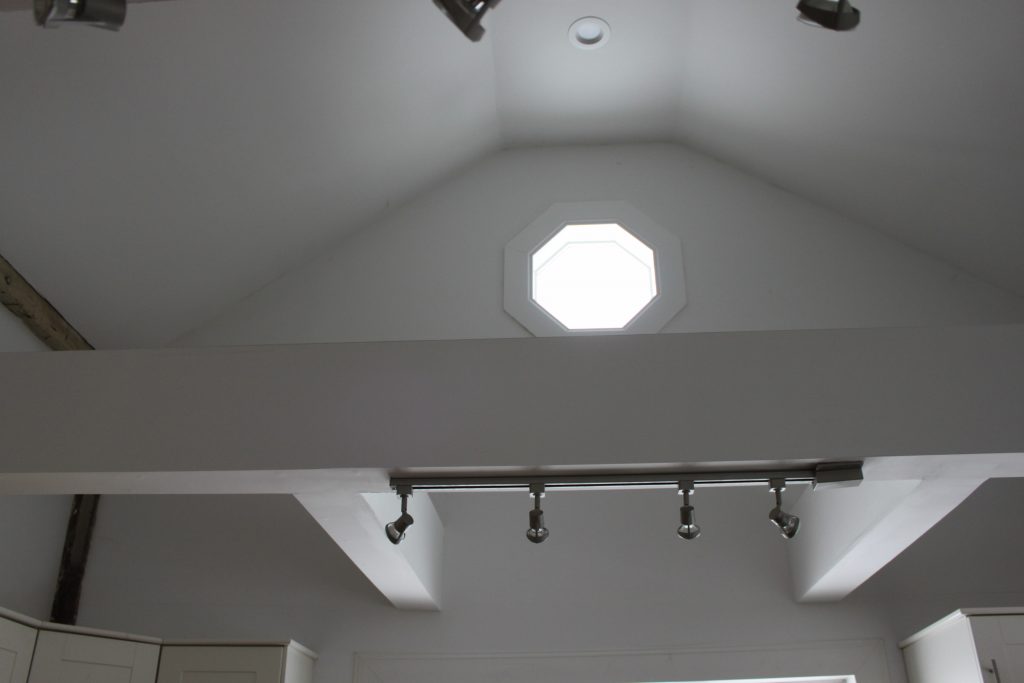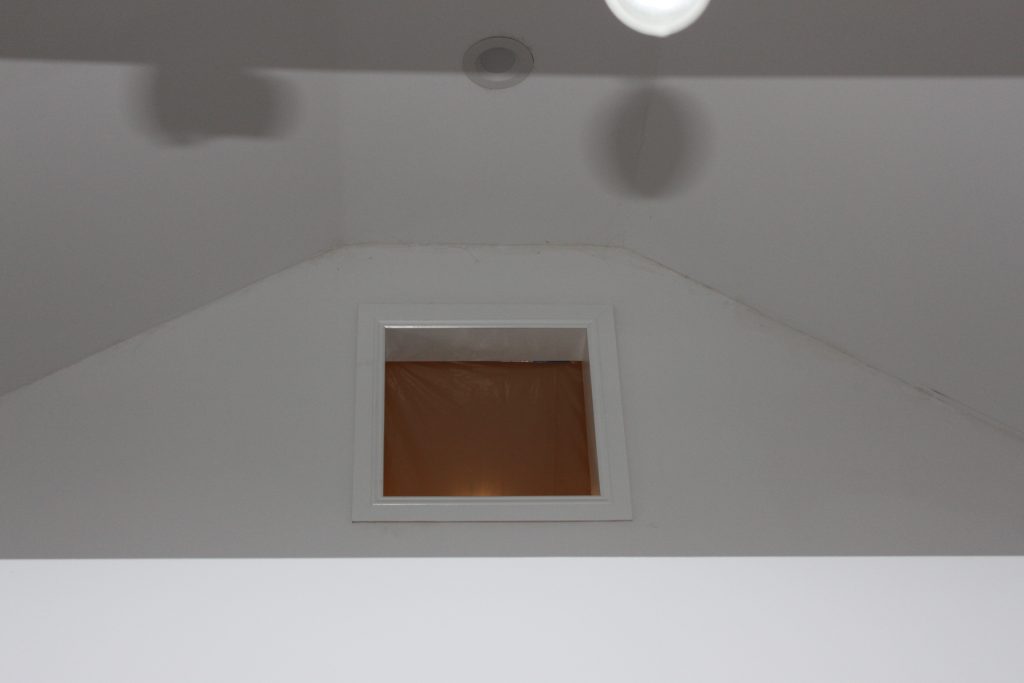 We also had the proper high hats finally installed in the ceiling (you can see one above the stop sign window).
Last but not least, we had a range hood installed above the stove which required yet another trip to Ikea to get one last kitchen cabinet. The range hood we originally bought was high end with a fancy glass top which our contractor told us would need to be ducted outside thus costing millions of dollars to put up (well not millions but you get the idea). It's sitting somewhere in the garage if anyone wants it.
We also bizarrely now have a light above the kitchen stove. I know that's not strange but truthfully it's taking me longer than I expected to acclimate to actually being able to see the food I'm cooking!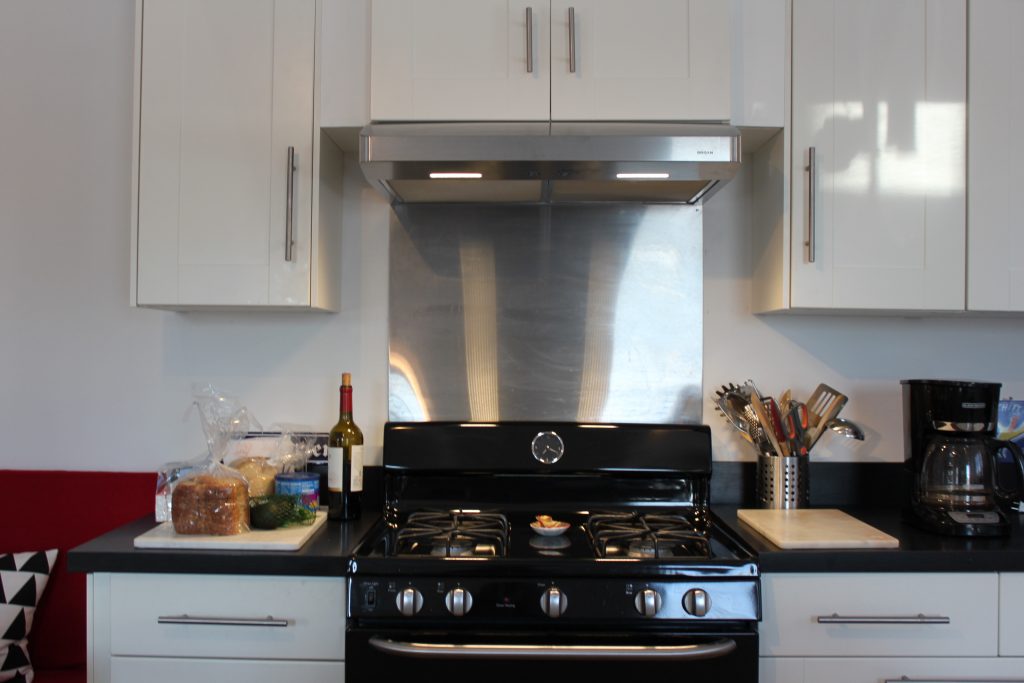 Besides the kitchen, the other major project this winter was to paint the "pink" staircase.  I'm assuming the previous owner was trying to match a pink bedroom that was on the second floor because the color was exactly the same. One summer, I attempted to paint some of the aforementioned staircase.  This resulted in a staircase that basically looked like this for nearly 7 years because neither Lynn nor I wanted to tackle it.  Yep, it was pretty ugly.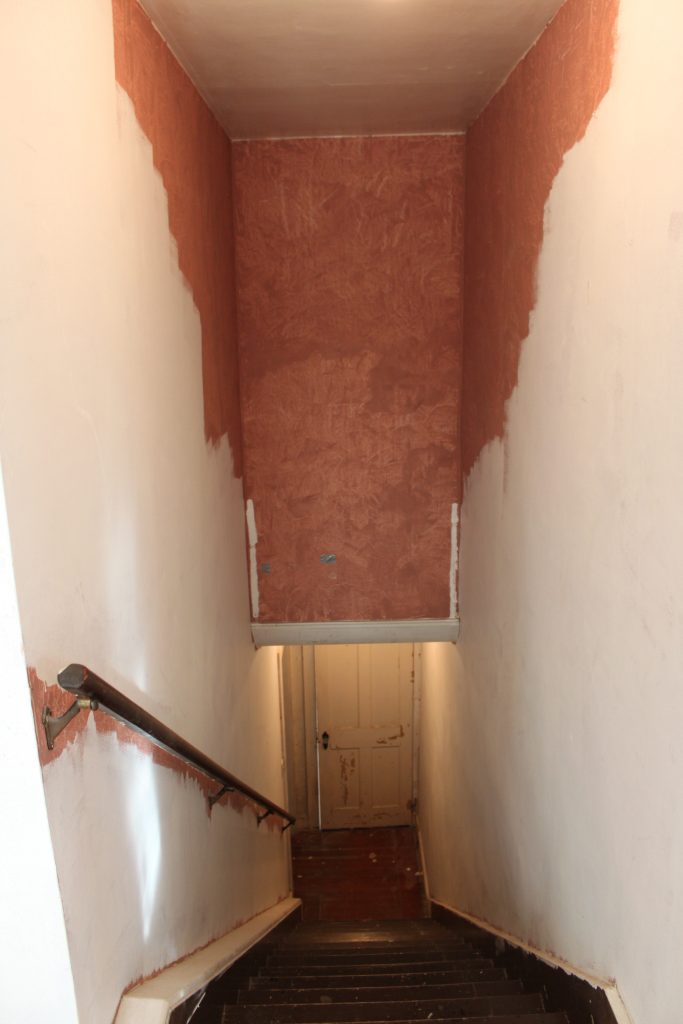 I particularly like the couple of pieces of duct tape I must have stuck on many years ago trying to cover the holes in the wall.
Besides the pink staircase, the walls were also a mess as was the ceiling on the landing.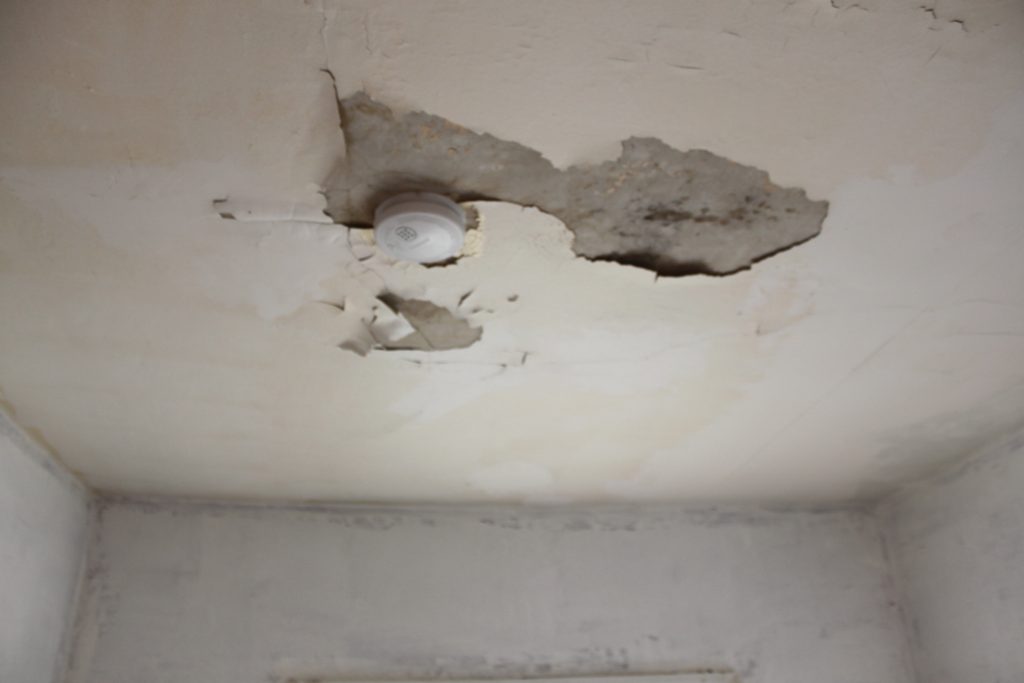 OK, so apparently we have a problem with lead paint in an old house. Really? Our contractor was hemming and hawing about it but I went into denial mode even though I understood EXACTLY what our contractor was telling us. This resulted in an up-charge for all new sheetrock and special paint that would somehow magically "contain" the lead.
Let me just say, it cost me as much to paint this one frigging staircase as it does for me to pay the landscaper to mow our back 4 acres FOR THE ENTIRE SUMMER SEASON.
Yes, thank you I will take a deep breath.
So, in the end the staircase came out quite nice and contractor #3 did in fact even paint the doors.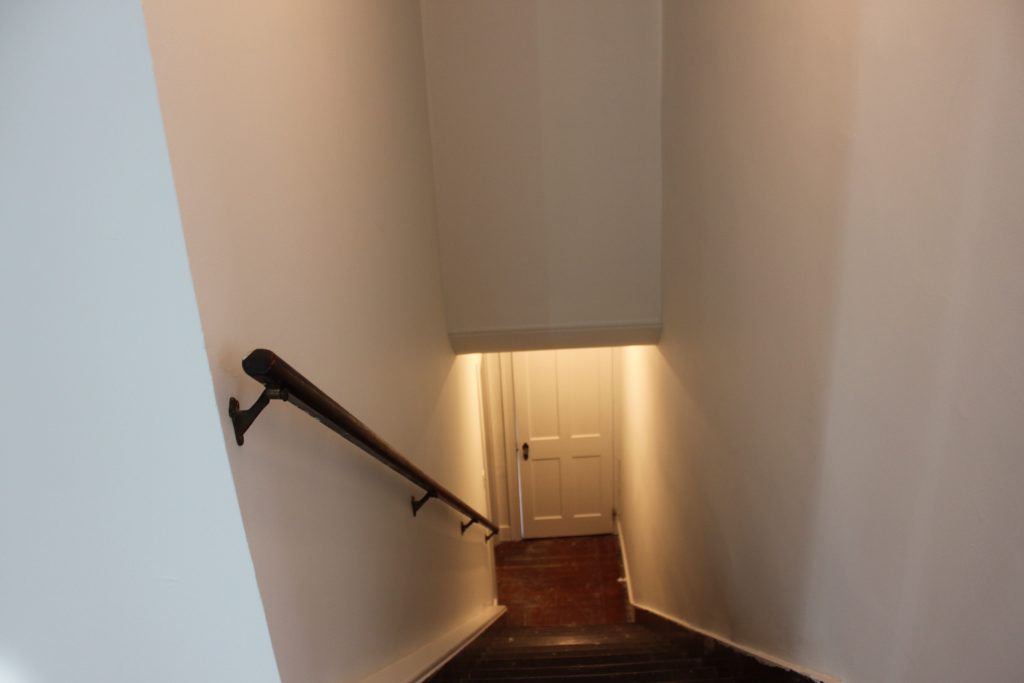 Really now that I look at the before and after, it turned out very nice!
Right now that both staircases are done we need to figure out what to do with the steps. These stairs, like the stairs we had when we owned a house on Long Island, are in pretty bad shape and were simply painted over and over again.  A few weeks ago we tried to sand one of them. 20 minutes later we gave up realizing it was a project that A) wasn't the worth the time and B) would come out crappy whether we painted or sanded. So, basically a lose-lose scenario.
Because we're trying to save some money (we still need the guest bathroom totally renovated by next summer and hope to expand the deck), we thought we'd try putting down some vinyl floor planks ourselves over the existing treads and see how that looks.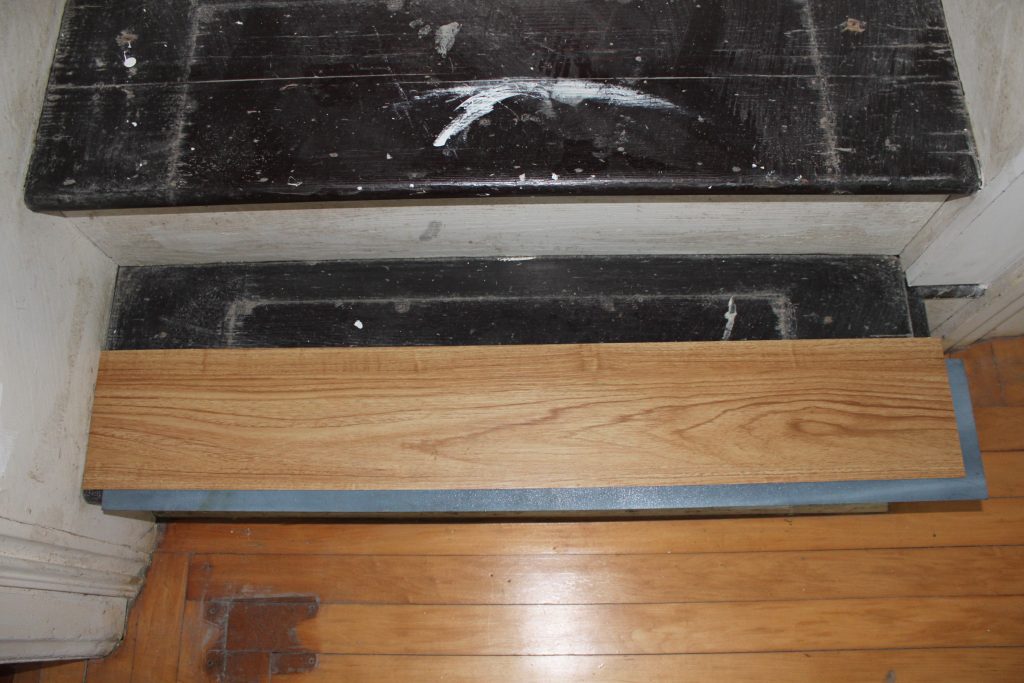 Truthfully I can't tell the difference between the vinyl and the "real" floor below. Between both staircases (14 stairs each), I'm thinking this might be an affordable alternative.
On the weather front, we drove up to the Red House Friday night in 59 degree weather, hit some rain and a 20 degree drop in temperature, only to wake up to about 6 inches of snow (if not more). Luckily, our neighbors across the street and next door were extremely kind and snow plowed the sidewalk and lower part of our driveway so we could get out. And yes, come the spring, we're finally going to buy our own snowblower and hope to snag a discount for an end-of season sale. (Thank you guys, you know who you are!)
Finally, we are still winding down after a whirlwind Christmas holiday with our kids and family and a week-long FOODIE road trip to SC and NC. (Note to young chefs we met, we appreciated everything you cooked for us but NOT EVERYTHING NEEDS TO BE GRILLED.)
I'm hoping 2018 will be a good year for us and the Red House. So to my readers I send  best wishes for good health, much happiness and love, no parking or speeding tickets, great wine, real farm to table food and lots and lots of money.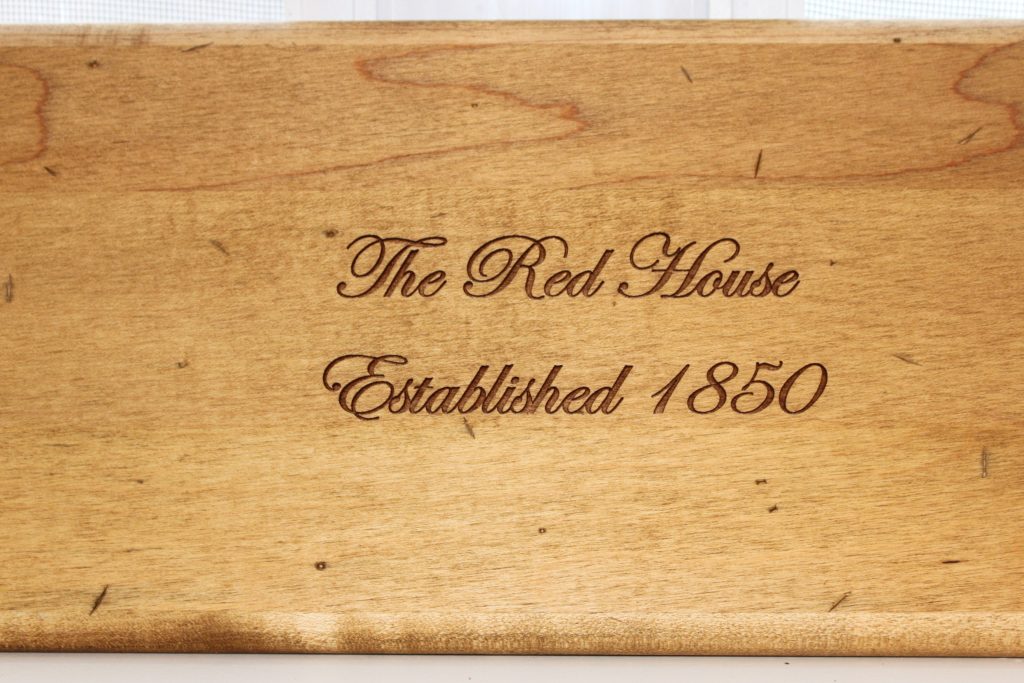 PS Our daughter Rachel, gave us this cutting board for Christmas and we LOVE it!